Adam Silver misses Game 5 & 6 of NBA Finals due to Covid-19 protocols, starting June 13, 2022

Notice, Adam Silver missed Game 5 and Game 6 due to coronavirus protocols.
Coronavirus = 56
Corona del Mar = 56 (Where Kobe is buried)
Covid Vaccine = 56
Society of Jesus = 56
Anthony Fauci = 56
Gavin Newsom = 56
…
And Game 5 was on June 13, the day leaving 201-days left in the year.
Event 201, coronavirus simulation…
The Jesuit Order = 201

June 13 was 49-days after his birthday. *Warriors = 49
June 16 was 52-days after, or his 53rd day of his age. *Covid = 53
His name fit with the ritual as well.
Adam Silver = 166 / 41
-Warriors improved to 16-6 on 16/6
-Celtics picked up 41st loss of season
–Golden State = 41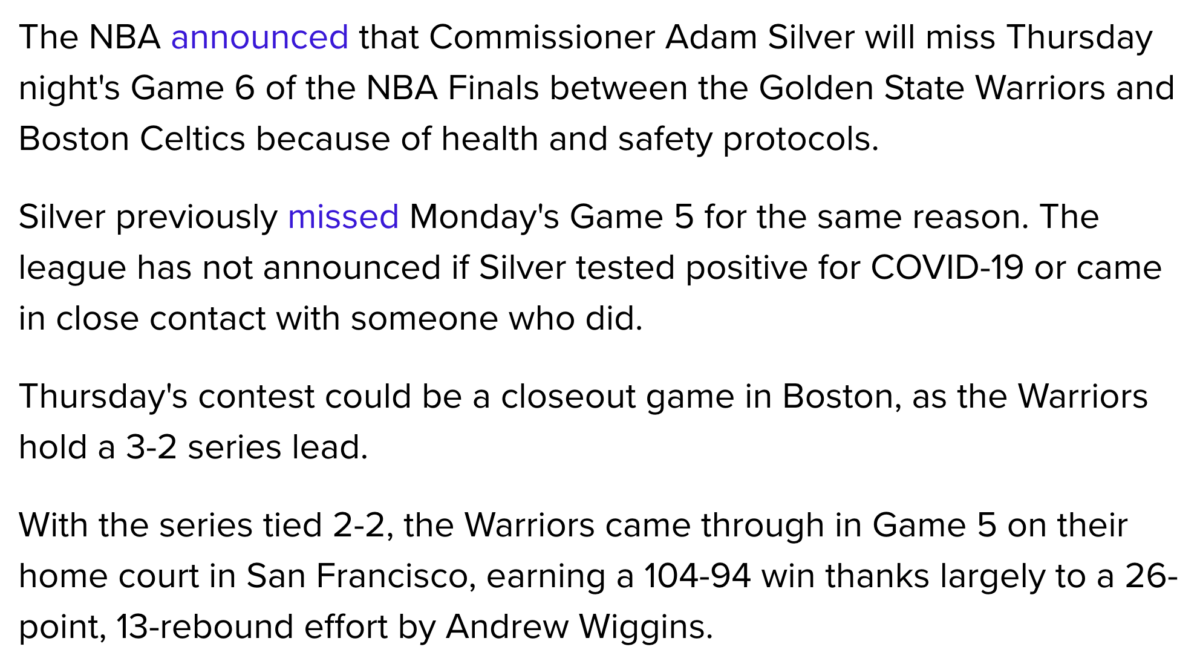 https://bleacherreport.com/articles/10038939-adam-silver-will-miss-warriors-vs-celtics-nba-finals-game-6-due-to-covid-protocols
ALSO, the Celtics fell to 79-56 in the NBA Finals all-time.


And the Warriors gave the Celtics their 56th Finals loss on Steve Kerr's 263rd day of being 56.
263, 56th prime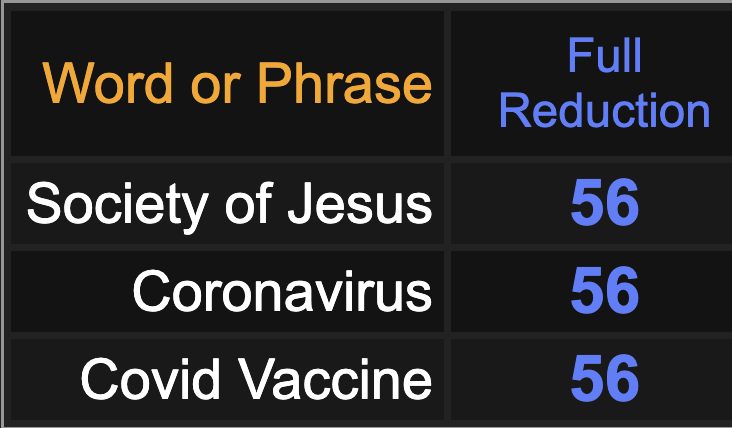 And don't forget when the pandemic was declared on March 11, 2020, the day the NBA locked down, and the day that was Anthony Fauci's 79th day of being 79-years-old.
The National Basketball Association = 113
Coronavirus Pandemic = 113
Utah Jazz = 113
-11/3 date (March 11)


And notice how Anthony Fauci overlaps with 'Washington D.C.,' and equating to 56 as well.

For the record, Rich Hill of the Boston Red Sox also picked up his 56th career loss to the Oakland Athletics the day of Game 6, the day the Celtics picked up their 56th Finals loss to the Warriors who previously played in Oakland.
Oakland Athletics = 56 / 97
Athletics = 56 / 97
-Rich Hill picked up his 56th career loss exactly 97-days after his March 11 birthday
-Rich Hill was born in Boston