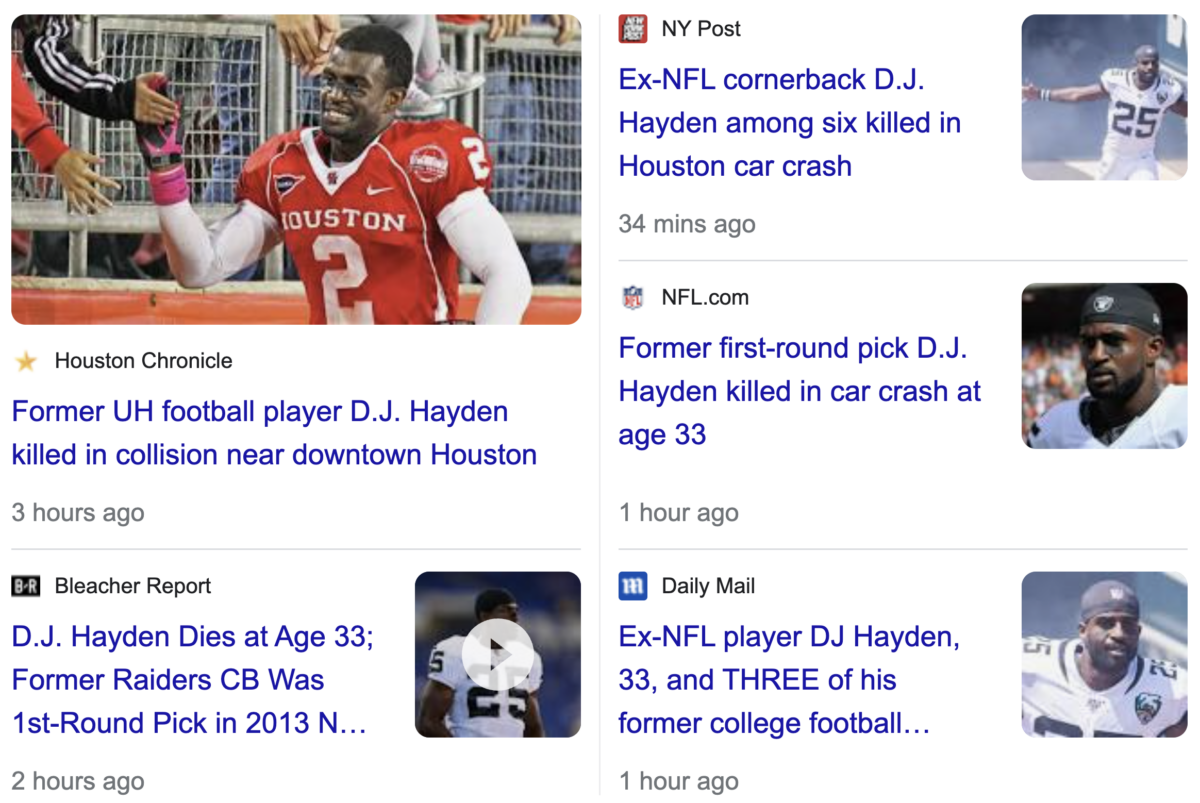 A 6 car accident on a Saturday, named after the 6th planet, Saturn (associated with death).
And we will get to the DJ Screw album that came out on Hayden's 6th birthday…
But first, a young black star athlete from the NFL, a league where 11 men compete against 11 men, is dead on November 11, or 11/11, Armistice Day, or Veteran's Day, a day to remember the dead, who were part of the military purposes of this nation.
Black = 11

31 is the 11th prime number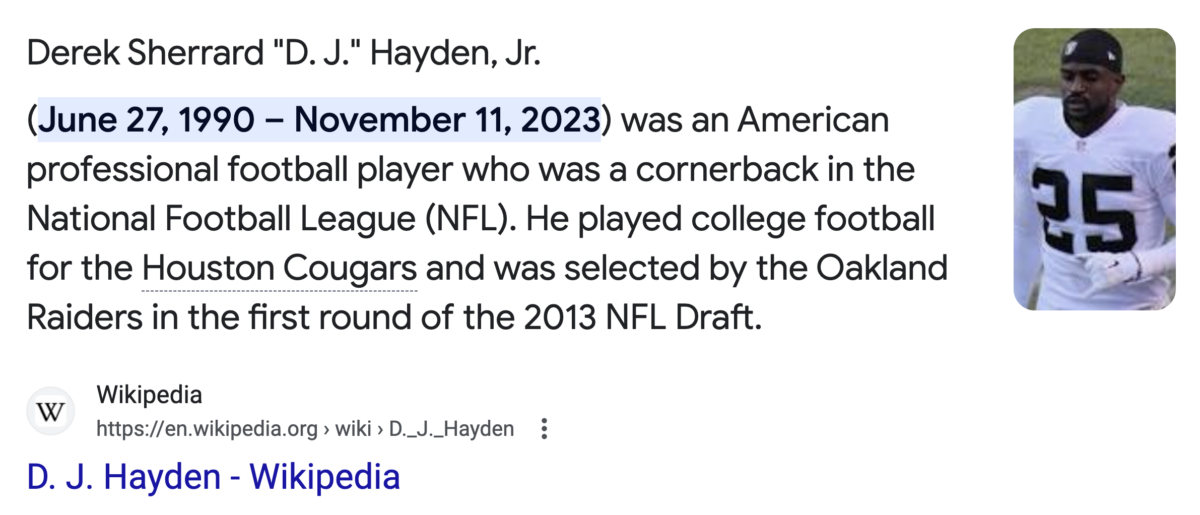 DJ Hayden is dead 137 days after his 33rd birthday.
137, 33rd prime
Order = 33
Secrecy=33
Masonry=33
Teacher=34
People=33
Person=33
Federal=33
–Government=137
–Authority=137
–White House=137
–Washington DC=137
Below we'll get to the DJ Screw connection. *Robert=33 (his birth name)

The House of the Temple in Washington DC has 33 columns that are each 33 feet tall. It is the Scottish Rite HQ for the region, and their highest degree is 33 (the rites 31-33 were written by Jesuit Priests). Plus George Washington was a Freemason.
–31+32+33=96
–Freemason=96
And notice, DJ Screw's big record came out on the 6th birthday of DJ Hayden….

Keep in mind DJ Hayden was born on the day leaving 187 days in the year, June 27, 1990.
Washington DC=187
George Washington=187
Washington died December 14th in history, a fateful day.
December Fourteenth=187
Twelve Fourteen=187
It's a number associated with homicide and more.
Holy Roman Empire = 187
Society of Jesus = 187
Abrahamic = 187
It is a reminder the Holy Roman Empire is alive and well in the Roman Catholic Church, and Washington DC, the Jesuit stronghold, is the land of Roman architecture.
Notice the overlap with Catholic and DJ Hayden.

Hell=71 (Bob Marley lyrics come to mind)
Genesis 46 is about sacrifice. There are 46 books in the Catholic Old Testament, and 145 more chapters. JFK was the 35th U.S. President, the first Catholic, and killed at age 46.
Houston, Texas=46
Sacrifice=46
Joe Biden is the name's second Catholic President, elected 46 weeks after the Pope's birthday, as #46, and the list goes on.
As for DJ Hayden, he is dead 5 days before the anniversary of the death of DJ Screw, a Houston hip-hop legend. Funny enough, he had a song called June 27, the day DJ Hayden was born.
Notice he was born in '71.
DJ Hayden = 71

Notice the song June 27 released in 2002, 21 years ago, and DJ Hayden is dead on a Saturday, in a "6 car accident." And again, DJ Hayden had a June 27 birthday.
21, 6th triangular number
Saturn, the 6th planet
Saturn = 21 (Gematria)
DJ Hayden born in 6th month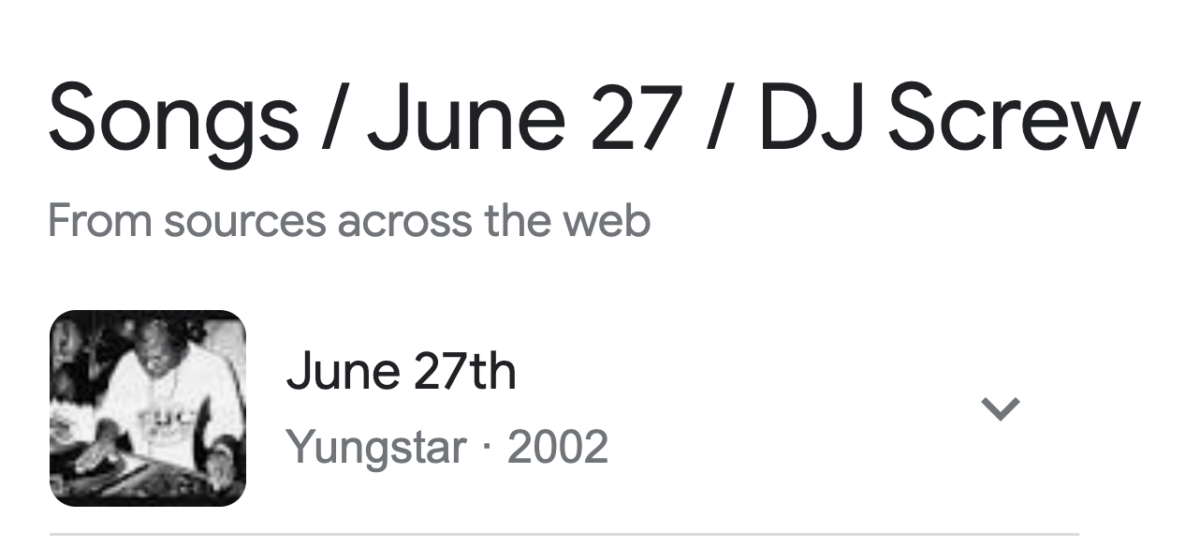 From DJ Screw's November 16 death anniversary to November 11, is a span of 6 days.

And notice DJ Screw's June 27 record runs 38 minutes.
Rapper=38
Murder=38
Killing=38
Death=38
RIP=38
Tupac and Biggie died on '38 dates,' plus many more.

He wore the #25, which can be fateful.
Death=25
Time=25
Devil=25
Enlil=25
Earth=25
He is dead 5 days before the 23rd anniversary of DJ Screw's passing.
End=23
23 is also 5 in numerology, and the square root of 25 is 5, going back to his jersey, and the ritual.
And for the close, he is dead 201 days from his draft anniversary date, connecting with DJ Screw being born on the 201st day of the year, July 20, 1971.
Saturn Worship=201
Saturnian Order=201
Sacrifice to Saturn=201
Order of Illuminati=201