This news about Amazon ONE broke on April 21, 2021, the 111th day of the year.
111 is a repdigit of ONE (1).
And the term "palm scanning" gives us another 201 taking place in the time of the pandemic, that was simulated at Event 201, October 18, 2019.


Amazon One = 40
Whole Food = 40
Mathematics = 40
This news came on Jeff Bezos' 100th day of his age, connecting to the gematria of 'palm reading'.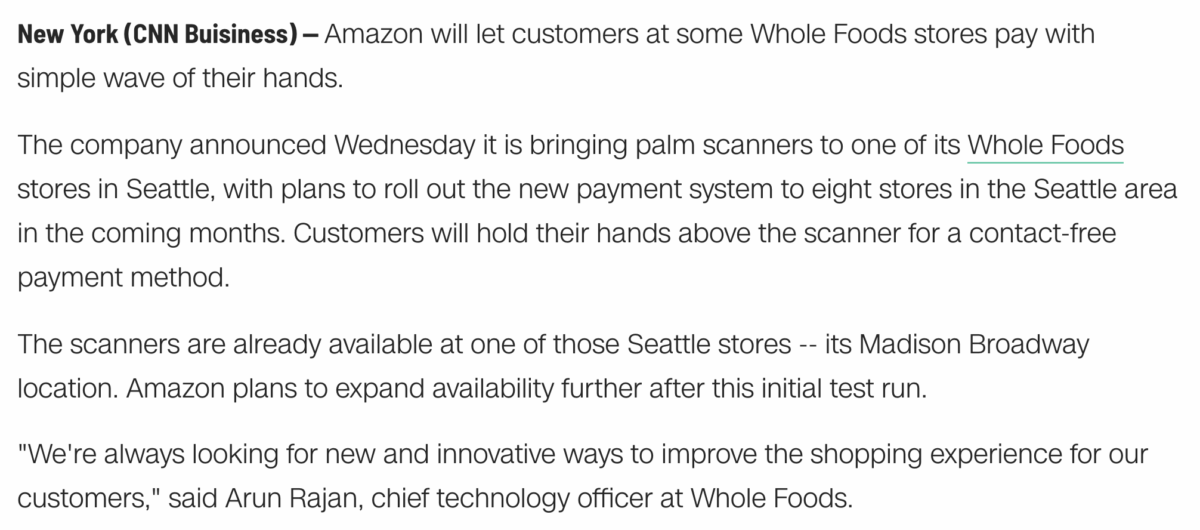 Whole Foods = 122
Satanic = 122
Seattle on 122nd Meridian West
The Mark of the Beast relates to being read from your hand, or your forehead. And again, many companies are now scanning your forehead during the time of the pandemic before entry into buildings, which is clearly a step in the 666, Mark of the Beast, direction.
4/21/2021 = 4+21+20+21 = 66
Math = 66
New Testament = 66
Number of the Beast = 66


https://www.cnn.com/2021/04/21/tech/amazon-whole-foods-palm-scan-payments/index.html