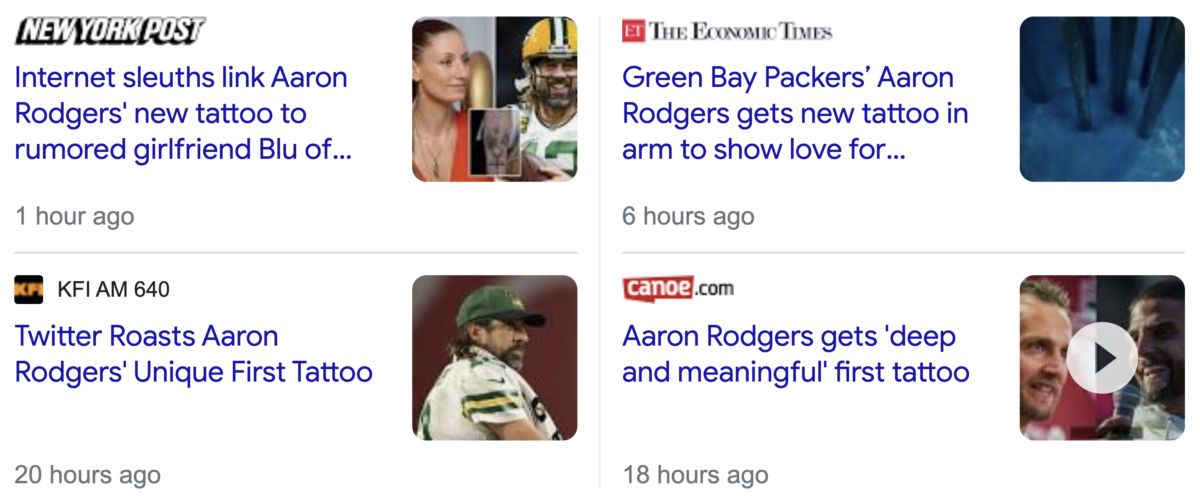 Notice the Illuminati symbolism in the Aaron Rodgers tattoo story of July 6 and 7, 2022, the 187th and 188th days of the year, leaving 178 and 177-days remaining.
Society of Jesus = 187 (Packers taken to Green Bay by Jesuit Vince Lombardi)
Holy Roman Empire = 187
Unconquered Sun = 187
-This is about a tattoo involving the sun and astrology, before Rodgers 18th season.
Bavarian Illuminati = 188
1+2+5+10+20+50+100 = 188 (US Dollar Bill Denominations)
This news broke 201-days after the Pope's 85th birthday.
Order of Illuminati = 201
Aaron Charles Rodgers = 201
Jorge Mario Bergoglio = 201
-That's Pope Francis, the first to live in Suite 201
Ignatius of Loyola = 201
-That's the founder of the Jesuits
*Heliocentrism = 201 (His tattoo relates to sun and astrology)
Kabbalah = 178 (Where the code and rituals comes from)
The Jesuit Order = 177 / 201
New World Order = 177
*There are two teams in the NFL with a 201 connection, Rodgers opens the season vs. one of them, the Minnesota Vikings. The other is Indianapolis.
Minnesota Vikings = 201
Indianapolis = 201
*Rodgers is 7-7 vs. the Vikings on the road (news was big on 7/7).
He will play them on September Eleventh, in the "Twin Cites"
September Eleventh = 77
World Trade Center = 77 (Twin Towers)
-Minneapolis on 93rd Meridian West
-One World Trade Center = 93
-93 WTC Bombing
-Order of Illuminati = 93
-Sun, 93m miles away
–Secret Society = 77
–United States = 77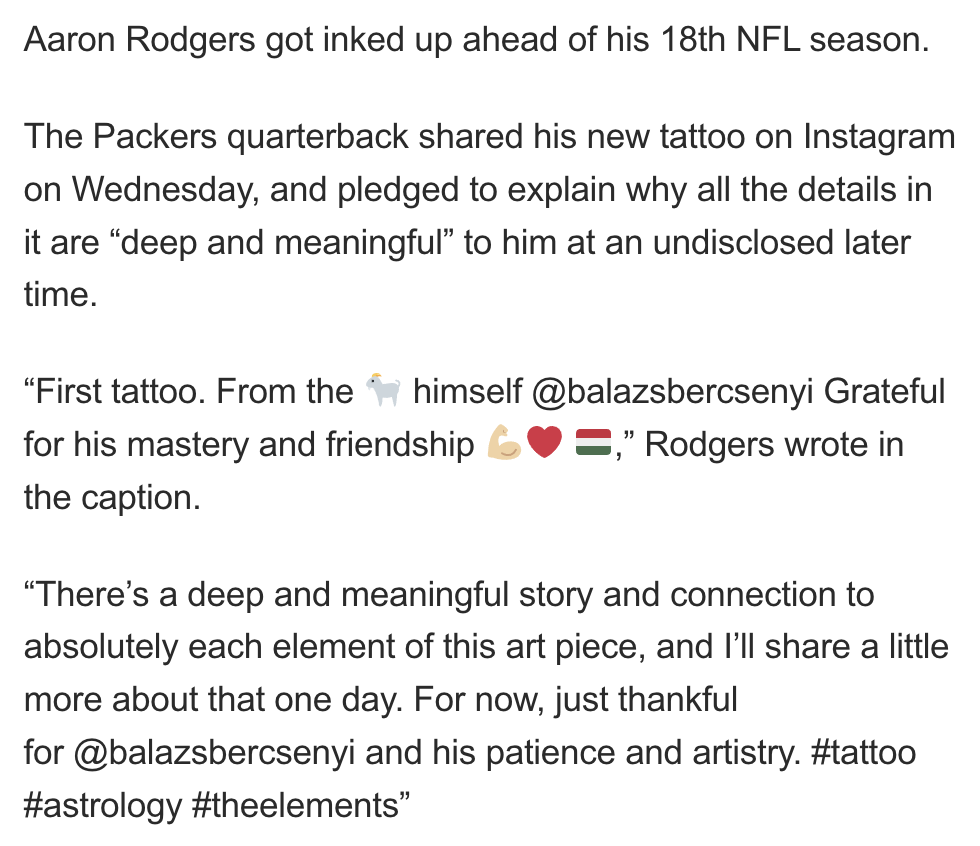 Going with that 18th season, I see the 18 rays of the 'eye', or the sun. And I see Leo the Lion, x2.
IHS = 18 / 18
Sun = 18
-Jesuit logo is sun with letters IHS
–*Packers won first Super Bowl with 35 points
–The 'eye' went on the dollar bill in '35
–Eye = 5+25+5 = 35
–The NFL football looks like an eye
–The eye of God is the sun to certain occult philosophies (like the Catholic sun worshipers)
–Catholic = 35
–Holy See = 35
–Jesuitism = 35
This upcoming season will be his 18th NFL season (2005-2022).
As for the emphasis on 'deep and meaningful.'
deep and meaningful = 83 (*Football = 83)
-deep and meaningful = 79 / 83 / 151 / 308
-Rodgers Sep. 11 game is a span of 83-days from birthday
-Jesus Christ = 151
-Yeshua = 79 / 83
-Society of Jesus = 79
-Rodgers was born in '83
Rodgers next career win will be his 151st (36th prime number — 666, 36th triangular number)
-If he won 12 regular season games this year, he would have 151 regular season wins
-He wears the #12
-There are 12 signs in the Zodiac (his tattoo is about the sign Leo, the Lion)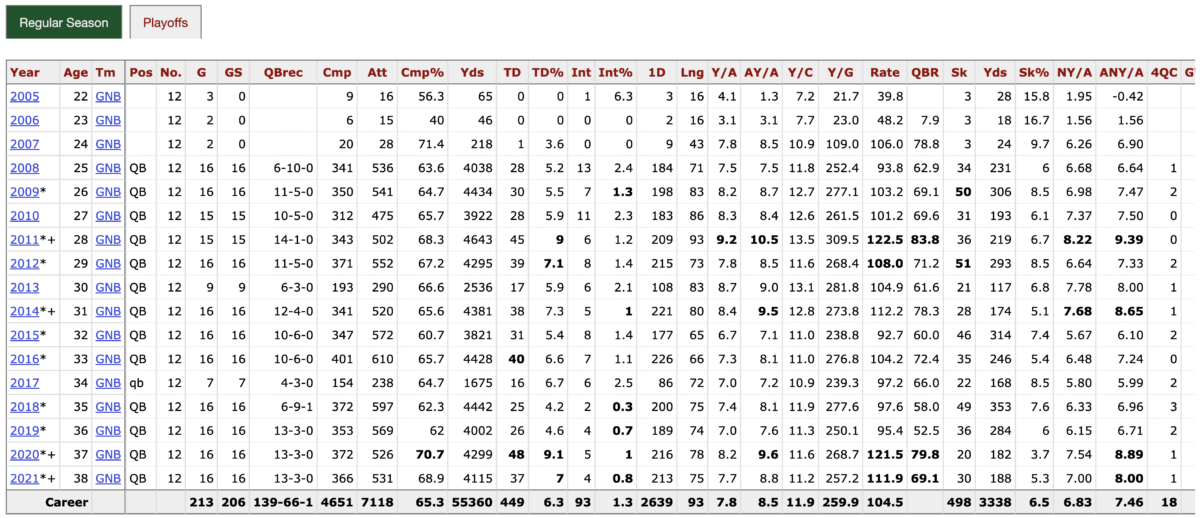 He is 150–76-1 all-time right now.
Illuminati = 150 (Sun 150m km away on average)
-Illuminati Established in 1776
Also, notes how LEO goes with NFL. Again, Leo the Lion… 13, 14, 32, 49…

And here's a higher quality photo of the tattoo.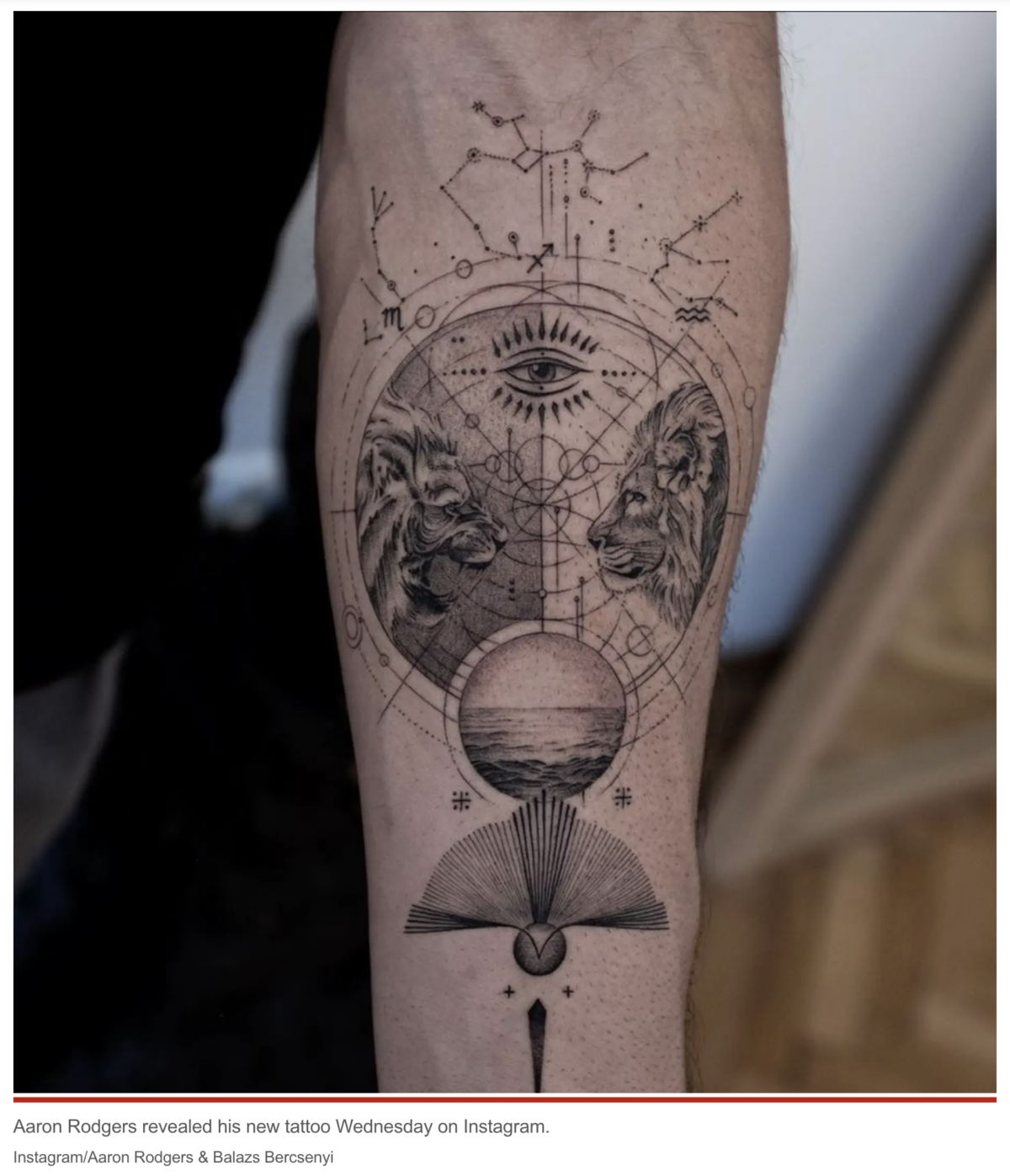 Keep an eye on any Aaron Rodger news when Leo begins.

August 22 leaves 131-days in the year.
Super Bowl = 131
Championship = 131
131, 32nd prime
Leo = 32
NFL = 32
This tattoo was revealed exactly 31-weeks after Rodgers Dec. 2, 2021 birthday.
31, 11th prime
Football is 11 v 11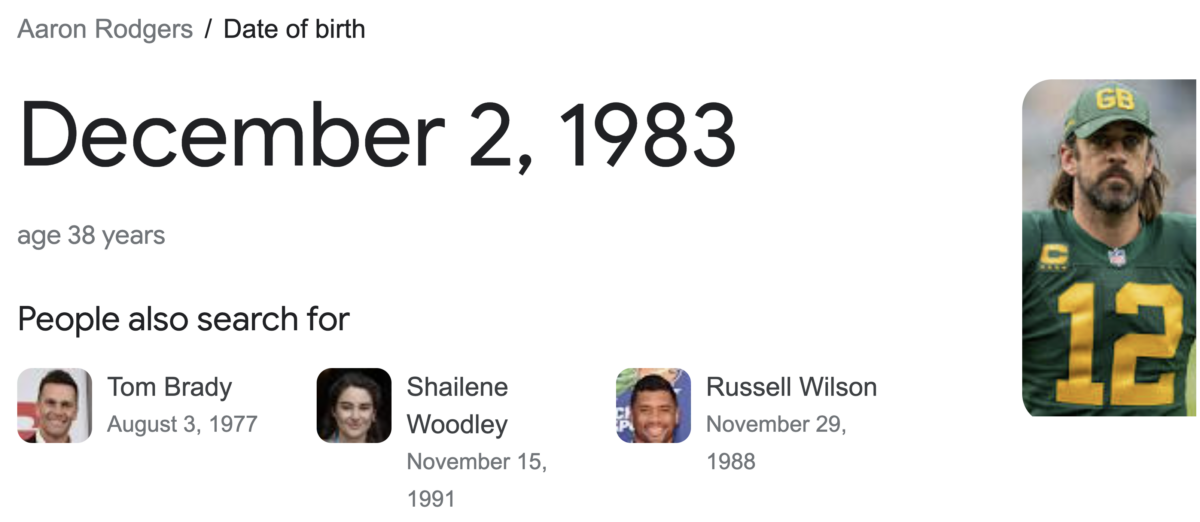 As for this coming on 7/7, and having the Minnesota connection, Tom Brady has family in that state, and he lost Super Bowl 52 in Minnesota to the Eagles. Tom Brady is also a LEO, born August 3, 1977, and this comes in the time of 'cancer,' ruled by the moon, which reminds Super Bowl 57 is just ahead, a very important championship number. *Moon = 57
Fifty-Seven = 131
Championship = 131
Super Bowl = 131
-NBA Finals = 57
-World Series = 57
This upcoming NFL season will be the 103rd.
Rodgers = 103 (27th prime)
State Farm = 103 (Stadium hosting SB 57)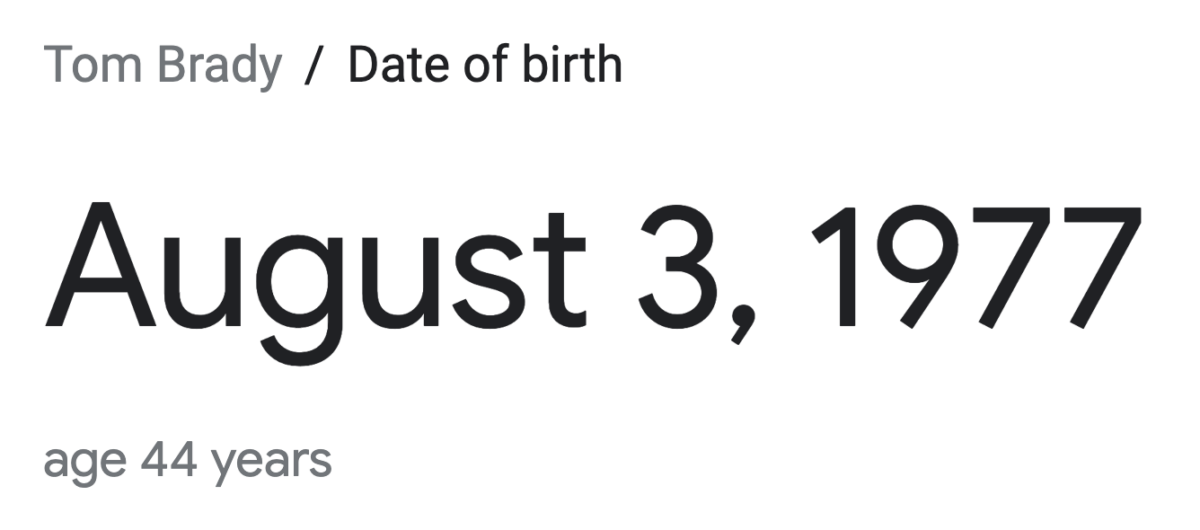 Tom Brady is 44-years-old right now, at the time of the ritual, in Cancer.
Cancer = 44 (The 4th sign)
-Cancer represented by Moon (Moon = 57) *SB 57 ahead
Also, don't forget this astrology lesson on Aaron Rodgers, Tom Brady, and the #12, from SNF.
SNF = 12
Tom = 12
-Tom Brady went on to win SNF that night… watch here
-Brady's next Super Bowl is his 11th (he needs two more for 12)
-Keep in mind the game with the astrology ritual was November 4, 2018 (day leaving 57-days in year)
–Patriots won 31-17 in Week 9, November 4, 2018
–This 7/7 ritual tattoo comes 44-months and a span of 4-days after game below (Cancer is 4th sign)
Here's some Brady stats at the time of this ritual.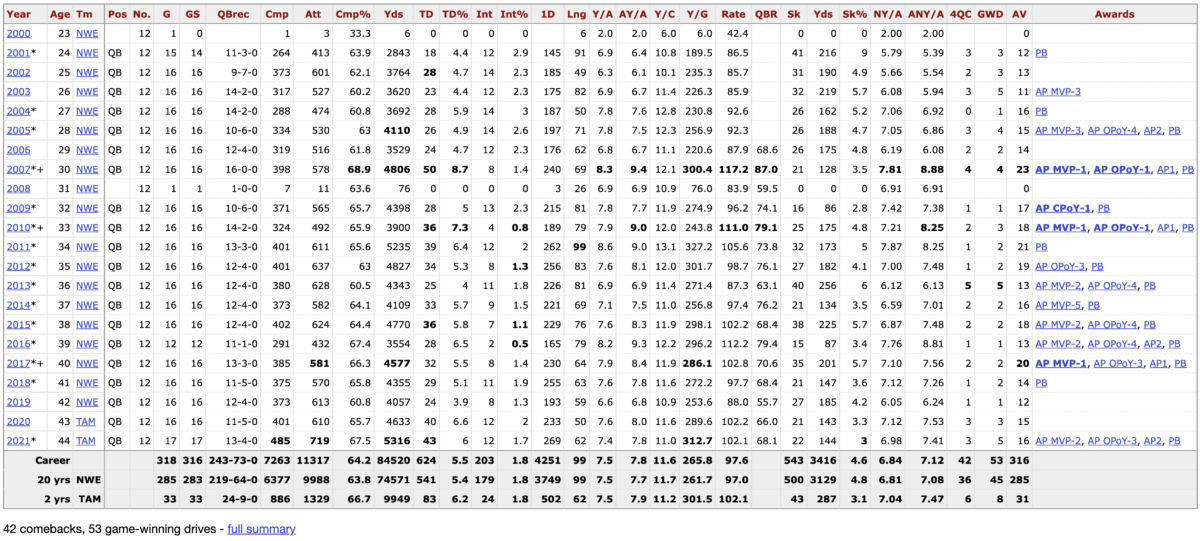 Wins:Losses:Ties

In light of Brady being on 318 games…. look at this connection with 'Constellation'.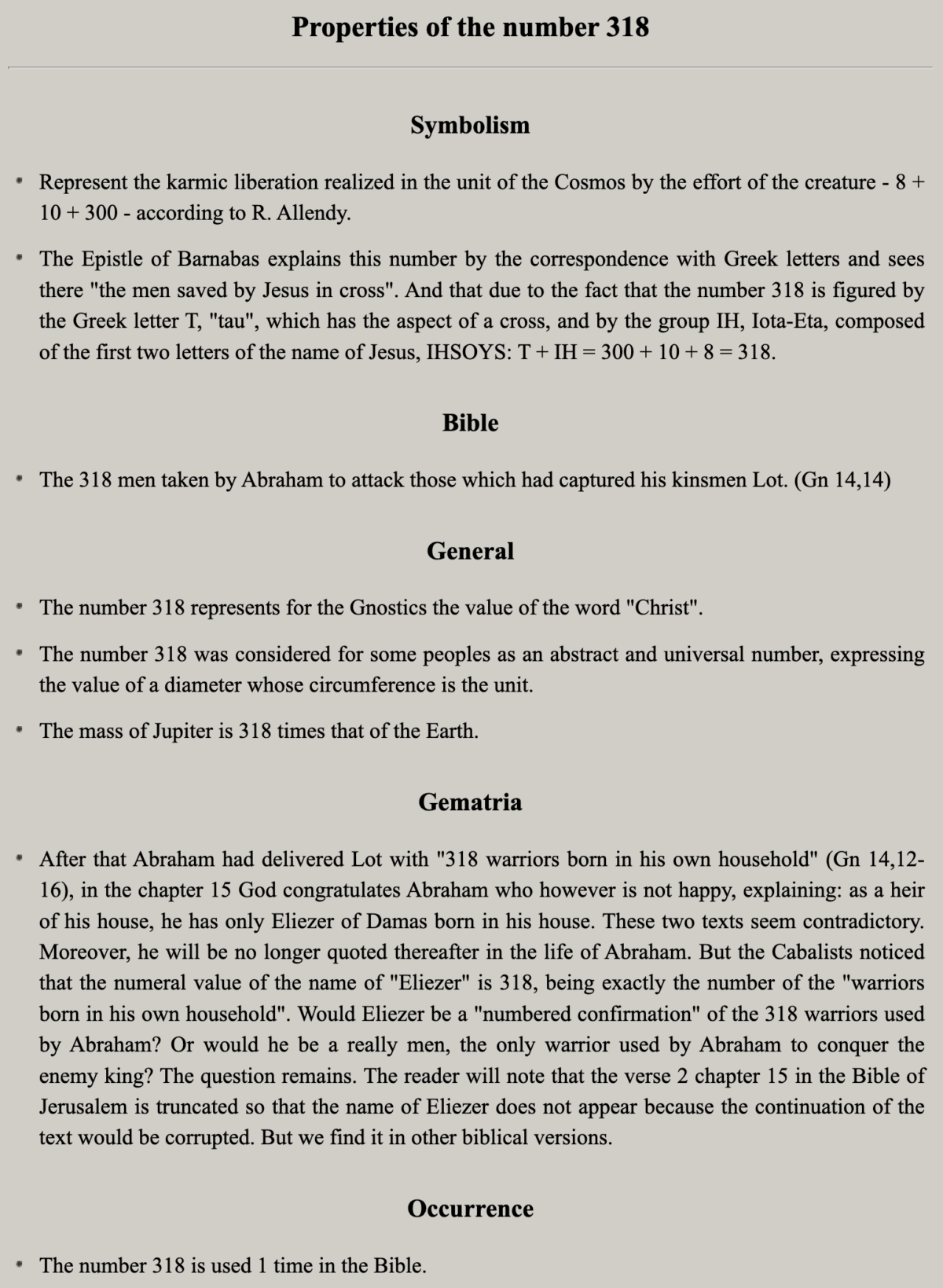 And consider the next Super Bowl is in Aquarius, the 11th sign.
Brady's next Super Bowl is #11 (He is 7-3 now, like how he starts the season with 73 losses)
Read more about 'astrology' and 201 here.
As for his new girlfriend, it is Blu of Earth.


https://nypost.com/2022/07/08/aaron-rodgers-new-tattoo-linked-to-rumored-girlfriend-by-sleuths/
Blu of Earth = 45 / 54 / 108 / 162
Sun Worship = 54 / 54 / 108 / 162