Avery Dulles, the Jesuit priest and relative of the longest serving CIA director, Allen Welsh Dulles

Keep in min Bay of Pigs involved Fidel Castro, who was Jesuit educated, and died in a massive Jesuit ritual synced with the first Jesuit Pope.
Avery Dulles was a Jesuit priest, with a perfect name.
Avery Dulles = 144 / 153
Jesuit Order = 144 / 153
Woodstock college for 14 years? '60 to '74?
The Catholic University of America from '74 to '88?
And he began teaching at Fordham in '88, the place I call the 88 University?
Remember, that is where Trump went.
Trump = 88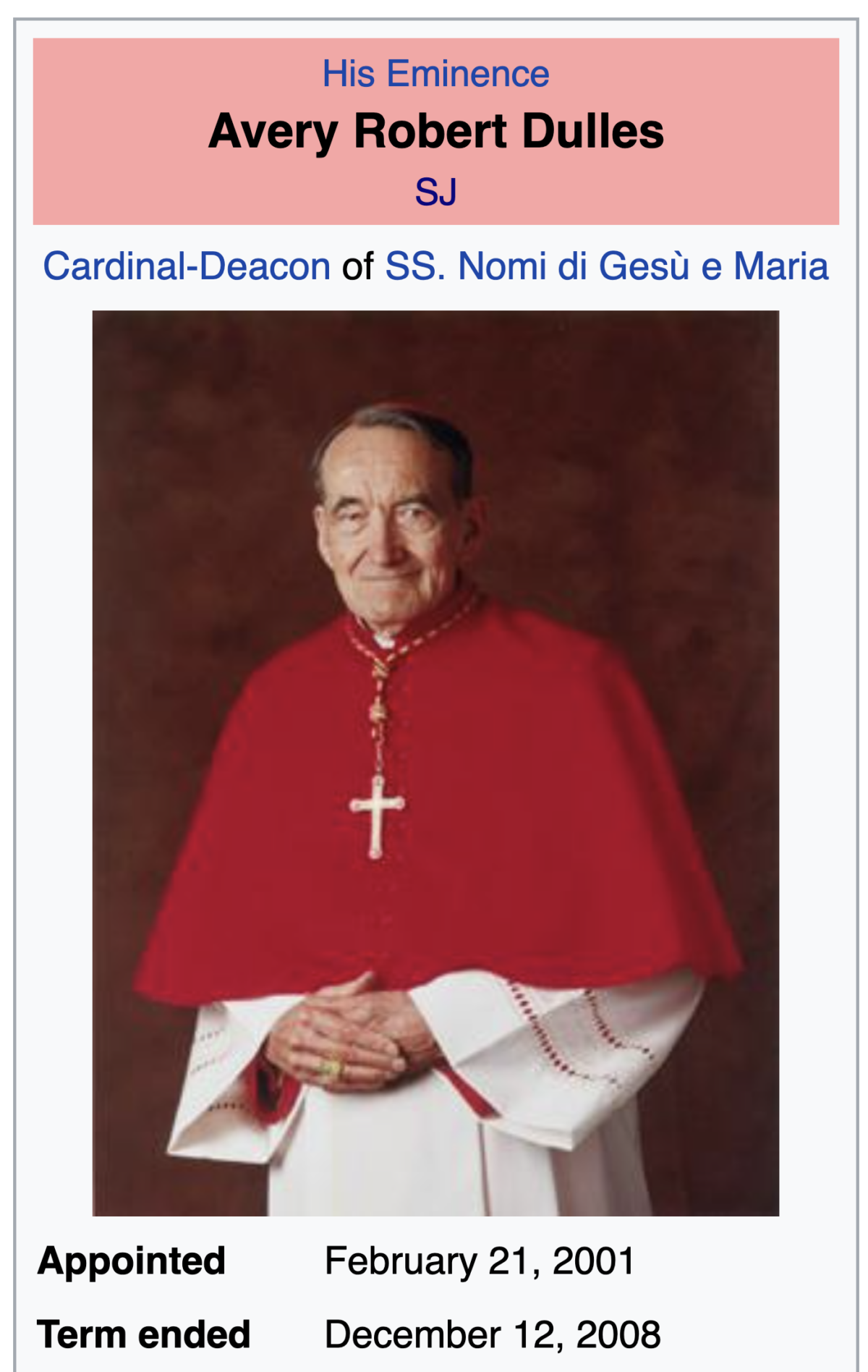 He died on a 52 date numerology. He was a cardinal, and they serve the pope.
Pope = 52
12/12/2008 = 12+12+20+08 = 52
And as for Allen, he died on 1/29.
129 is 201 in base-8 counting
The CIA is a Super 201 organization
Notice how perfect his name was for the position.
Allen Dulles = 117
Central Intelligence Agency = 117
Central Intelligence Agency: United States of America = 201
The Work of a Nation. The Center of Intelligence. = 201 (CIA's motto)
National Intelligence = 201
And notice he died 68 days before his birthday.
CIA = 68
Helios = 68
-Solar System = 68
-Catholicism = 68
-Mathematics = 68
-Terror = 68 (The history of '68)
Heliocentrism = 201
His birthday was also 4/7, similar to the CIA's establishment in '47.
Authority = 47
Government = 47
Vatican = 47
Time = 47