Borderline shooting hero killed in motorcycle accident, February 26, 2022

The 'Borderline' hero was killed in a motorcycle accident, Saturday, February 26, 2022, the 57th day of the year, and that is suspicious because…

Recall, it came 57-weeks after the Route 91 Harvest Festival shooting, and they said multiple people survived both incidents.
As for it being a 'motorcycle' accident…
–Motorcycle = 129
-129 is 201 in base 8 counting
-Shooting was on a Wednesday (Named after Mercury)
–Roman Mythology = 201
-Mercury is the "201" element (Atomic Weight)
–Motorcycle Accident = 80
–Mercury, Atomic Number 80
–Mercury is Roman God of transportation
–He died on a motorcycle
This incident came 1,207-days after the shooting.
-93 WTC Bombing on February 26
-Buildings 1, 2 and 7 fell on 9/11
Keep in mind he died on a Saturday, and the Route 91 Harvest Festival shooting happened after Yom Kippur, which fell on the day leaving 93-days in the year
Saturn = 93
Newbury Park = 154
-Recall Falling Down released on February 26 in '93
-It released 154-days after Michael Douglas birthday
-Saturnalia = 154 (Saturn = 93) (Ninety-Three = 154)
As for his name…
–Matt Wennerstrom = 187 / 218
-Holy Roman Empire = 187 / 218
-Society of Jesus = 187
And as for the shooting being on November 7, or 11/7, he is dead on W. Lynn Road.
W. Lynn Road = 117

The death comes in the time of Pisces, ruled by Neptune, which is symbolized as Poseidon, and it is a reminder the World Trade Centers had the trident as part of their design.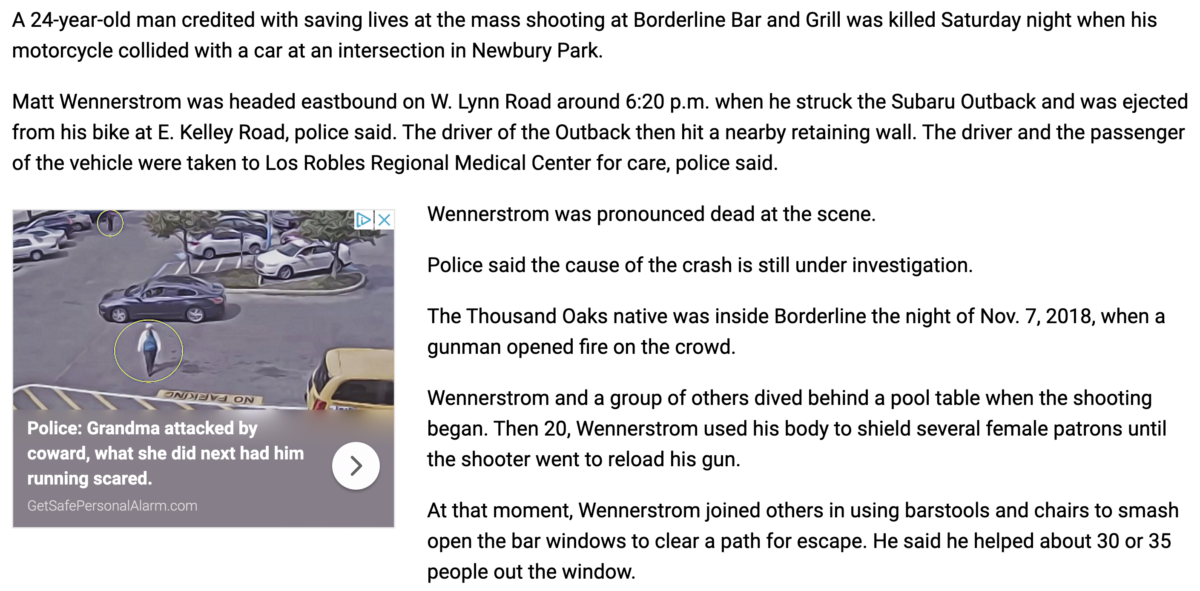 Link.
6:20 PM is a curious time.
Sacrifice = 62
Newbury Park = 62
Hero = 62