Bruce Lee's death on the 201st day of the year, July 20, 1973, and his son's death in '93, 20-years later

It just dawned on me that Bruce Lee's death was on the 201st day of the year, July 20, 1973, while filming Game of Death. If you have not seen that movie, part of the plot involves him being shot because someone loads a prop gun on a movie set with a real bullet, which leads Bruce Lee's character (who is supposed to be a Hollywood actor) to fake his death so that his killers stop pursuing him.
Of course this is very curious, because his son Brandon Lee would die on the set of The Crowe, after supposedly, a prop gun, was loaded with a real bullet.
Brandon Lee = 54
Jesuit Order = 54
Brandon Bruce Lee = 266
Iesus Hominum Salvator = 266
-Brandon Lee died in '93
–The sun, reportedly 93 million miles away
—The Jesuit logo, the sun, with IHS (for Iesus Hominum Salvator)
—-Order of Illuminati = 201 / 93
—–Heliocentrism = 201 (The model where all revolves around the sun)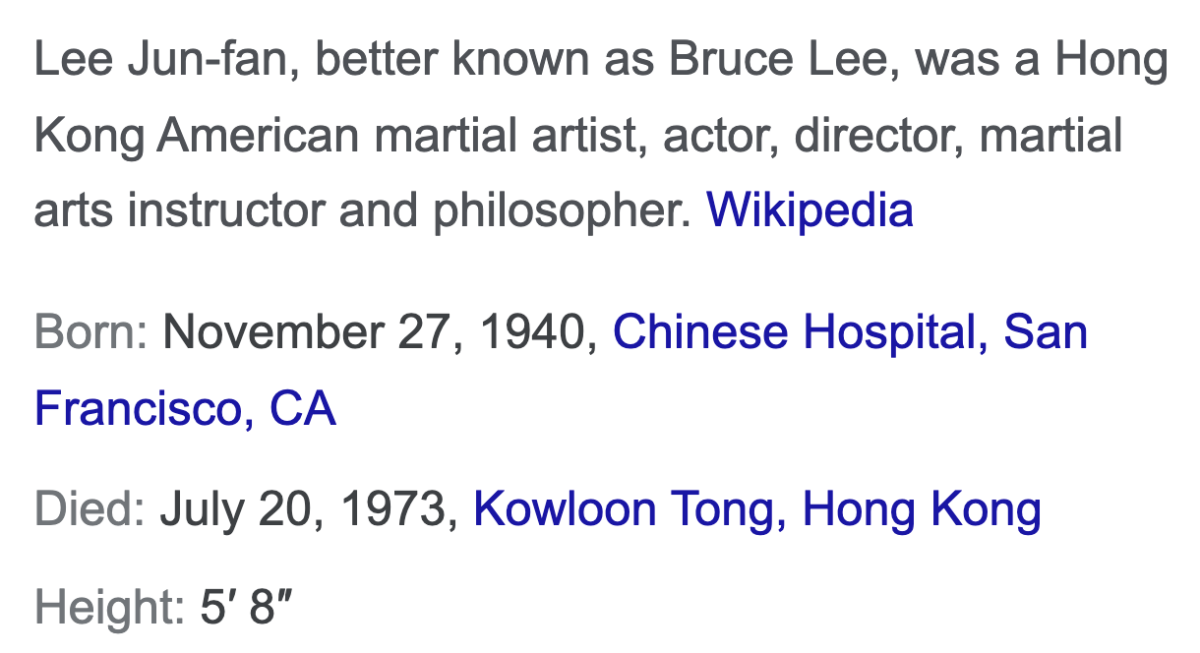 Notice that film released on June 8, in '79.
Catholicism = 68
Society of Jesus = 79
Knights Templar = 79
In the film he fights Kareem Abdul-Jabbar, who this year, in 2021, participated in his own 201 ritual, on September 27, the day in history the Jesuits were recognized by Rome.
The Jesuit Order = 201

Keep in mind that both Bruce and Brandon Lee are buried in Seattle, a city that is home to one of the 27 Jesuit universities of the nation.