Ernie Johnson's son Michael Johnson, adopted in '91, dead at 33, October 29, 2021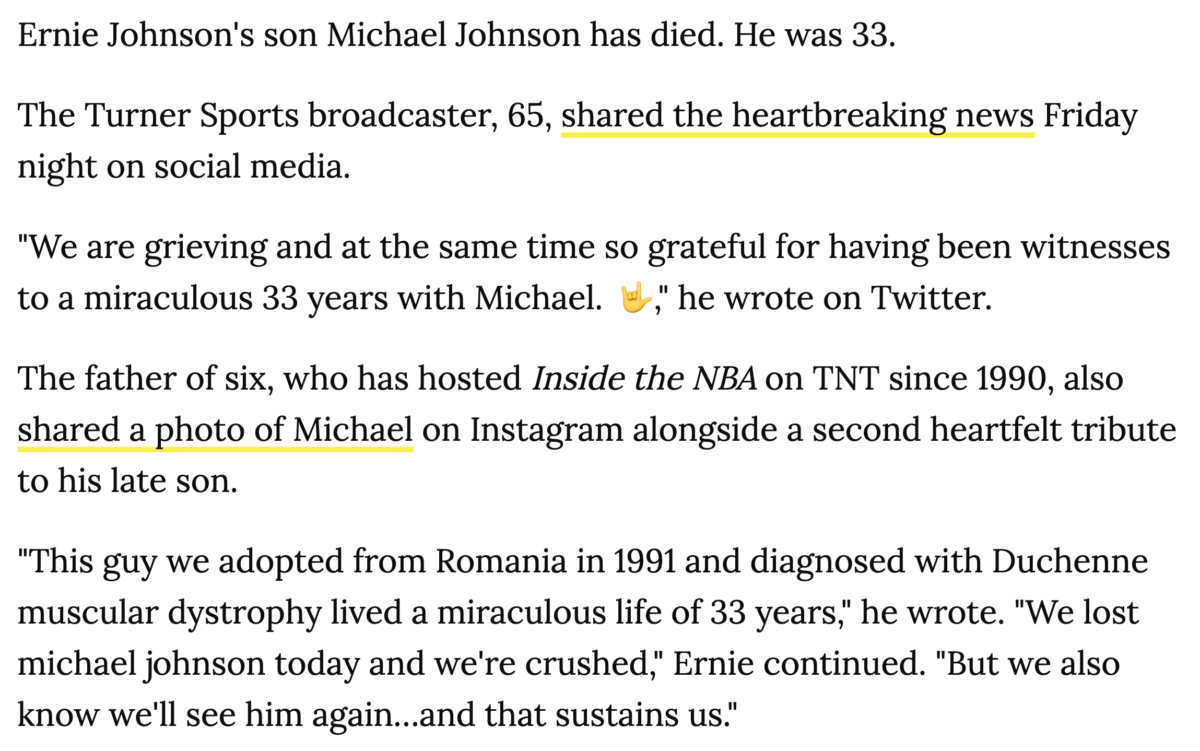 https://people.com/sports/ernie-johnson-son-michael-dies-at-age-33/
Ernie Johnson adopted "Michael Johnson" in 1991, the year the NBA Finals was Michael Jordan vs. Magic Johnson. Of course, Ernie Johnson is known for calling the NBA on TNT, named after Ted Turner. Now his son is dead at 33.
Turner = 33 (Ernie = 33)
Michael = 33
Magic = 33
*October = 33 (The lone 33 month)
-Atlanta on 33rd Parallel (Where TNT is)
Notice his son died at age 33, 83 days after his father's birthday.
Murder = 83


Read about murder by numbers and 83 here.
Ernie Johnson is 65 years old right now.
Ernie Johnson = 65
Michael Johnson = 65
Christianity = 65
-Jesus' sacrifice at age 33?
-Ernest Thorwald Johnson Jr. = 316 (John 3:16)

He broadcasts for TNT's 'Inside the NBA'.
Inside the NBA = 56
Society of Jesus = 56
-Jesus crucified at 33
Keep in mind the Atlanta Braves are in the World Series, and his father played for the team in '57, a year they made it to the World Series. *World Series = 57
On the night of his son's death, the Braves took a 2-1 lead in the '21 World Series.
Here is a bit more info on Ernie Johnson's father.

https://www.sportsmediawatch.com/2011/08/fmr-braves-voice-ernie-johnson-sr-passes-away/