Illuminated skies turn green near Sioux Falls, South Dakota, Tuesday, July 5, 2022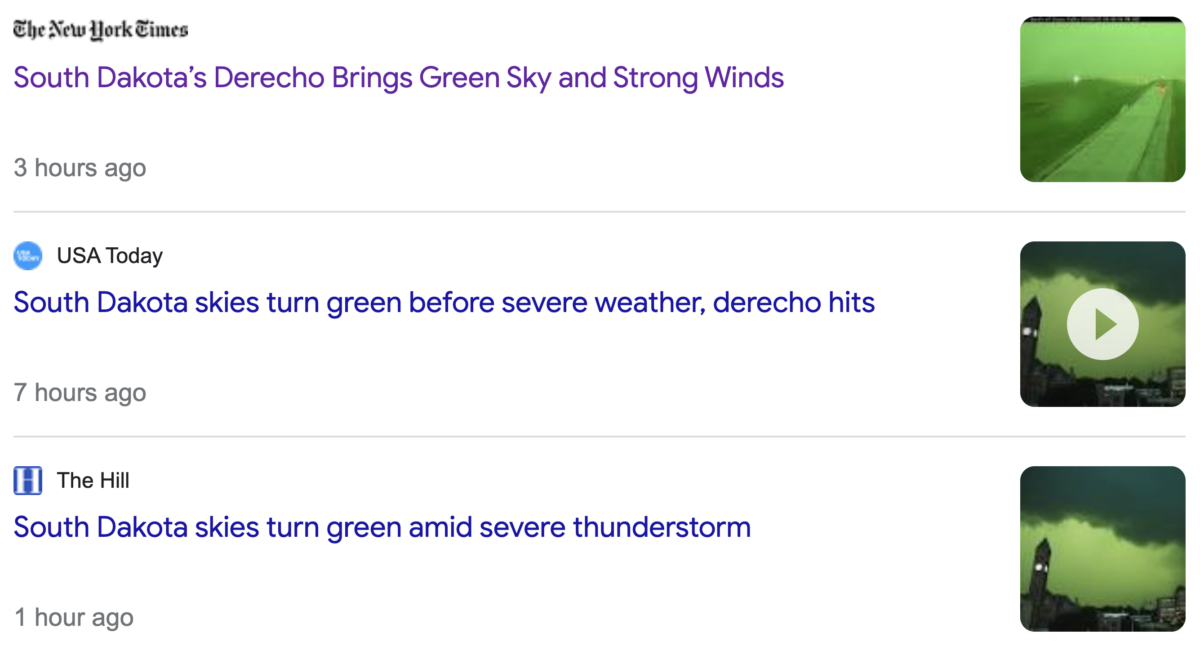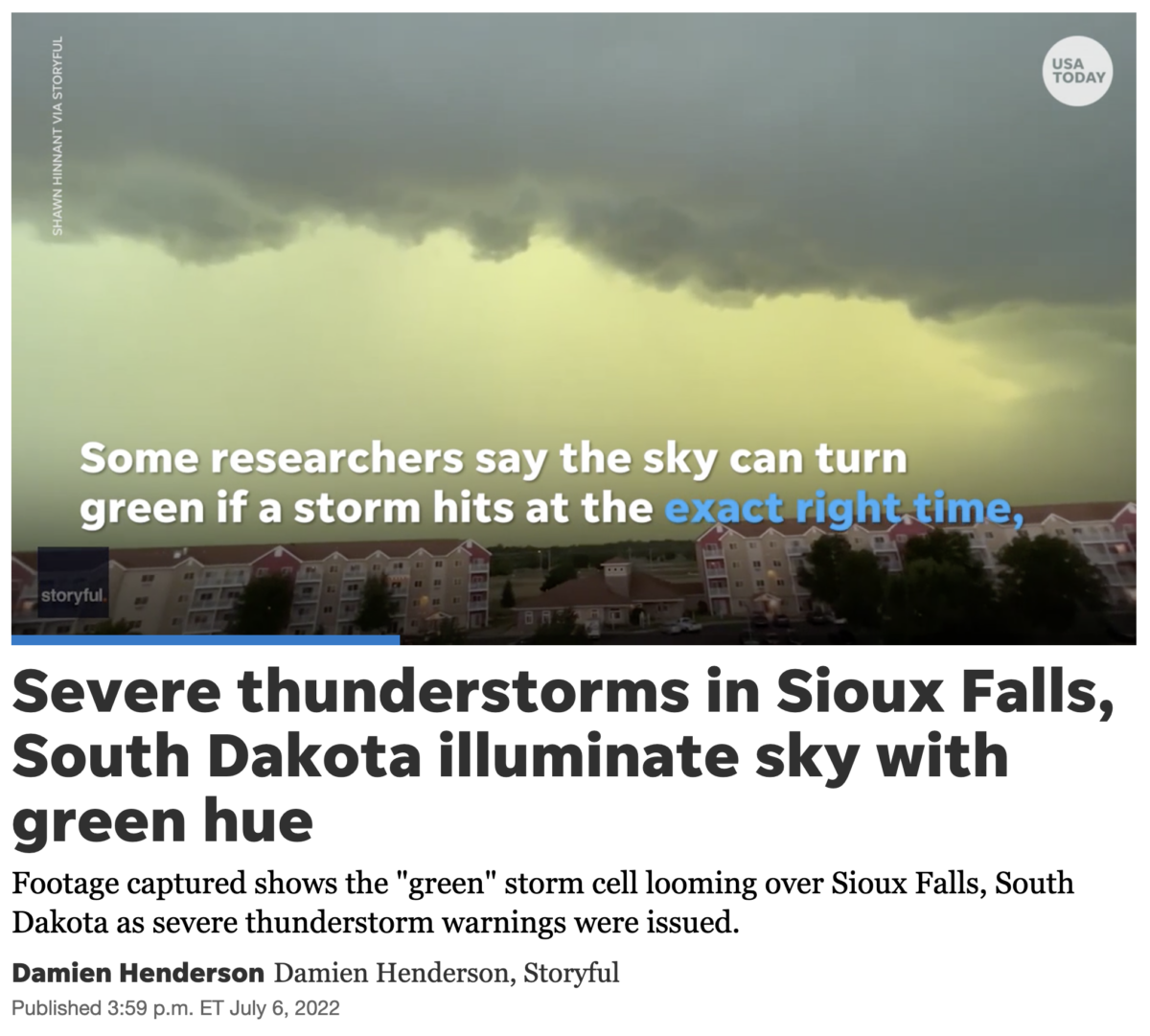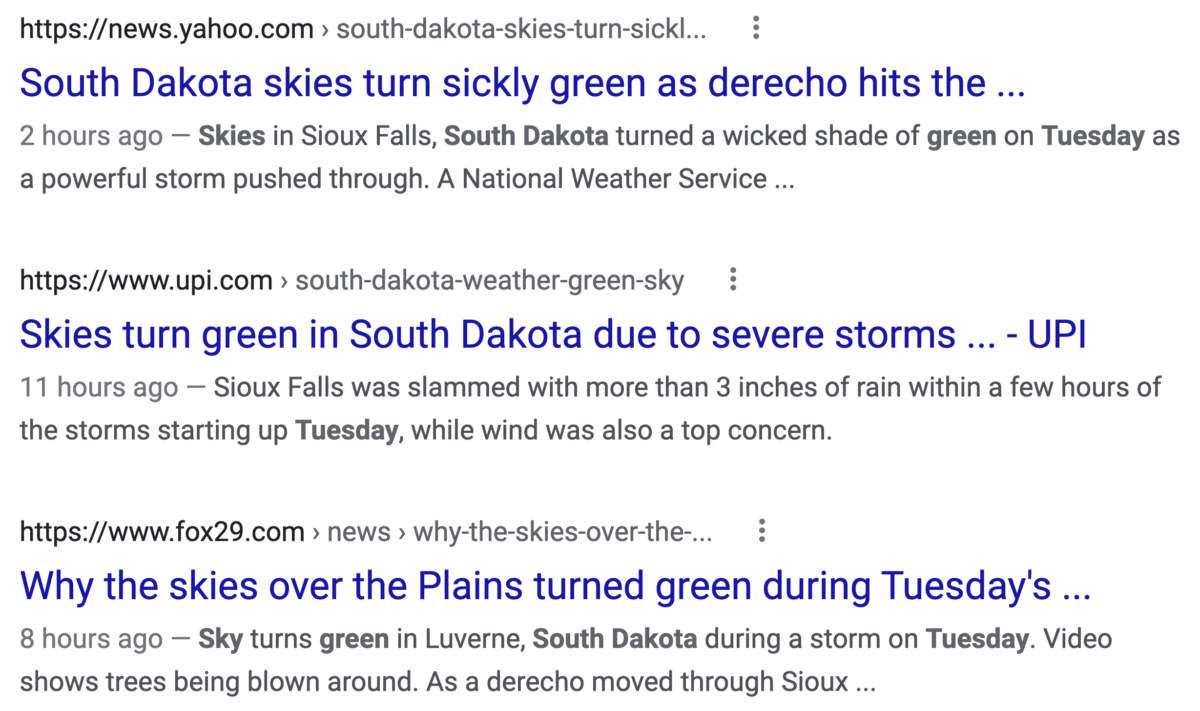 First, green color association.
GREEN SKIES
GREEN NEW DEAL
GREEN MONEY
GREEN (EVERGREEN BLOCKING PORTS)
GREEN COLOR ASSOCIATION WITH NATURE
MARJORIE TAYLOR GREENE
GREEN CELTICS
GREEN CONVERSE AT UVALDE
PRO-CHOICE MOVEMENT WEARING GREEN
GREEN DAY LEADER THREATENS TO LEAVE US DUE TO ROE V. WADE OVERTURNING
49-YEARS AFTER THE RELEASE OF SOYLENT GREEN (SET IN 2022)
…COVID-19 BEGAN IN THE ONLY STATE WITH A GREEN FLAG, 'WASHINGTON'
–GREEN = 49
–WASHINGTON = 49
–Heart Chakra = 49
AND AGAIN, THE HEART CHAKRA IS COLOR CODED GREEN
Now think of the Green New Deal in light of Mount Rushmore, with Teddy Rosevelt on there, the relative of FDR, the face of the New Deal. Plus, Teddy Roosevelt is known for extensively growing national protected lands (national parks and protected lands). Long story short, he was a conservationist.
Roosevelt = 49

Second, this occurred Tuesday, July 5, 2022, the same day CERN fired up in Switzerland, on Pope Francis's 201st day of his, and there sure has been a lot of green going on.
Weather Control = 201
Ignatius of Loyola = 201
Jorge Mario Bergoglio = 201
Order of Illuminati = 201
The Jesuit Order = 201
-The Jesuit Order = 69 / 84 / 177 / 201
-Weather Control = 69 / 75 / 177 / 201
-This happened on July 5, or 7/5
–New World Order = 75
–Catholic Church = 75
–Order = 75
Green Converse = 201
Agenda 21, June 13, 1992 (Day leaving 201 days in year)
-Franklin Delano Roosevelt = 129 (129 is 201 in base-8 counting)
This happened on a Tuesday (named after Mars)
–Mars = 201 (God of war) (Weather warfare and Jesuits)
Again, this happened on 7/5.

Read about the New World Order and 75 here.
And it happened near Sioux Falls, South Dakota.

And the 'Hadron Collider' went live after a LONG hiatus on the same day.


The Warriors just became 7-5 in NBA Finals, in the NBA's 75th season, while a war is breaking out in Russia and Ukraine, and we keep seeing yellow and blue, the colors that when combined form green.

South Dakota is the 40th state. *CERN = 40

Also interesting, this happened the 246th day of the state's age, right after the 246th birthday of the United States. *CATHOLIC CHURCH = 75 / 246


Sioux Falls = 132
Catholic = 132
United States of America = 132 / 84
-This happened 84-days after the anniversary of FDR's death
-Forty = 84 (United States = 40) (US = 40)
Again, South Dakota is the 40th state in order of statehood.
Green Sky = 40

Think of the biblical flood, 40 days and 40 nights.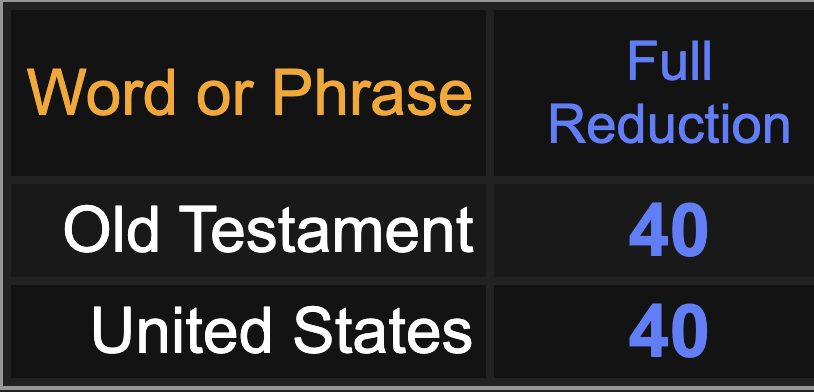 It is 2022, and water and food are big subjects. And in the Bible, floods and famine are big topics.
Food = 22, Water = 22 (2022)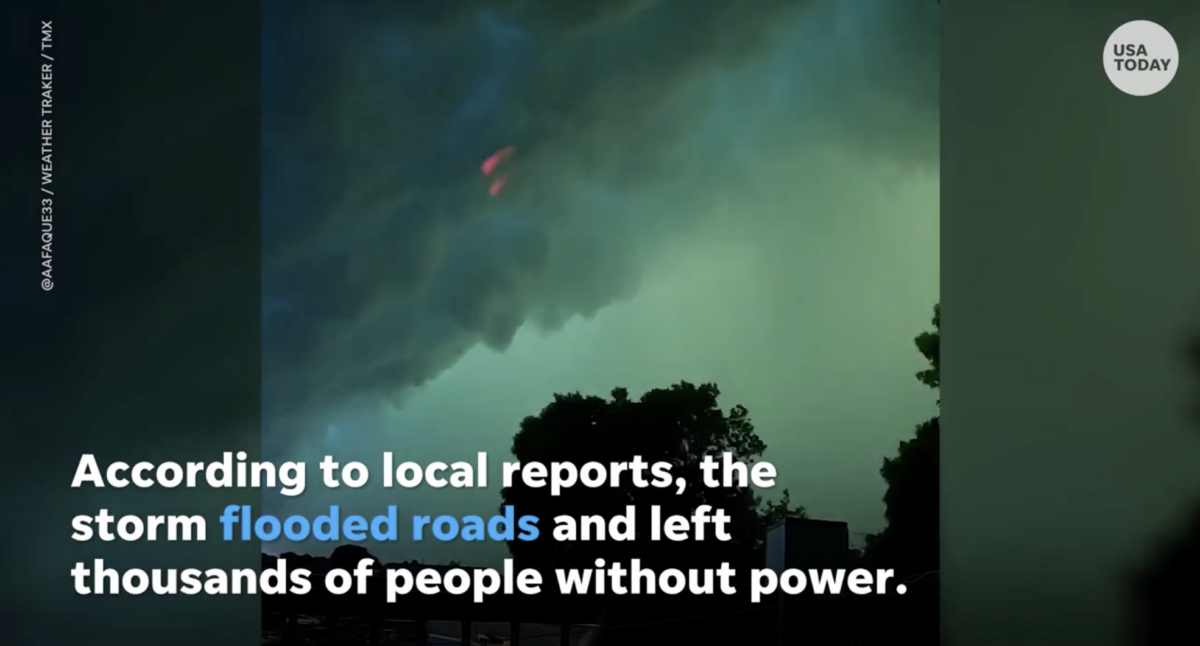 Think of the recent ritual with Politician Dr. Oz, and him winning the election that was on May 17, the anniversary of the publishing of the Wizard of Oz. Again, the Wizard of Oz has the 'green' witch and is focused on the 'Emerald' City, where Emeralds are green.
Noteworthy is the fact that Seattle, in the 'green' state, Washington, is known as the Emerald City.
ALSO, this location was on the 47th parallel north… and 97th Meridian West…

Green New Deal = 211 (47th prime)
Government = 47
Authority = 47
President = 47
White House = 47
Republican = 47
Democrat = 47
DC = 47
Vatican = 47
Francis = 47
*France = 47
Roman Catholicism = 97 (25th prime)
Pope = 25
Earth = 25
Flood = 25
It's a reminder the Vatican recently began the necessary Green Pass.
Green Pass = 49
Catholicism = 49
FYI, the "Capitol Insurrection," another 201 ritual, with a lot of MARJORIE TAYLOR GREENE, it came on the 102-year anniversary of the death of Teddy Roosevelt.
Theodore Roosevelt Jr. = 102


And remember, Trump thought he was a lot like Teddy Roosevelt.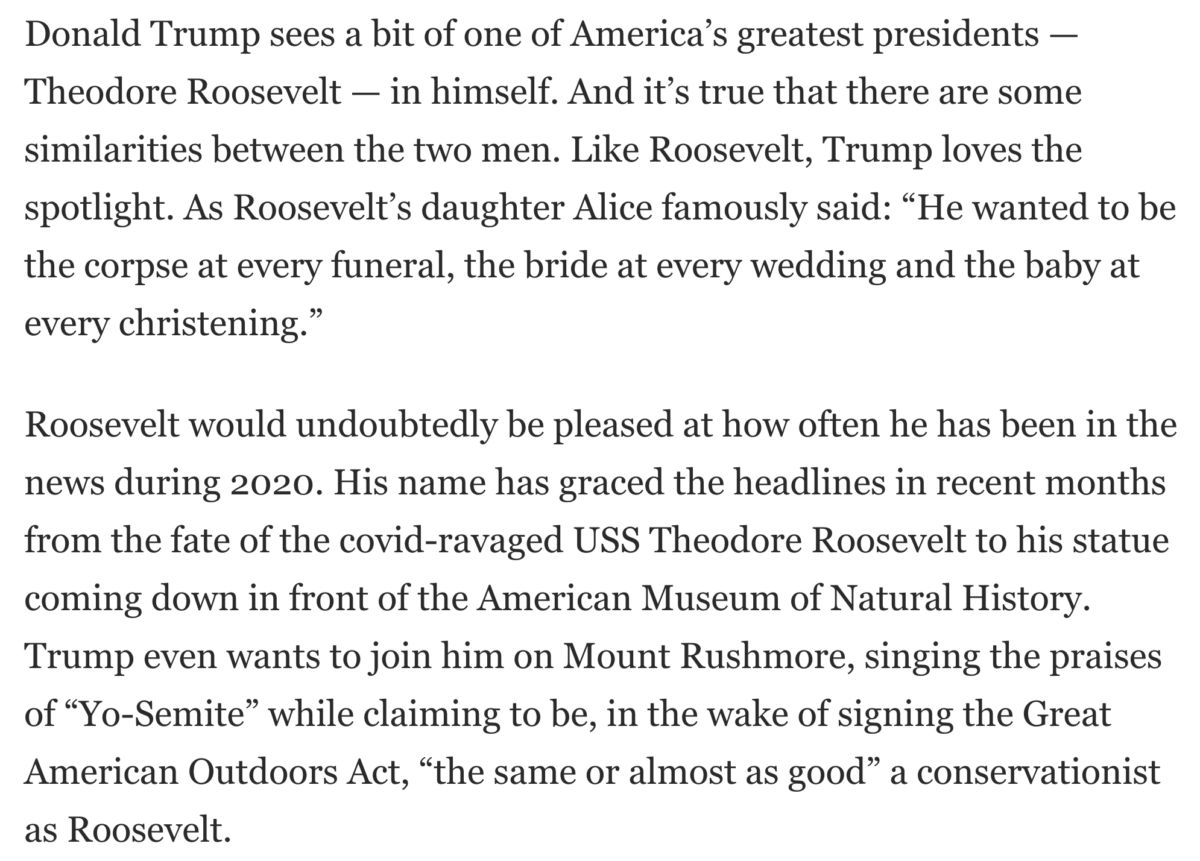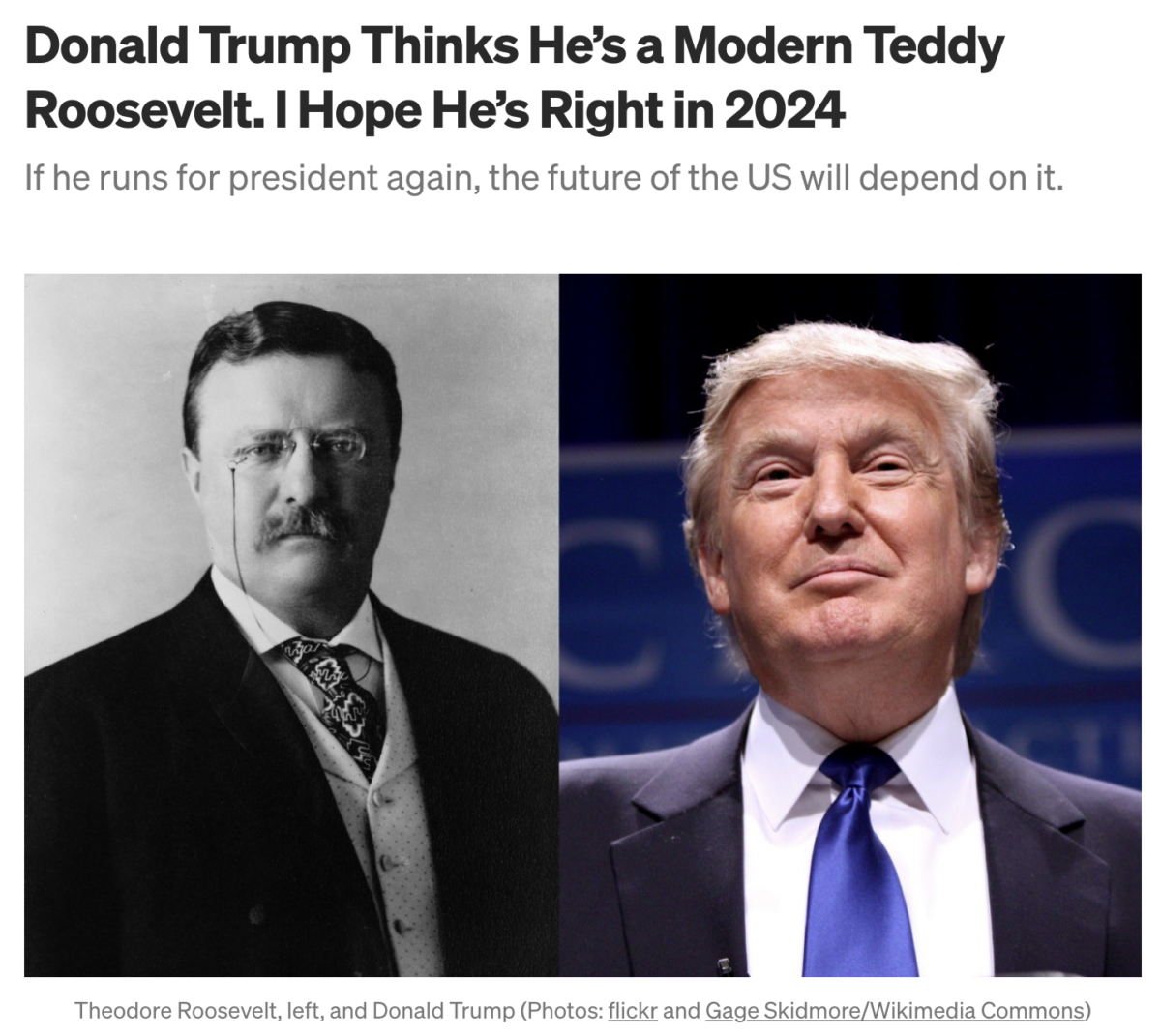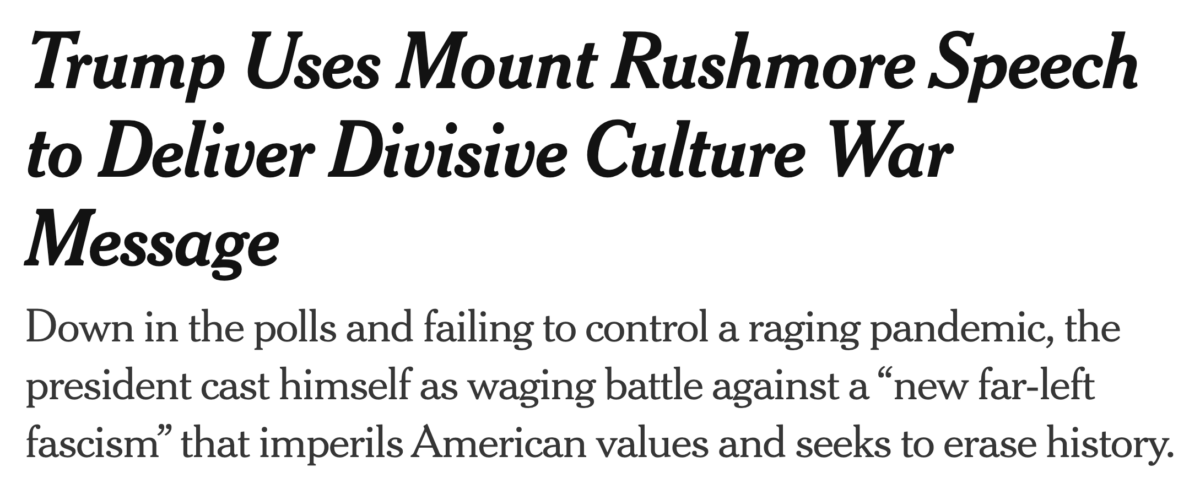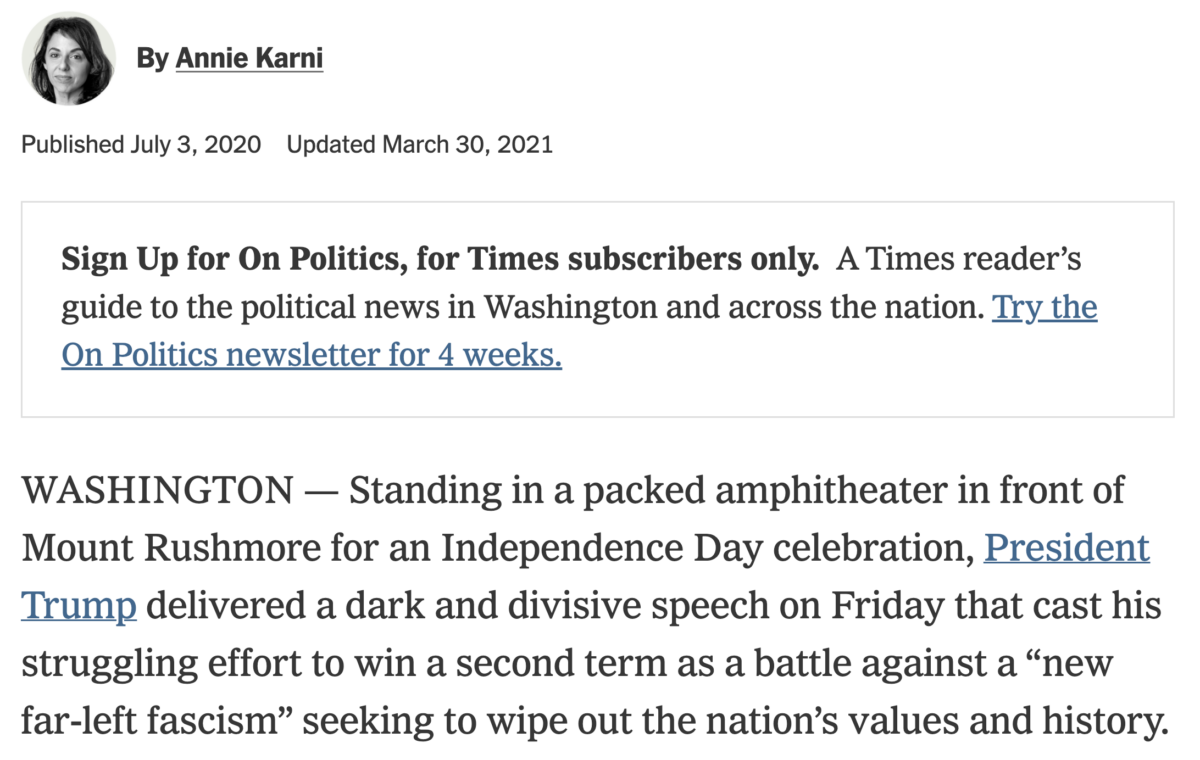 This ritual came a span of 733-days from Trump speaking at Mount Rushmore, July 3, 2020, where 733 is the 130th prime number, and 'Washington' equates to 130, the name of the first recognized President, who has his head on Mount Rushmore.

733, 130th prime
Washington = 130
Also noteworthy, this ritual came 200-days after the Pope's birthday, or also on his 201st day of his age. *Mount Rushmore = 200


And related question…. does #Gematria give us a clear insight into how manipulated numbers on platforms such as Twitter and YouTube work? Take a look below.