John Means becomes the latest MLB pitcher to toss a no hitter against the 'Seattle' Mariners, May 5, 2021, in the latest 201 ritual

This was the 10th no hitter for the Orioles in team history, coming on 5/5, May 5.
55, 10th triangular number *Numerology = 55 / 125 (125th day of the year)
55, 10th Fibonacci number *Fibonacci = 55
Brady recently went to his 10th Super Bowl, in 55, in his hometown
And the Mariners have been used for a scripted no hitter ritual, yet again.

Notice, #47 got the team from the 47th Parallel North (Seattle).
He did it May 5, 11 days after his birthday.

And adding insult to injury, John Means remained on "201 hits" allowed for his career, while pitching his 46th inning of the 2021 season, getting the complete game no hitter.
Mariners = 56 *Society of Jesus = 56 (The 201 Gang)

https://www.baseball-reference.com/players/m/meansjo01.shtml

Chicago = 46 (Last no hitter was by Chicago White Sox)
The first was by Musgrove, the 46th pick of the MLB draft.
Nearly every MLB no hitter encodes 46.
And in this case, his full name, John Alan Means, equates to 46.

He was drafted in the 46th round of the MLB draft.
Read about Joe Musgrove's 46 ritual earlier this year here.
And don't forget Kershaw's praise in the 2020 World Series, after his 201st strikeout.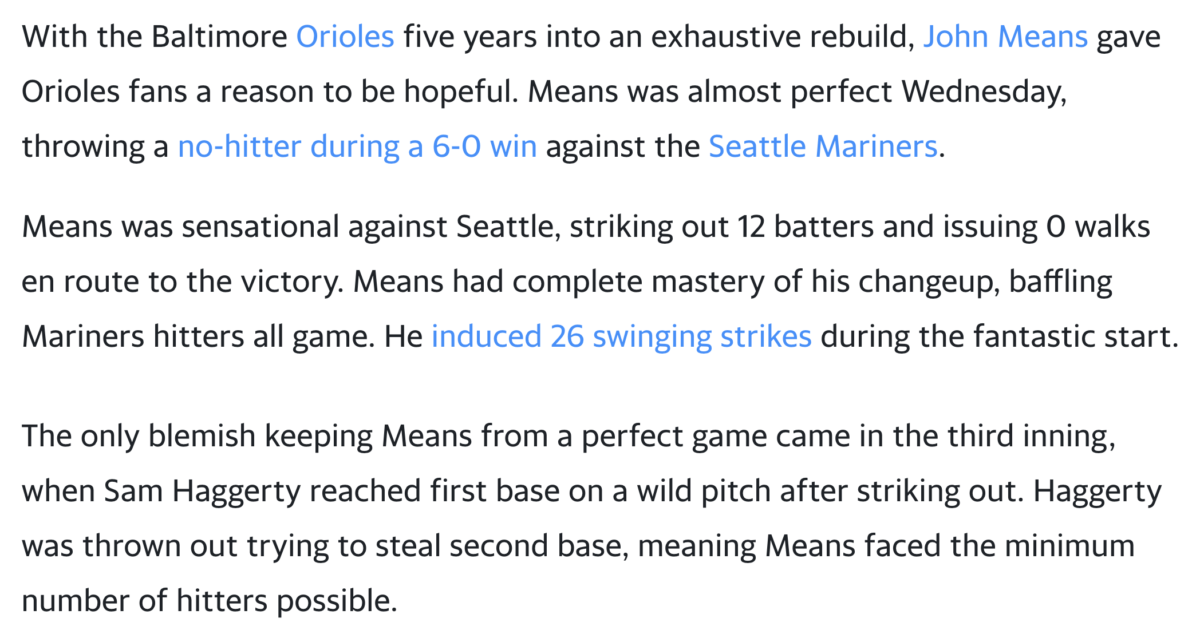 https://sports.yahoo.com/orioles-pitcher-john-means-dazzles-during-no-hitter-against-mariners-220622488.html
His ERA is 1.37 after the no hitter. 137, 33rd prime

https://www.baseball-reference.com/players/m/meansjo01.shtml
The last time the Orioles had a no hitter, it was July 13, 1991, the day Tyler Skaggs was born. And recall, the Angels threw a team no hitter against the Mariners, in tribute to Tyler Skaggs, shortly after his death, July 13, 2019, on what would have been his 28th birthday —- and it was the first team no hitter in league history since July 13, 1991, the day Skaggs was born.


That's why the announcers often say, "they couldn't have scripted it any better." That said, it could be a lot less SICK.
ALSO, with regards to this no hitter coming after Chicago White Sox Carlos Rodon's, April 14, 2021 (Jesuit Order = 144), notice his was thrown 125 days after his birthday, and this latest one by Means comes on the 125th day of the year.


Numerology = 125 / 55 *May 5, 125th day of the year