Johnny Depp's defamation case against Amber Heard's April 11 start & his first testimony on April 19, 2022 in light of JFK assassination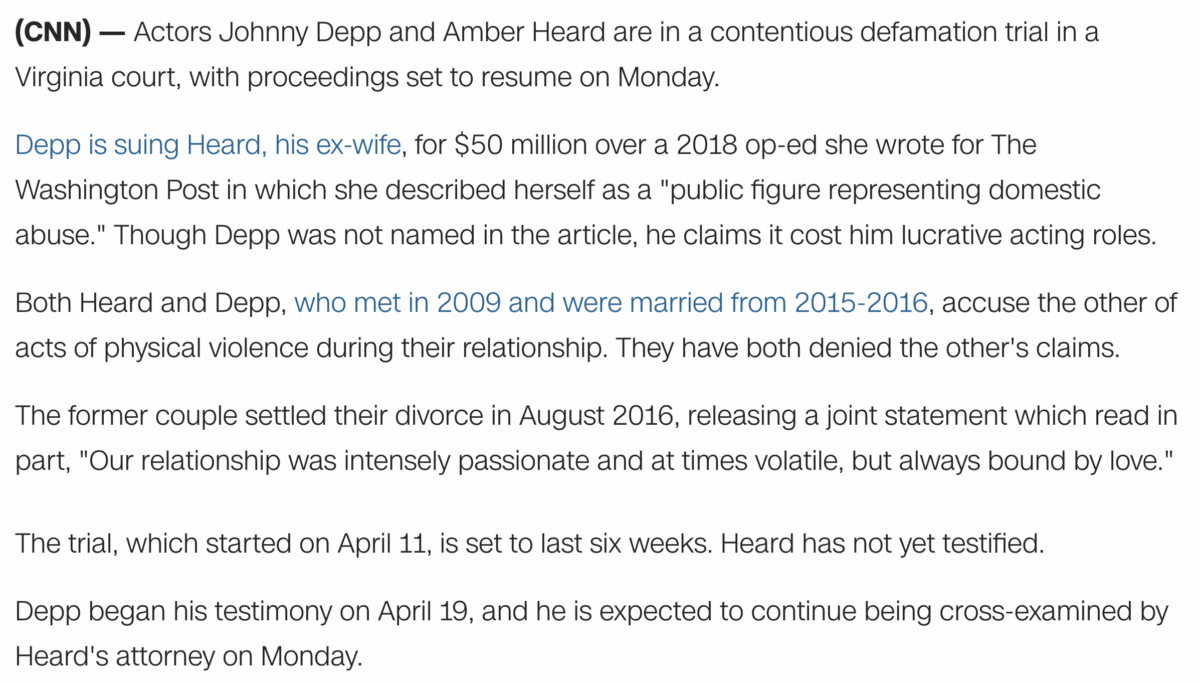 https://www.cnn.com/2022/04/24/entertainment/johnny-depp-amber-heard-defamation-trial/index.html
The trial began 59-days before his 59th birthday.


It's interesting to note that he made his acting debut in A Nightmare on Elm Street, reminding that J.F.K. was shot from 411 Elm Street, which goes with the trial beginning on April 11, or 4/11.
*Read about The Andy Griffith Show and the 411 Elm St. preview from two years prior here.
Keep in mind JFK was shot in '63, the year Depp was born. And this trial began on his 307th day of his age, the 63rd prime number.


https://en.wikipedia.org/wiki/Johnny_Depp
And of course the number 59 pertains to John F. Kennedy, the nation's first Catholic President until Joe Biden became the second, in the 59th election, exactly 46-weeks after Pope Francis' birthday. Let us not forget JFK died at age 46, and Joe Biden became #46.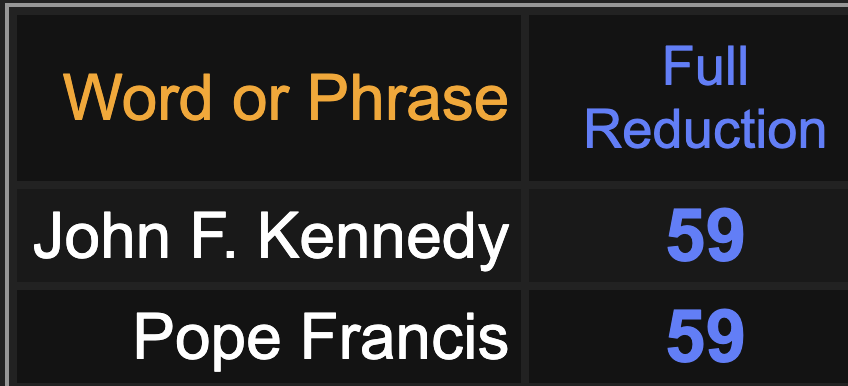 And don't forget Benedict stepped down for Francis on the 59th day of the year, Feb. 28, 2013.
And notice how Amber Laura Heard factors in.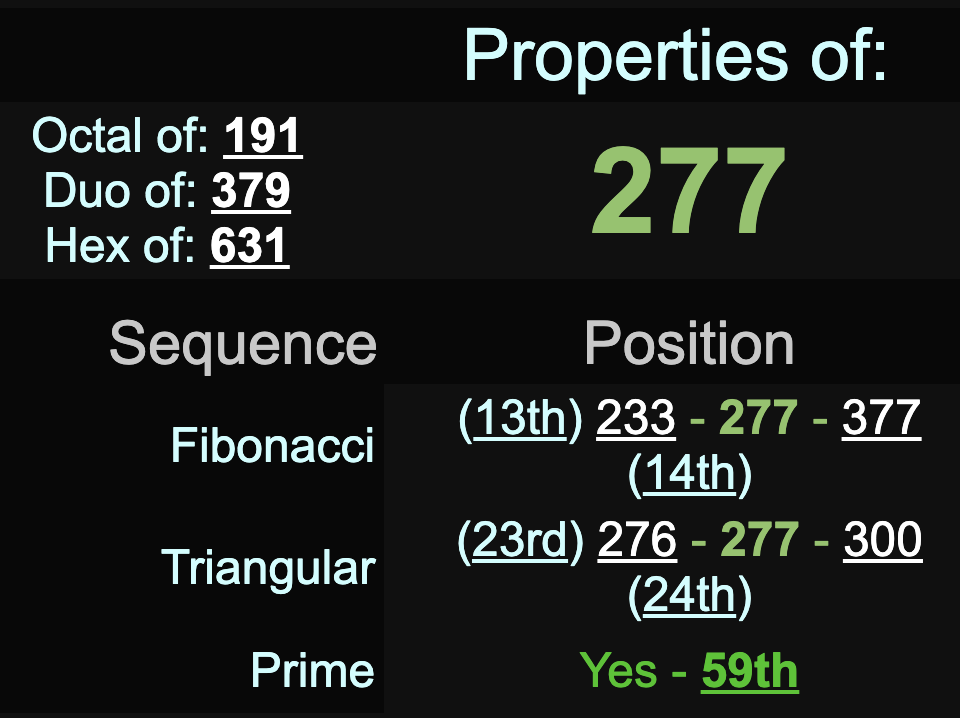 Independence Day = 277 (59th prime)
Modern Freemasonry established in June 24, 1717
59 years later, the U.S. established, July 4, 1776
Independence Day = 277 / 74
Freemasonry = 59 / 58
Mason = 17
Adding to the ritual, notice Depp took the stand on April 19, the day in history that Dealey Plaza was added to the NRHP.

And in light of 'assassination' being the theme, notice this headline in regards to what Johnny Depp is going through.

https://www.dailywire.com/news/the-attempted-character-assassination-of-johnny-depp
And then there was this, June 23, 2017.

https://abcnews.go.com/Entertainment/johnny-depp-time-actor-assassinated-president/story?id=48227090
As for the reflection of 59, he has 95 films made at the time of this defamation trial.
Jesuits created to counter 95 Theses
April 19, '95 bombing just up I-35 from Dallas in Oklahoma City
April 19, the day in history Ignatius of Loyola became the first Superior General of Jesuits
-Johnny Depp = 35
-Catholic = 35 / 46
-Holy See = 35
-Eye = 35 / 46
-I-35
-JFK, #35
-Biden, #46
And adding further to the ritual, Amber Heard is from Austin, Texas, just down the road from Dallas.
Notice she was 35 when the trial began on April 11, 2022, having turned 36, 11-days later.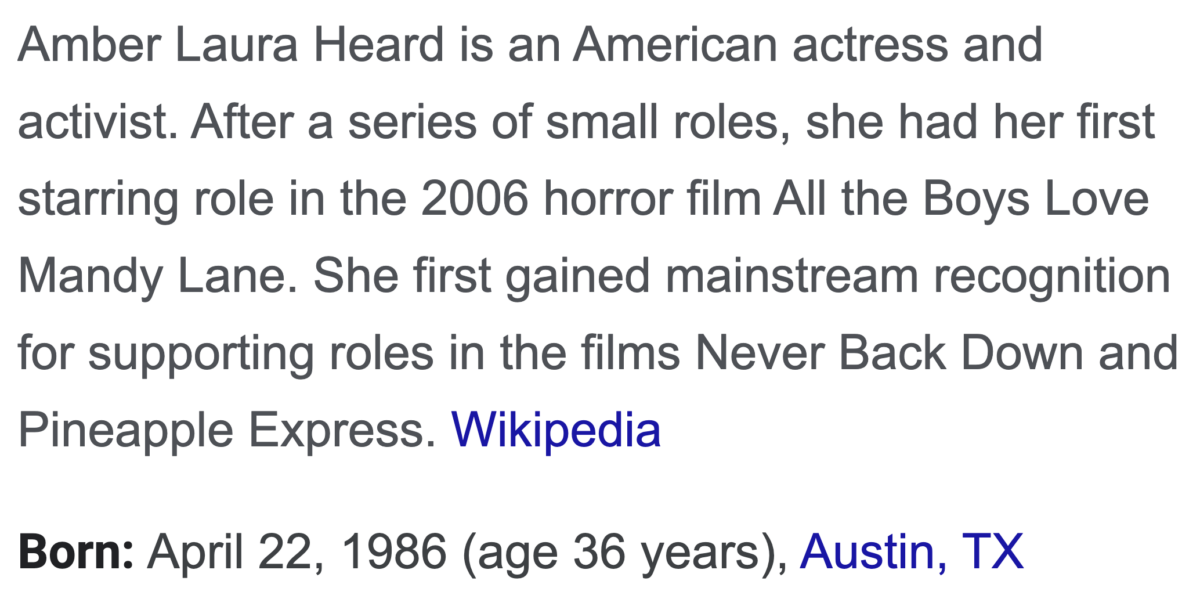 https://www.imdb.com/name/nm0000136/
As for the Joe Biden parallel, this trial began on the 101st day of the year.
Biden = 101
Assassin = 101

Here is Johnny's June 7, 2020 post about Bob Dylan and JFK's assassination.
Read about Bob Dylan's March 26, 2020 song about JFK's death, Murder Most Foul.
Murder Most Foul = 79
Society of Jesus = 79
*Murder = 79
Also noteworthy, the trial began on Biden's 143rd day of his age, and Depp was divorced from Heard on May 23, 2016, typically the 143rd day of the year, but the 144th in the leap year, which reminds that JFK was assassinated in Dealey Plaza 143-days after meeting with the Pope, or a span of 144-days later.
*Johnny Depp = 143
*President Biden = 144
Scottish Rite of Freemasonry = 143
Jesuit Order = 144



And for one last point, A Nightmare on Elm Street released 6-days before the 21-year anniversary of the JFK assassination, the man supposedly shot from the "sixth floor," where 21 is the 6th triangular number, and both 21 and 84 connect to 'Jesuit.'

It was also four days before Joe Biden's 42nd birthday, meaning he was 41 at the time.
Dallas = 41
Skull and Bones = 41
-George H.W. Bush, #41 was there
-Dallas was established in 1841
Read about the JFK and Lincoln assassination parallels (related to theater, like Depp).
And for one last point, Depp and Heard were officially divorced on January 13, or 1/13, like 113.
Divorce = 113
Dallas = 113




https://www.nbcnews.com/pop-culture/pop-culture-news/johnny-depp-when-was-last-time-actor-assassinated-president-n775881