Pete Lammons, who helped the Jets win their only Super Bowl, dead at 77, April 29, 2021


The 29th was a fitting day to 'drown'.
It was a date with 74 numerology as well.
4/29/2021 = 4+29+20+21 = 74

This member of the New York Jets died April 29, 2021, the 119th day of the year, at age 77.
And not by chance, his full name, Peter Spencer Lammons Jr., equates to 119.

Need I remind you how the Jets Super Bowl win factors in with September 11, 2001, which was a massive ritual involving the numbers 119 and 77? If so, please read my books, because I have covered these topics countless times.
September Eleventh = 77
World Trade Center = 77 (Supposedly hit by jumbo "jets")
Keep in mind this was one day before the 77 horse won the Kentucky Oaks and Bob Baffert, Mr. 77, won his 7th Kentucky Derby, while the man born in '77, Tom Brady, was in attendance, a man whose career began in a game on September 23, 2001, Patriots vs. Jets.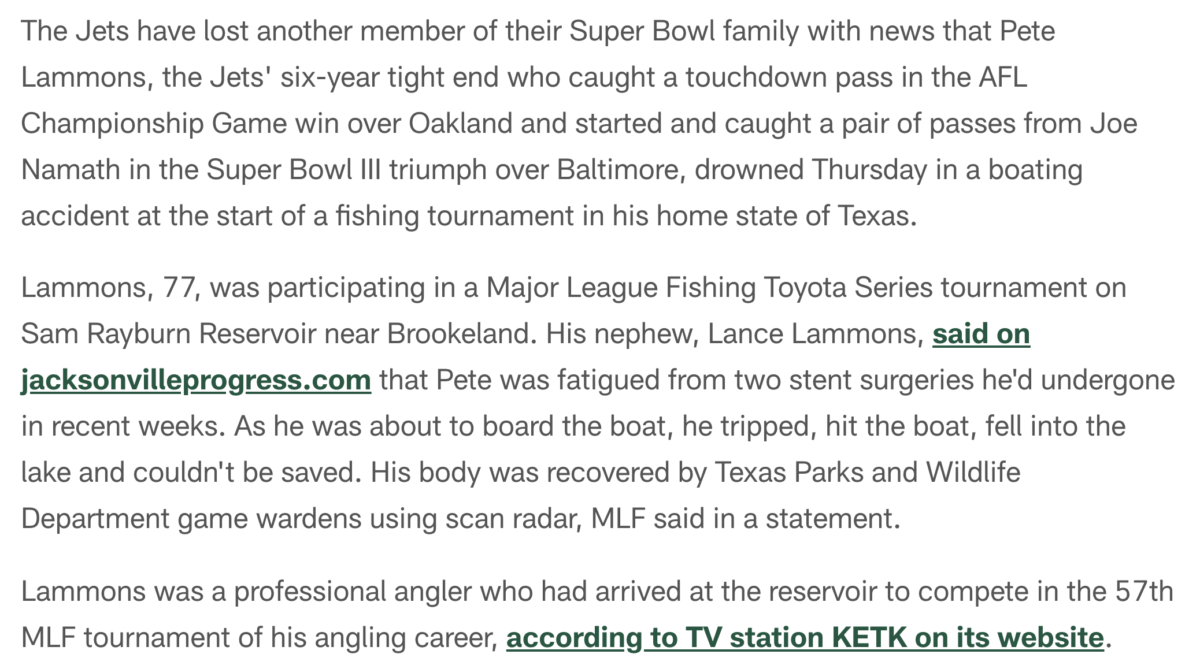 https://www.newyorkjets.com/news/pete-lammons-jets-super-bowl-iii-tight-end-dies-suddenly

https://en.wikipedia.org/wiki/Pete_Lammons
Adding insult to injury, he died 191 days after his birthday.
191, 43rd prime *RIP = 43 *Football = 43 *Pete Lammons = 43
Society of Jesus = 191


Pete Lammons = 43 / 56 *Kentucky = 43 *Kentucky Derby = 56