Peyton Manning in light of Alabama @ Tennessee, October 15, 2022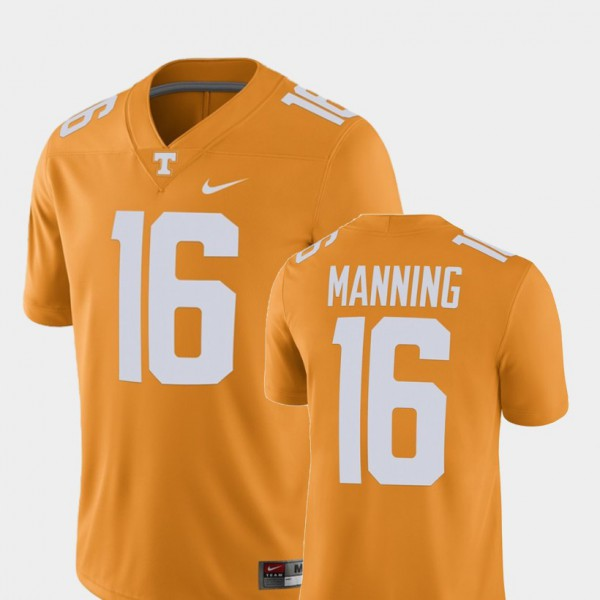 Look at the massive 16 ritual going on in Tennessee today, October 15, 2022, as Alabama travels to the state to face the Tennessee Volunteers, 136 days after the state's birthday. Of course 136 is the 16th triangular number, and Tennessee is the 16th state in Order of Statehood, established June 1, 1796, a date that can be written 1/6. And funny enough, today's game is 16 days before Nick Saban's Halloween birthday and he is trying to win his 16th straight game vs. Tennessee. And making matters even more interesting, if Tennessee's coach wins, Josh Heupel, he'll be 13-6 with the team.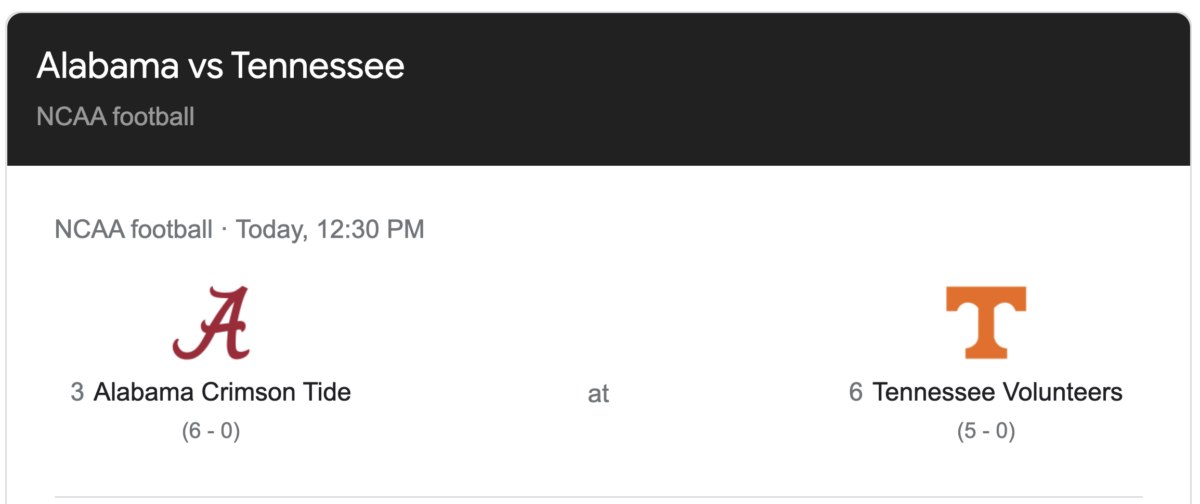 …16 days from October 15 (today) to Saban's Halloween birthday, October 31…
Plus Peyton Manning was chosen as ESPN's "game picker" of the week, and we see why. He wore number 16 at Tennessee, back when the team would beat Alabama.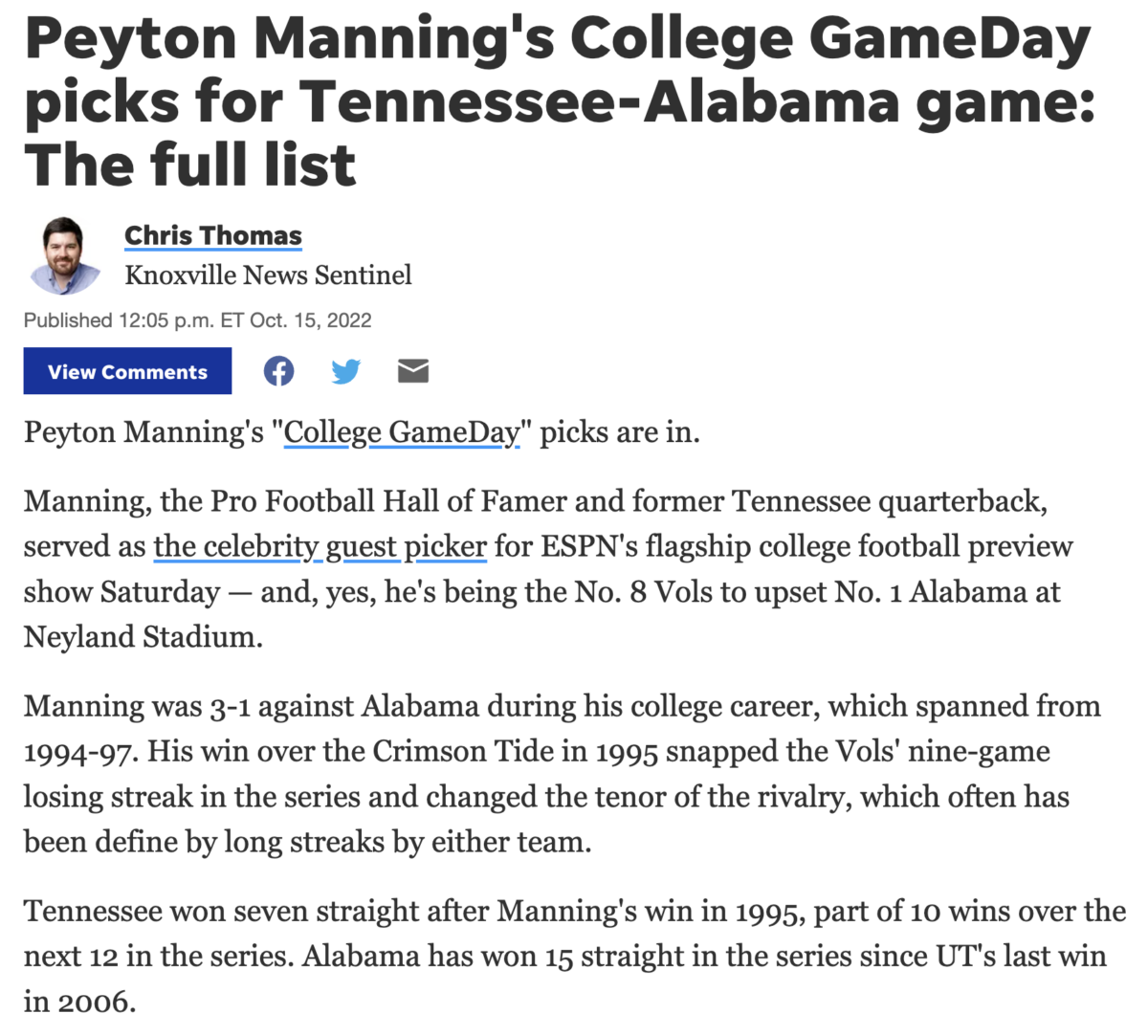 Adding to the ritual, Peyton played at Tennessee from '94 to '97, and on October 15, 1994, Alabama beat Tennessee, in Knoxville, which was 28-years ago today. 28 is the 7th triangular number, and this College Football Week 7. Also, Tennessee won 7 straight starting in '95 (more at bottom of post on this).

Peyton and Tennessee were 3-1 vs. Alabama in the time he was there.
Alabama = 31 / 13

Notice Tennessee lost their first match with 13 points.
Today, the Tennessee coach tries to get his 13th win with the team.


And notice, he was born on March 22 (322).

On the 15th, with a 15 game losing streak, ESPN highlight's Jersey #15.
Nothing ritualistic though…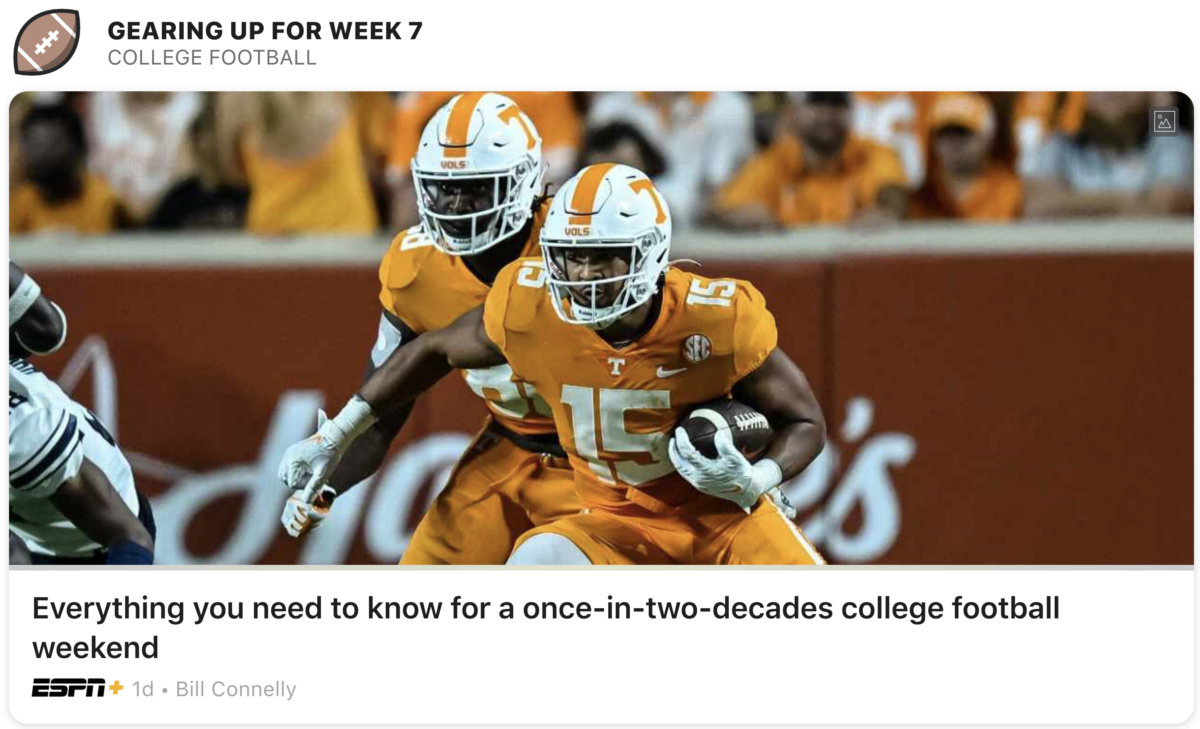 Saban is trying to get to 7-0 at age 70, in revenge of the old Alabama's 7 game losing streak starting in '95, on October 15, 27 years ago to the day.
Also, Halloween is Saban's birthday, and the day in history the 95 Theses was posted.
Halloween = 95