Philadelphia will become first city to reinstate indoor masks, April 11, 2022 news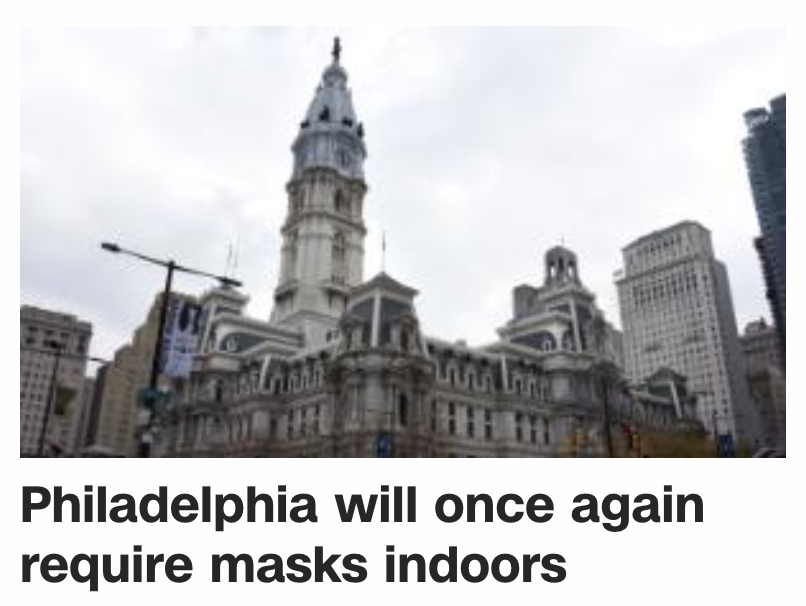 This news comes during the 76th pro basketball season, and one day after the regular season ends.
-Philadelphia's team is known as the 76ers
They're named after the signers in 1776, all 56 of them.
-Coronavirus = 56
-Covid Vaccine = 56
-Anthony Fauci = 56
-Mind Control = 56
-Toilet Paper = 56
-Society of Jesus = 56
-John Hancock died at age 56
This news comes April 11, 2022, the 101st day of the year.
The Prep = 101 (Jesuit school Philadelphia Mayor attended)
Philadelphia = 101 / 61
Christian = 101 / 61
Church = 101 / 61
-Finals = 101 / 61
-NBA Finals upcoming
-Biden = 101 (From PA)
-Revelation, and the Church of Philadelphia
-101, 26th prime
-God = 26
-Virus = 26
-Covid = 26
-China = 26
-Plague = 26
-*Bryant = 26 (From Philly, dead on Jan. 26)
-NBA Finals start on June 2, or 2/6 (like 26)
Read about the Seven Churches of Revelation in relation to the coronavirus pandemic and Event 201.
The Holy Bible = 201
Seven Churches = 201
This news comes a span of 201-days from Bill Gates upcoming birthday, October 28, 2022.
William Henry Gates = 201
The Jesuit Order = 201
Order of Illuminati = 201
The Synagogue of Satan is warned of in the letter to the Church of Philadelphia.
Bill Gates born in '55
'55, the year Polio Vaccine was stopped
Satan = 55
Today is the 70th day of the Year of the Tiger (began Feb. 1, 2022).
Vatican = 70
Francis = 70
Coronavirus = 70
Covid Vaccine = 70
-Omicron (the 70 Letter)
-Tiger = 201 (Jewish)
-*Tiger = 76 (76ers land)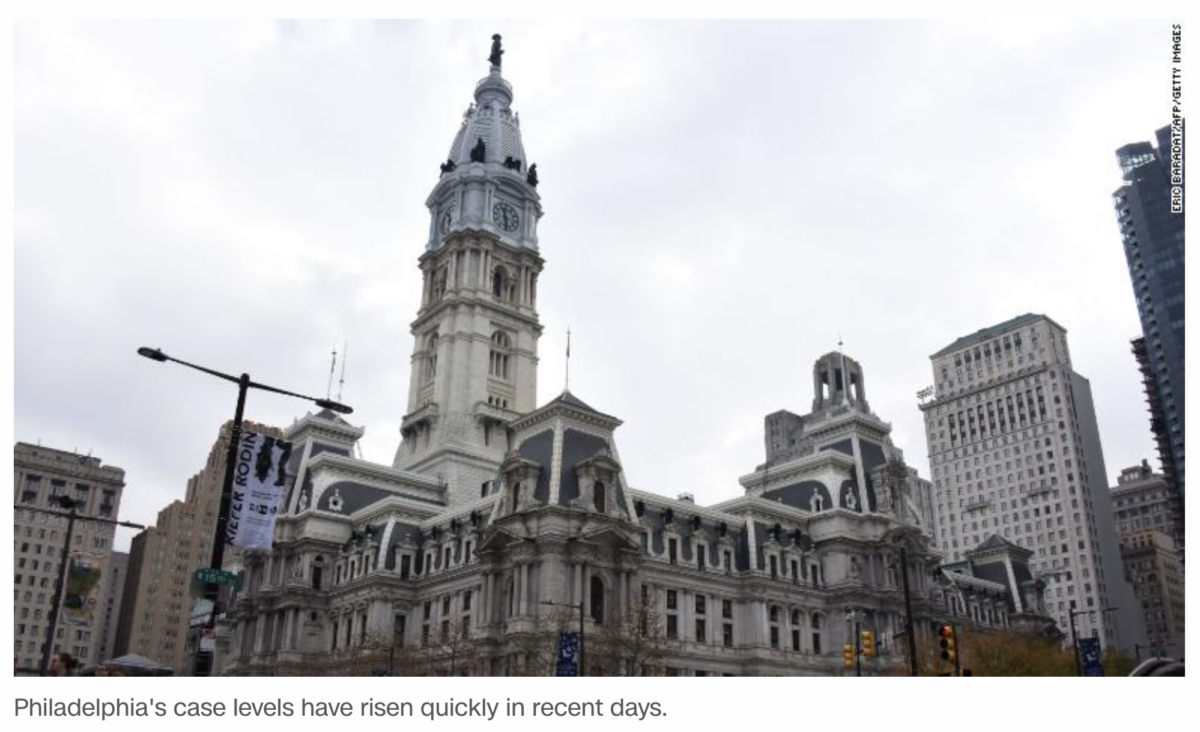 Notice Hawaii, the last state, was the last to drop its mandate, and they did so on March 25, 2022, the 53rd day of the "Year of the Tiger" and the 84th day of the year.
Covid = 53
Jesuit = 84
United States of America = 84
And don't overlook the 142 new cases per day.
Coronavirus = 142
Christian = 142 / 101
Today is 142-days after Biden's birthday, November 20, 2021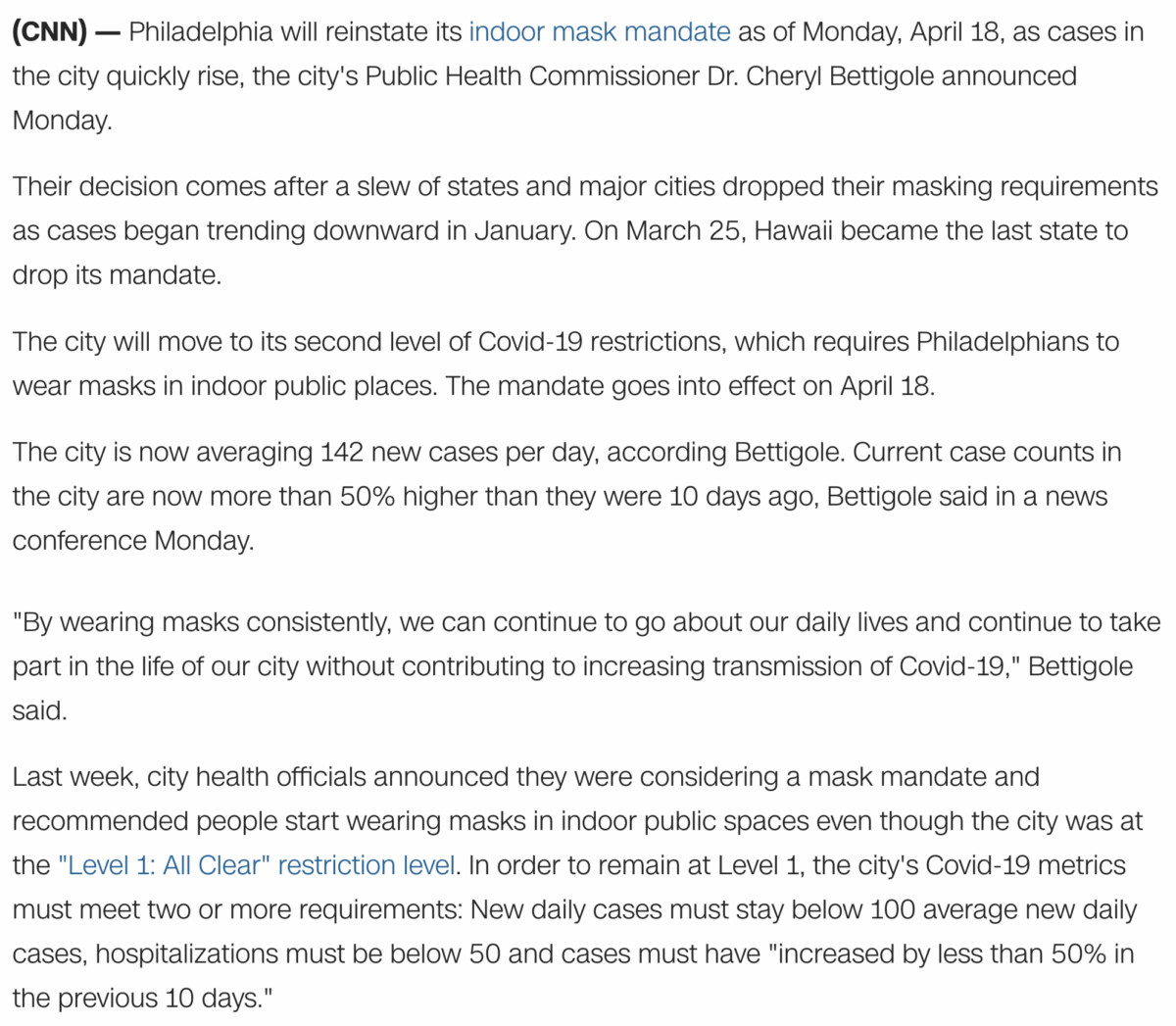 https://www.cnn.com/2022/04/11/health/mask-mandate-philadelphia-covid-19/index.html
As for the date 18/4, 18th of April, notice how Revelation 18:4 ends.

https://www.biblegateway.com/passage/?search=Revelation%2018%3A4&version=KJV
This part of the Bible is about the fall of the Rome (Babylon), it is also filled with death by famine and fire destruction. Take a minute to read Revelation 18 and remember the cabal's plans are biblical.
This news comes comes 118-days before the Mayor's birthday, August 7, or a span of 119.
Philadelphia, Pennsylvania = 118
Require masks indoors = 119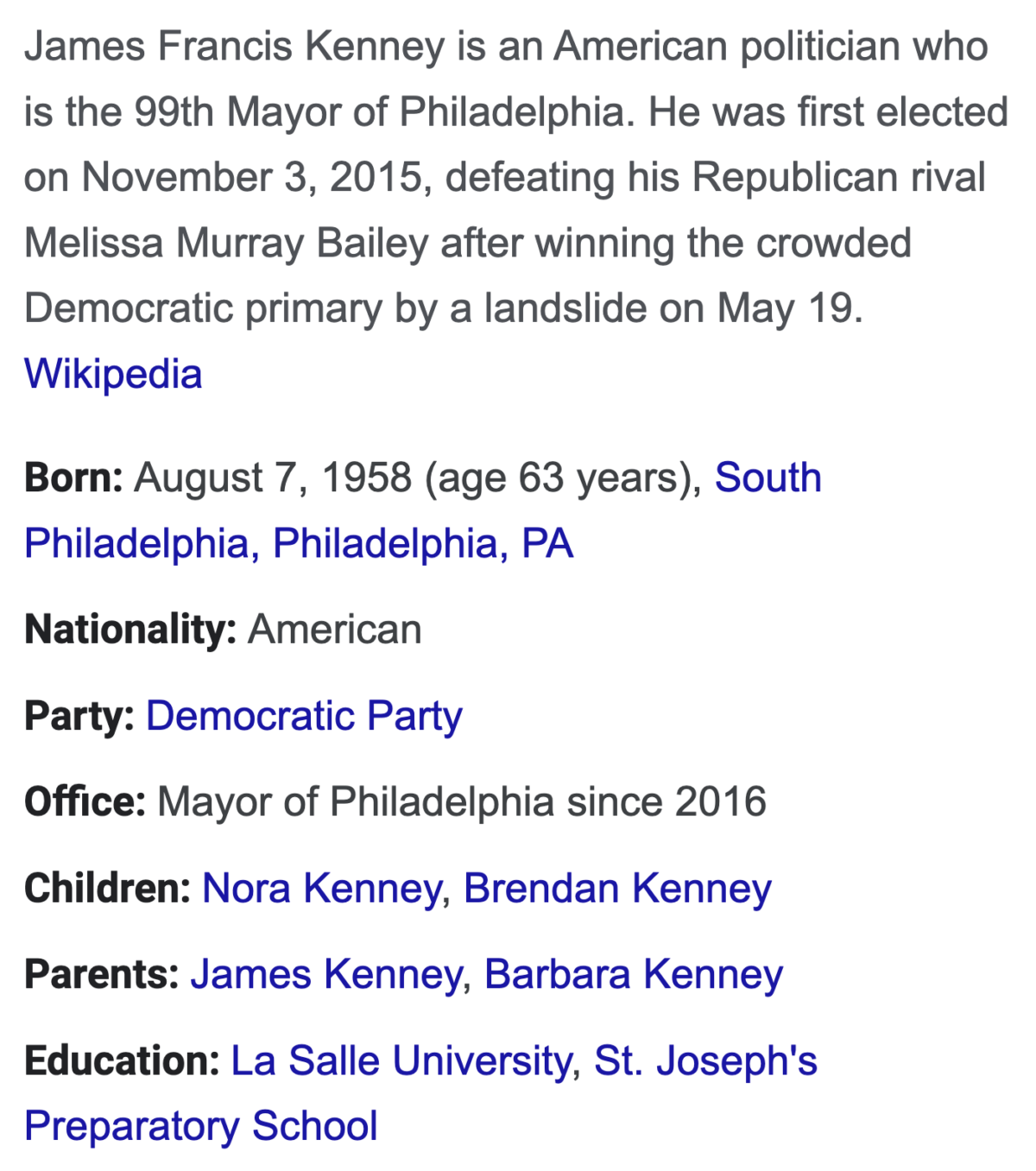 And notice he went to Jesuit prep school St. Joseph's. He's also Catholic educated at La Salle.
The Prep = 101 (St. Joseph's nickname)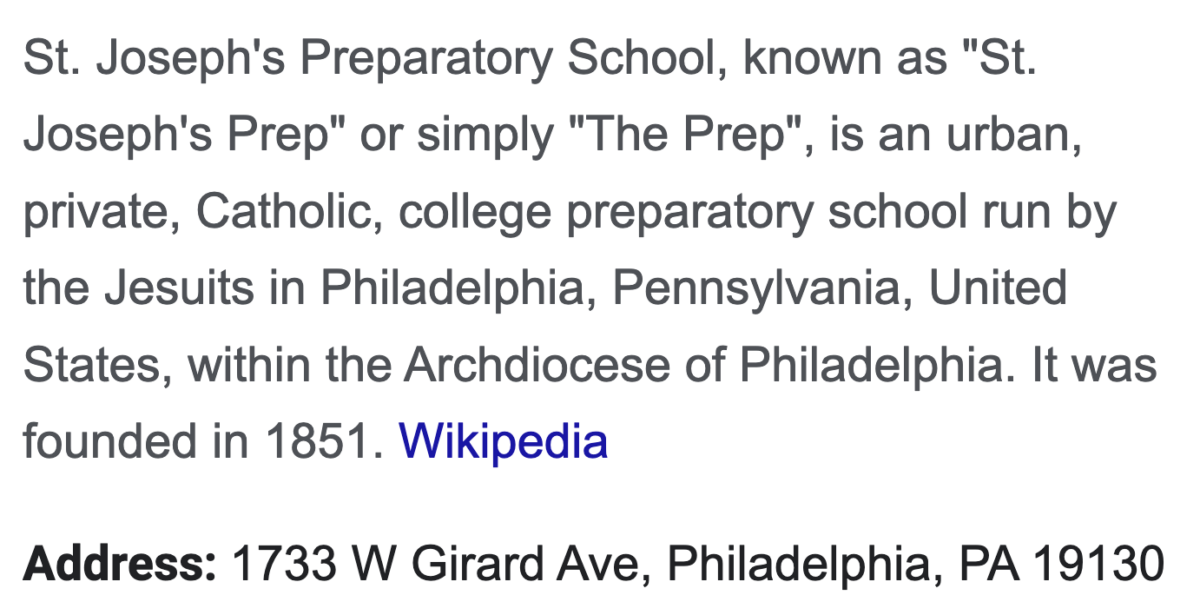 Jim Kenney = 106
Prophecy = 106 / 52
-NBA Finals start 52-days after this news