Queen Elizabeth II uses Platinum Jubilee message to say Camilla should be next Queen of Royal Family, February 5, 2022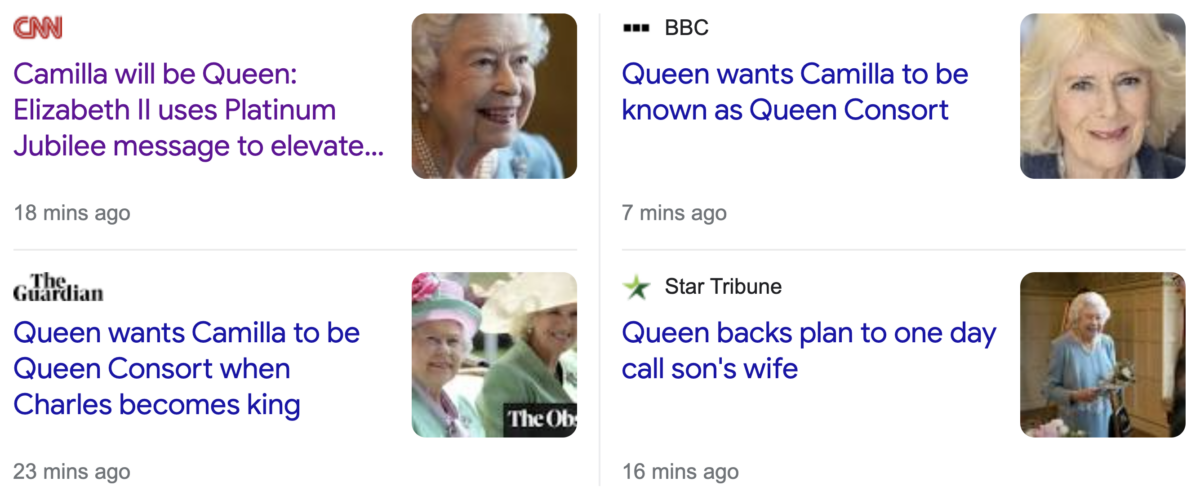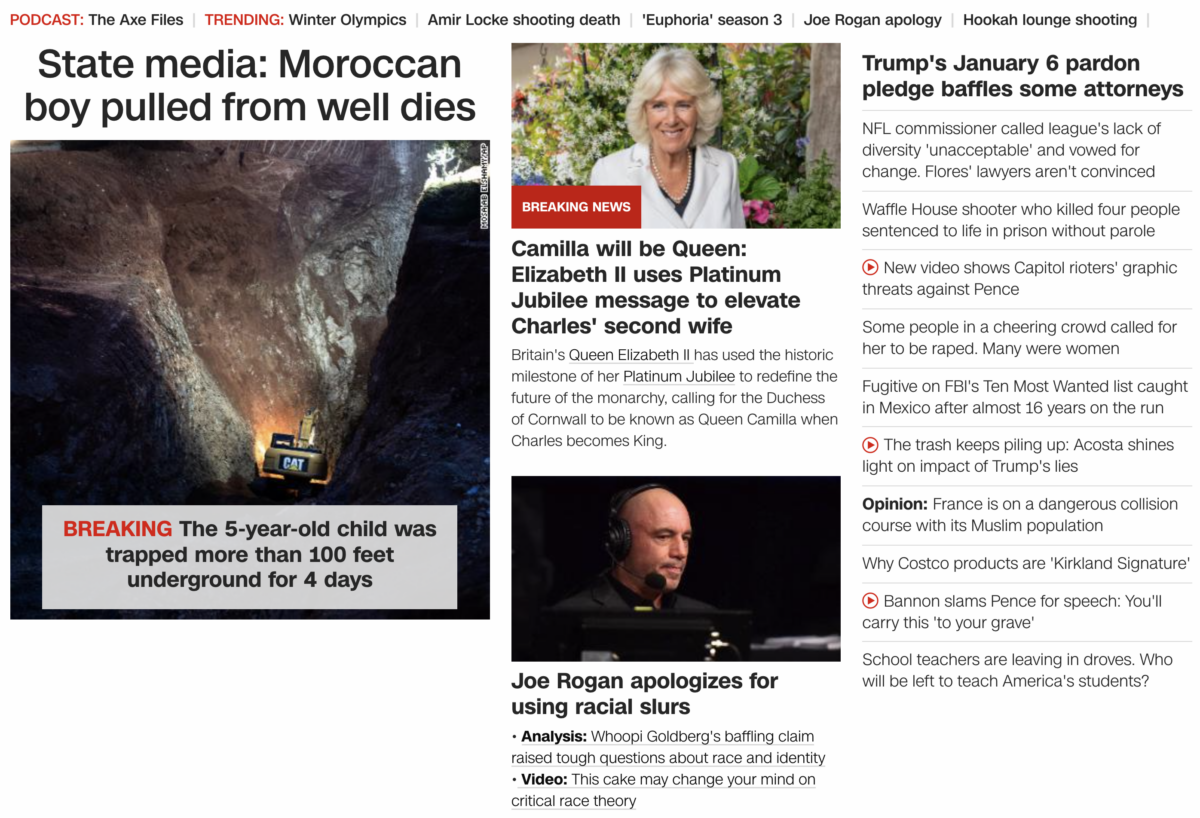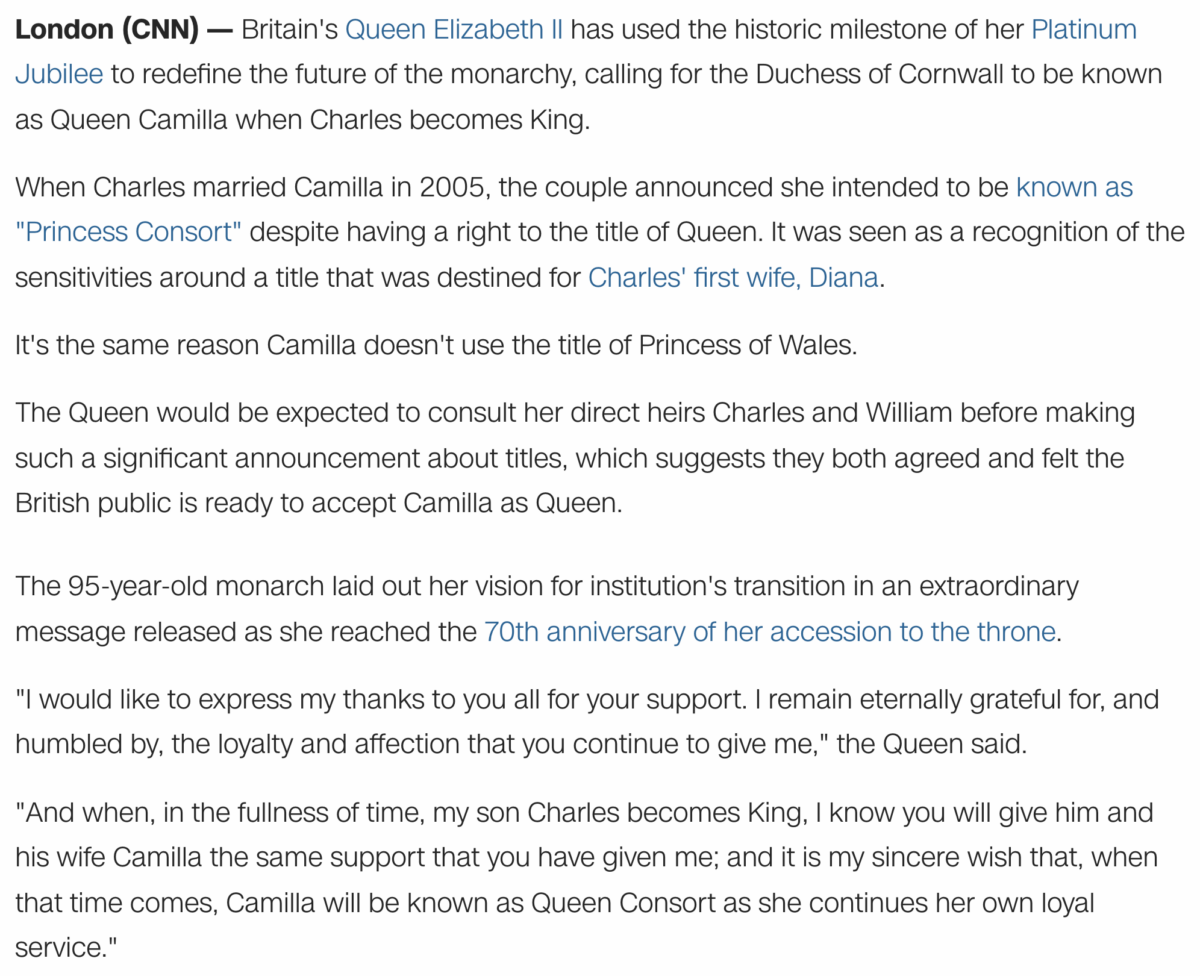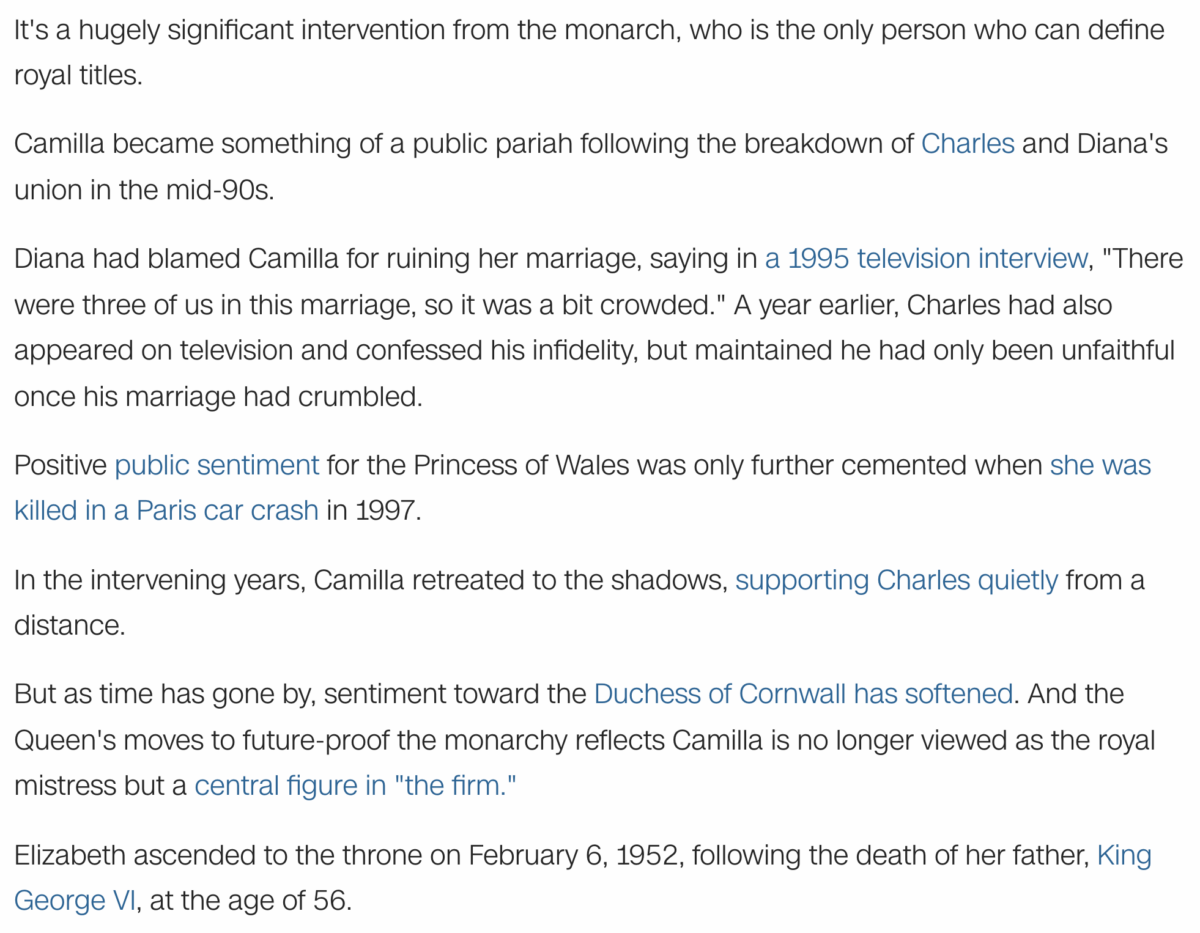 https://www.cnn.com/2022/02/05/uk/queen-elizabeth-ii-platinum-jubilee-accession-day-gbr-intl/index.html
Recall, Super Bowl 56 was originally scheduled for February 6, 2022, but was then moved to February 13, 2022. And now the Bengals are in the big game, representing Cincinnati, the Queen City, when Queen Elizabeth took her throne after her father's death at age 56. *Keep in mind Super Bowl 56 is the 52nd of the modern era, and she became Queen in 1952.
Royal Family = 56


Cincinnati = 96 / 51
Camilla, Duchess of Cornwall = 96
-Queen Elizabeth will turn 96 on April 21, 2022
-February 18 is 96-days after Charles' birthday
-If the Bengals beat the Rams, they will be 9-6 vs. the Rams all-time
-Joe Burrow was born in '96
-Camilla = 51 / 24
-Bengals = 24
-Joe Burrow advanced to Super Bowl 56, 51-days after his birthday
-He won the AFC Championship 27-24 (51 points)
-He enters the Super Bowl with 51 total career TDs (reg. season & playoffs)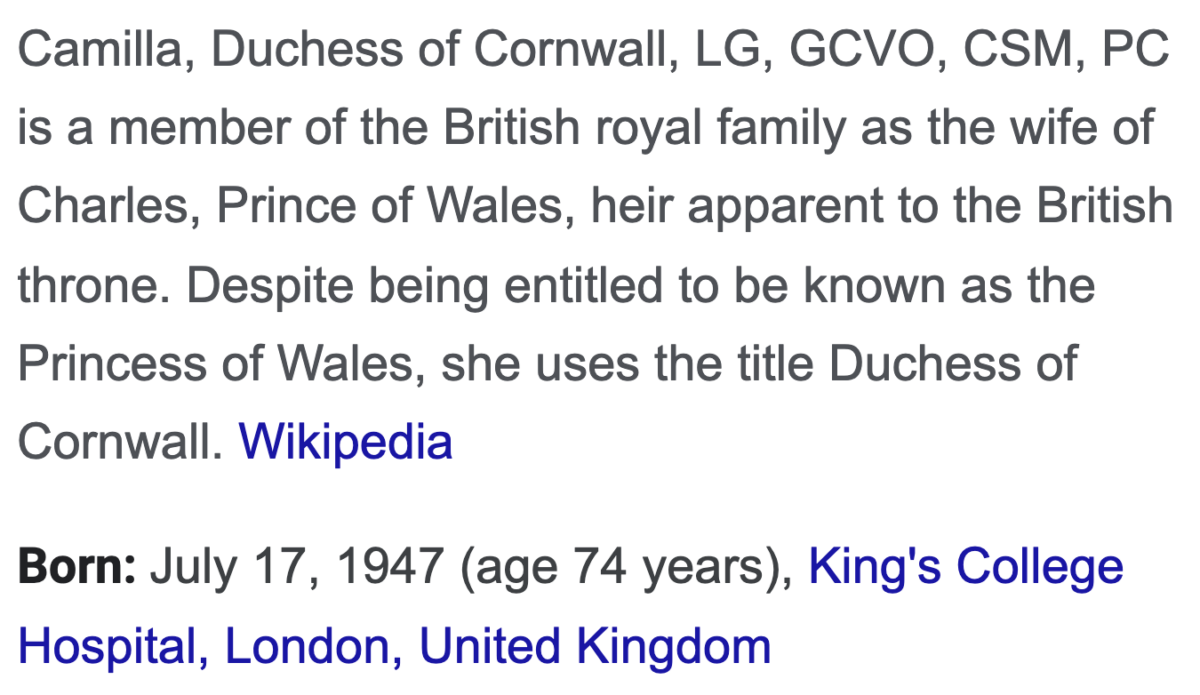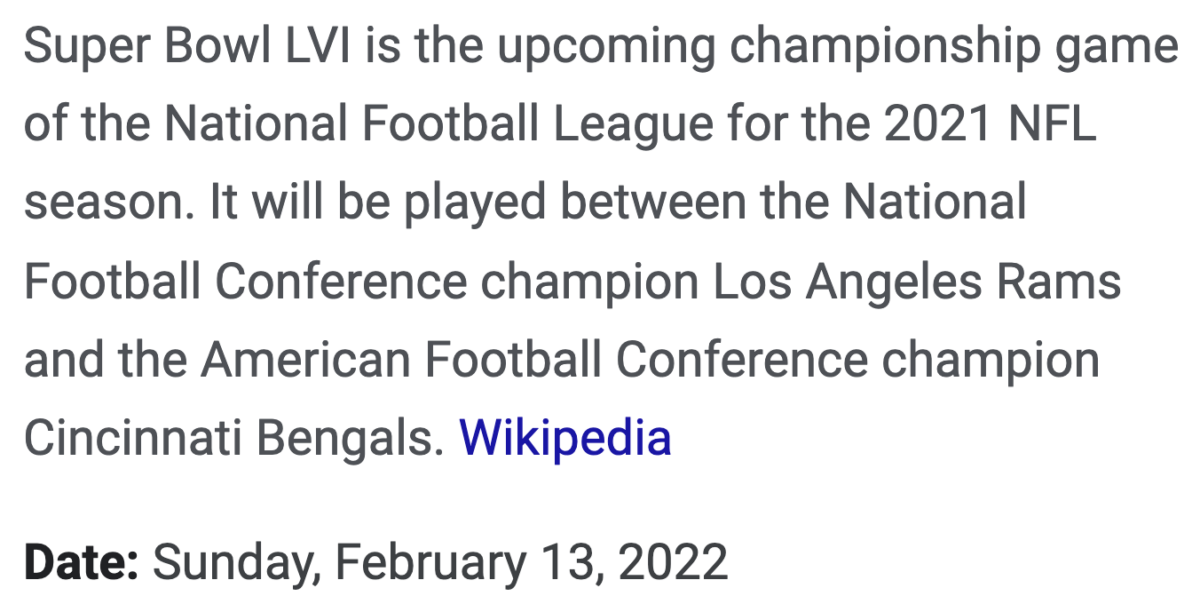 If Queen Elizabeth dies May 20, 2022, that will be 96-days after Super Bowl 56.

It will be on the day leaving 225-days in the year.


Read about the death of Adolfo Nicolas on May 20, 2020.
Read about the death of Billy Cannon on May 20, 2018, in relation to Joe Burrow, who signed with the LSU Tigers on that exact same day. And now Joe Burrow is playing the Raiders, Titans, Chiefs and Rams, the same teams Billy Cannon was a member of in his NFL career.
FYI, the Super Bowl is 67-days before Queen Elizabeth's birthday.
Queen Camilla = 67
King = 67



*Today's news is 83-days after Charles' birthday, February 18 will be 96.
Football = 83
Murder = 83
Read about what happened 83-days before Elizabeth's birthday.

May 20, 2022, is 187-days after Charles birthday, or his 188th day of his age.
Society of Jesus = 187
Charles, King of Wales = 188
-May 20 is 154-days after the Pope's Saturnalia birthday
-Saturnalia = 154
-Ritual Sacrifice = 154
-Ignatian Year began May 20, 2021 (for Society of Jesus)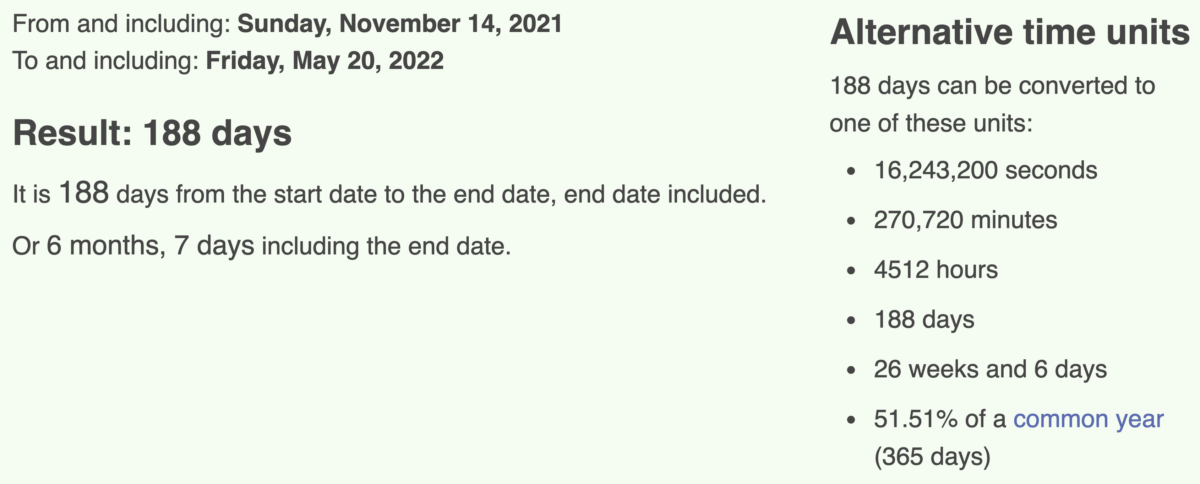 May 20, 2022 will have 67 date numerology.
5/20/2022 = 5+20+20+22 = 67
Blood Sacrifice = 67
Human Sacrifice = 67
King = 67
Read about Prince Philip's death at 99, on the 99th day of the year here.
Elizabeth Alexandra Mary = 99
Read about the death of King George VI, 54-days after his birthday, in light of the Bengals making it to the Super Bowl in their 54th season (2021-22).
And you might want to look into Agent 56, Loretta Kay-Feld.