Roger E. Mosley, Magnum P.I. actor, dead at 83, August 7, 2022, 42-years after his 1980 start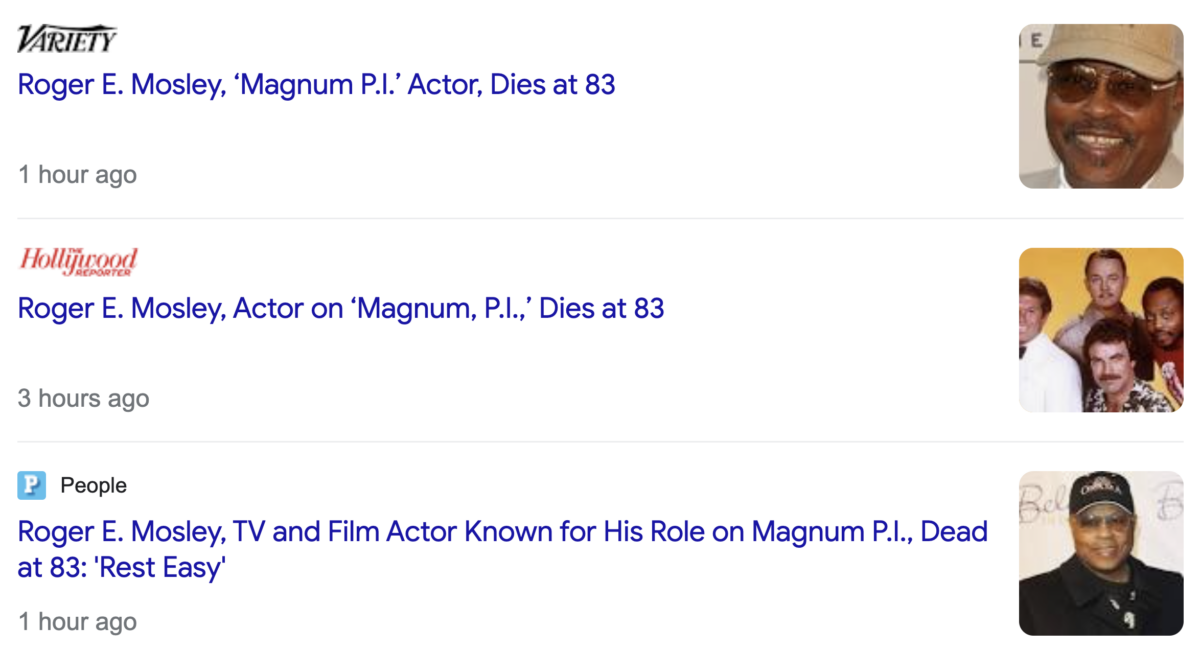 Roger E. Mosley is remembered for playing Theodore "T.C." Calvin on Magnum P.I., equating to 87, and he is dead on Sunday, August 7, 2022, a date written 8/7.
Number of the Beast = 87
The Catholic Church = 87


He is dead at 83, the 'murder' number, and born in '38.
Murder = 83 / Murder = 38
His name made him right for ritual murder.
Roger E. Mosley = 67 / 59
–Blood Sacrifice = 67
–Human Sacrifice = 67
—Slave = 59
—Negro = 59
—Blues = 59
—Rasta = 59
–Motown est. in '59
–BHM ends on Feb. 28, 59th day of year
He joined Magnum PI in 1980, 42-years ago.
-That 42 and 59 thing…
-Slavery = 42
-Nigger = 42
-February = 42
-Tuskegee = 42
-Martin = 42
-Malcolm X = 42
-Jackie = 42
The beast rules for 42 months in Revelation.

There are 42 generations to Jesus to begin the New Testament, in Matthew…
New Testament = 42 / 66
Math = 42 / 66
-Revelation, concluding book, and 66th book of Protestant Bibles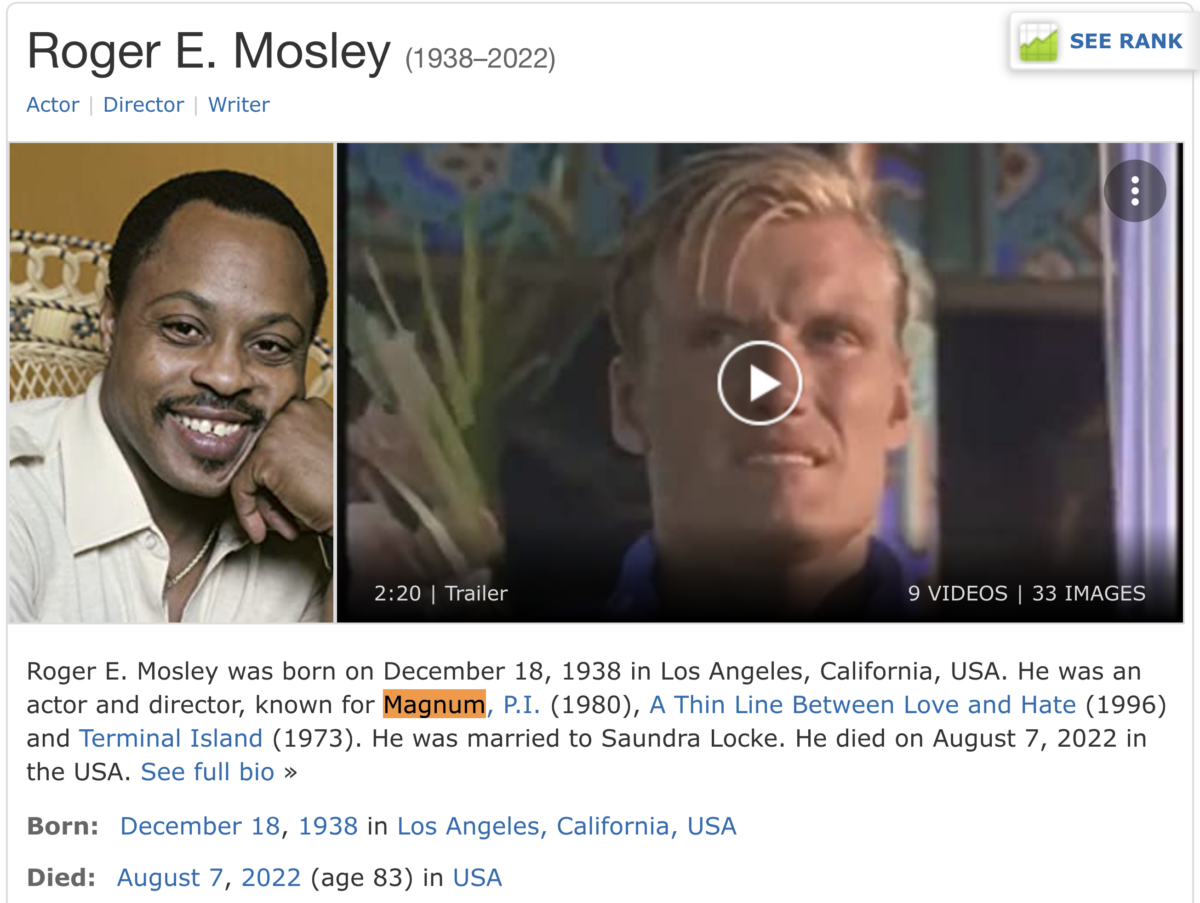 He is dead 33-weeks and 1-day after his birthday.
Sunday = 33
Bible = 33
He is dead on the 219th day of the year, the day leaving 146-days.
Jesus Christ = 146
Roman Catholic = 219
He is dead on a date with 37 numerology.
Roger E. Mosley = 157 (37th prime)
8+7+22 = 37
He is dead 232-days after his birthday, or his 233rd day of his age, the day of the 'Inflation Reduction Act.'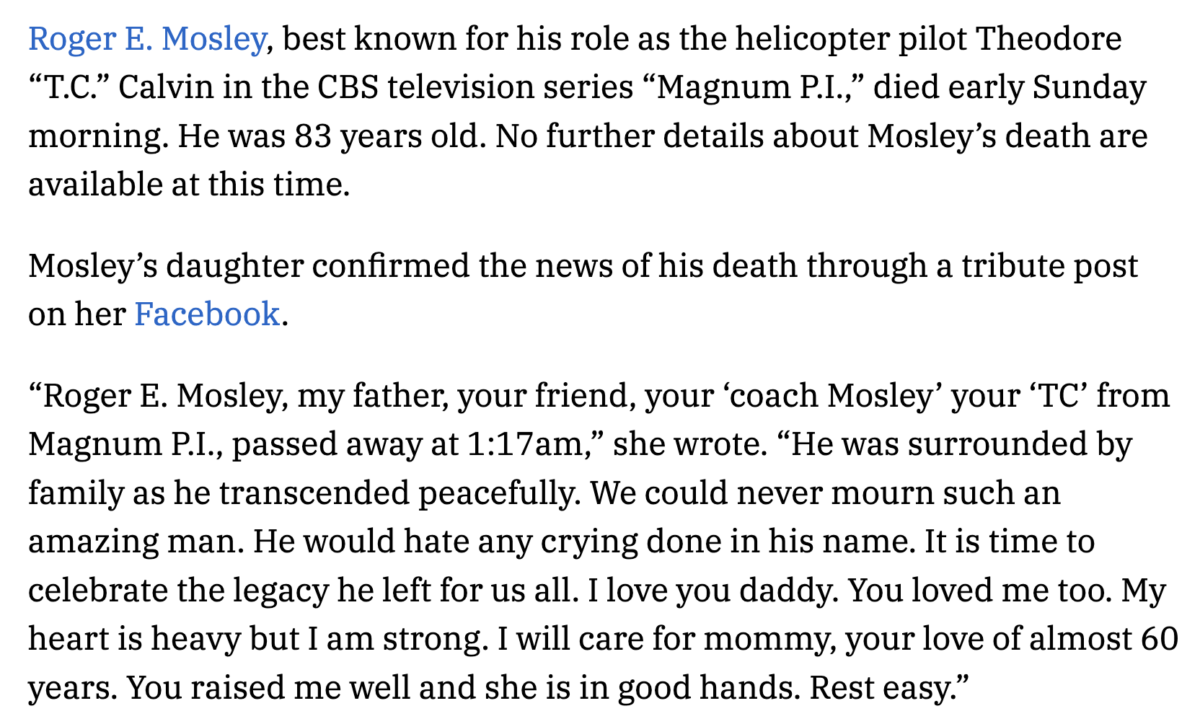 https://variety.com/2022/tv/obituaries-people-news/roger-e-mosley-dead-magnum-pi-1235335543/
1:17 AM? The 77th minute of the day? That's super specific.