Ross Browner of the Cincinnati Bengals and Notre Dame Fighting Irish, dead at 67, January 4, 2022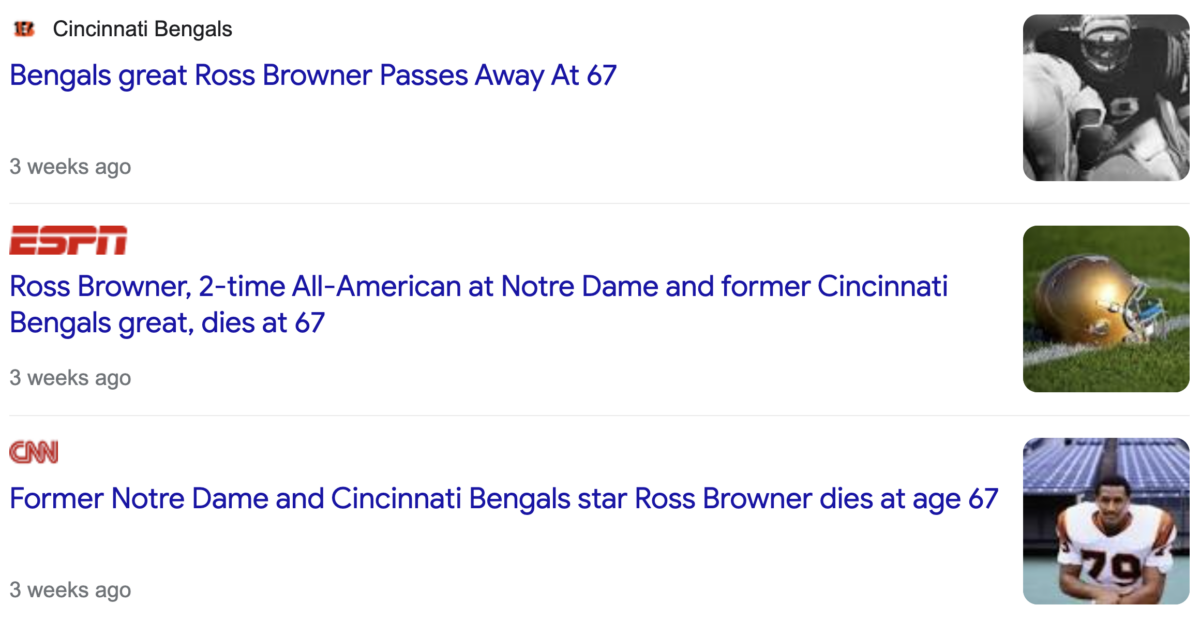 Ross Browner played for the Bengals against the 49ers in Super Bowl 16, the won that Joe Montana won, who played for Notre Dame. He was born in '54, in Warren, Ohio.
Warren, Ohio = 54
Joe Montana = 54
Jesuit Order = 54
-Bengals 54th season
Notice the news broke on Wednesday, January 5, 2022, a date written 5/1.
Cincinnati = 51
Nashville = 51
This is similar to the death of Regina King's son after she turned 51, before the Bengals upset the Titans in Nashville, Tennessee. And notice this article refers to Ross Browner as a Titan, and states after his NFL career he became a business man in Nashville.
Keep in mind Regina King has the same birthday as MLK, who died in Tennessee.
King = 41
Browner = 41
Notre Dame = 41
Super Bowl = 41
Skull and Bones = 41 (Born 3/22 — like 322)
-Ross Browner died on January 4, or 4/1
-Skull and Bones = 76
-49ers 76th season
-Tiger = 76
-Year of the Tiger begins before Super Bowl 56
He died 41-weeks and 1-days after his birthday.


Super Bowl 16 was at the end of the '81 season (approaching 41 years ago).
And Super bowl 56 is a span of 41-days from his death.

His name also goes with 'Super Bowl.'


And back to that Notre Dame thing.

And don't overlook that he died at age 67.
King = 67
Blood Sacrifice = 67
Human Sacrifice = 67
This also ties in with the Notre Dame coach going to LSU, where Joe Burrow played, the new Joe Cool who is linked with Joe Montana.



Notice he was from Warren, Ohio.
Warren, Ohio = 144 / 54
Jesuit Order = 144 / 54
-Bengals 54th season
He was born in '54.
Joe Montana = 54
-Super Bowl 54 (Joe Montana Bowl)
-SB 54 was 54-days after Joe Burrow's birthday
-Burrow won championship in N.O. before SB 54, on January 13, 2020
–1/13/2020 = 1+13+20+20 = 54
–New Orleans = 54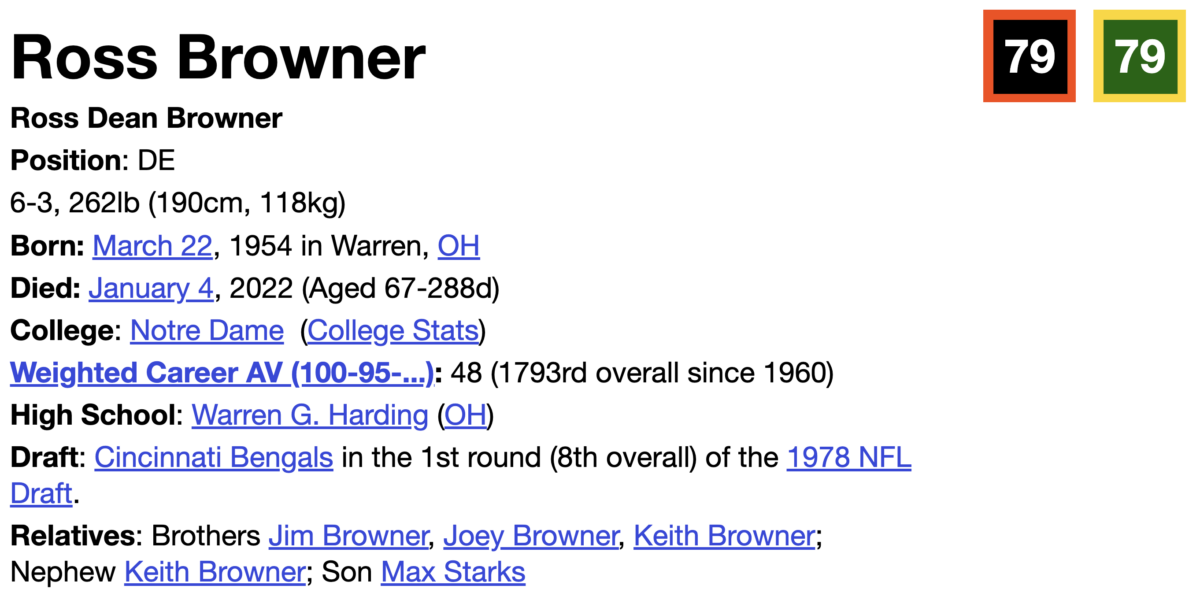 He wore #79. *Society of Jesus = 79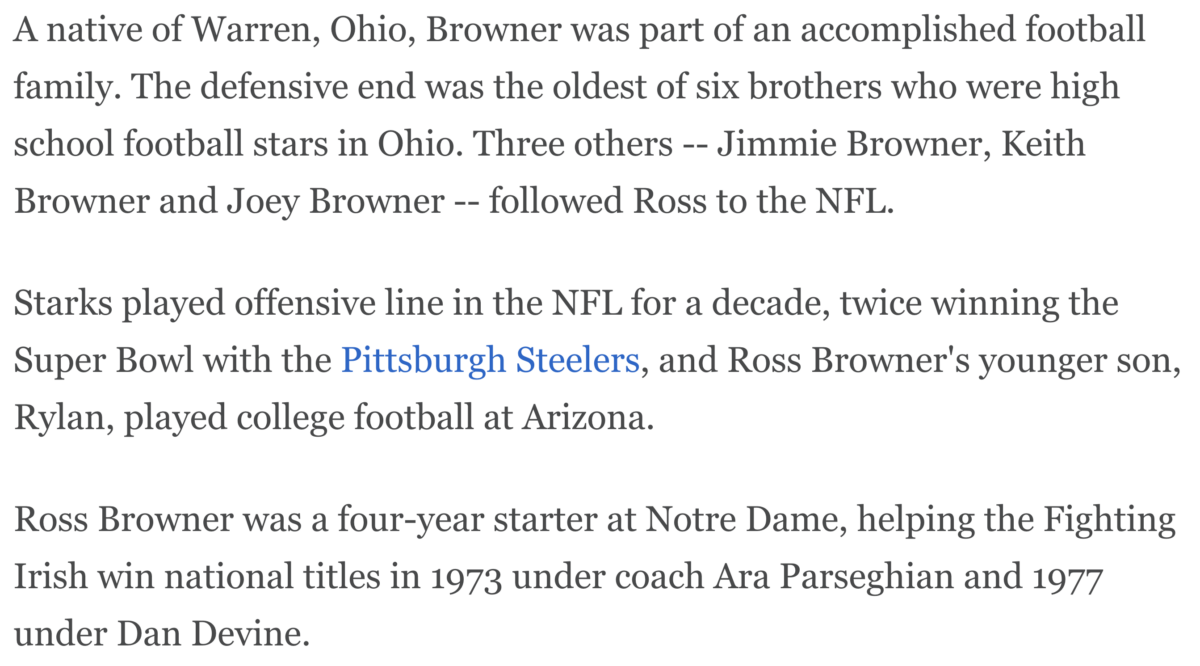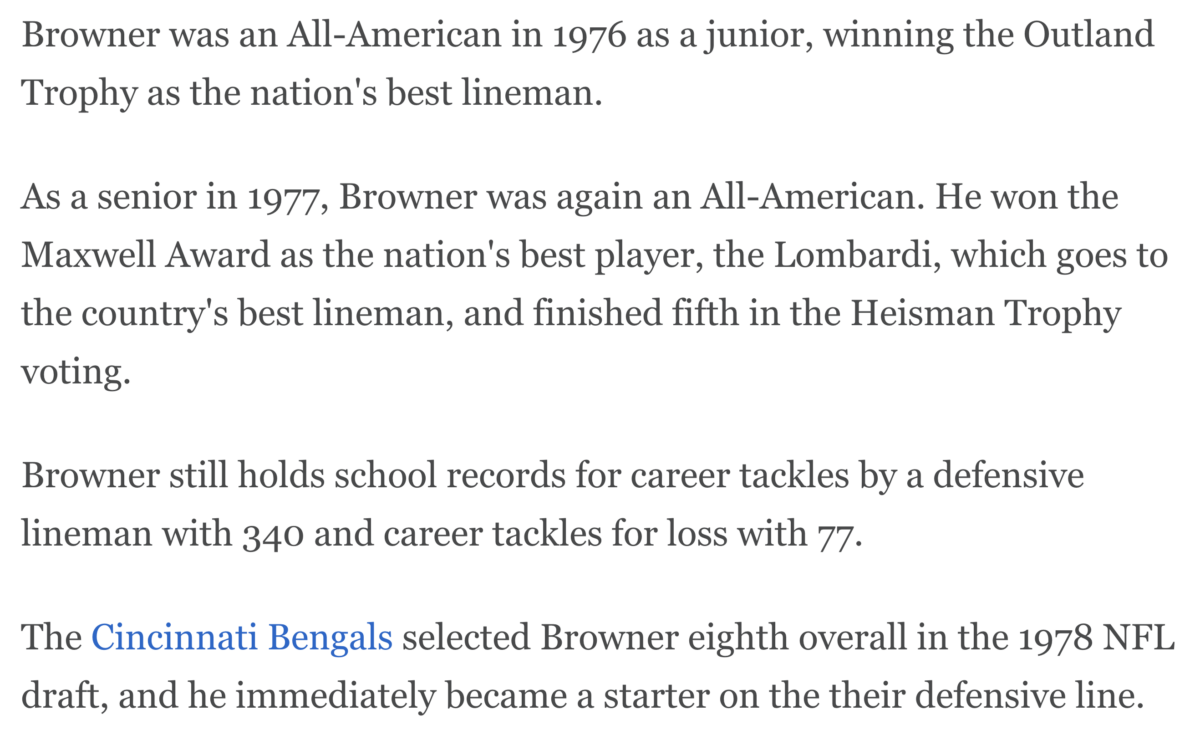 He was drafted in '78, 44-years before 2022.
Execution = 44
Kill = 44
-MLK on 4/4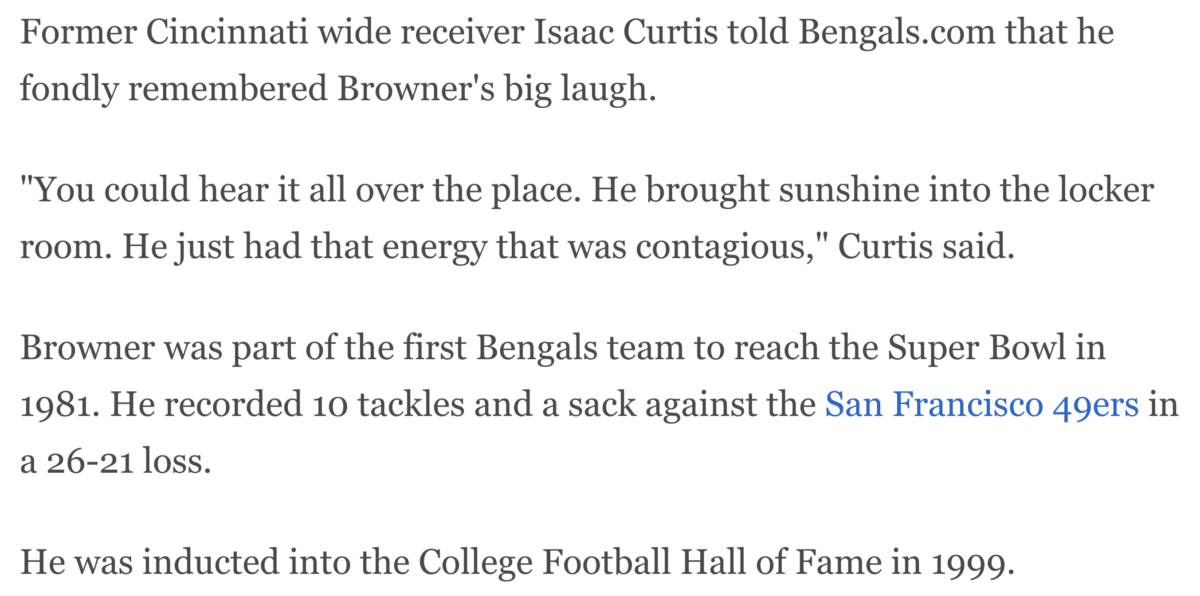 https://www.espn.com/college-football/story/_/id/32999399/ross-browner-2-all-american-notre-dame-dies-67