Sacheen Littlefeather, Native American activist who declined Marlon Brando's Oscar in 1973, dies at 75, October 2, 2022

This news comes October 2, the day leaving 90 days in the year.
Native American = 90
This news breaks after the Chiefs beat Tom Brady and the Buccaneers in Brady's 322nd regular season game (starts and backup games). And it comes 322 days after the November 14, 2021 birthday of Sacheen Littlefeather.
Skull and Bones = 202
Marlon Brando's Oscar = 202
-Skull and Bones identifies by Order 322
-The 322nd minute of the day is 3:22 in the morning
-George H.W. Bush, a member of Skull and Bones, or Order 322, was born on June 12, the day leaving 202 days in year [He was also #41 —- Skull and Bones = 41 / 202]
–Marlon Brando's Oscar = 76
–She was in her 76th year or life
–Skull and Bones = 76
–George W. Bush, born on July 6, or 7/6

It was also 46 weeks, and she was born in '46.
Sacrifice = 46
Genesis 46 (About sacrifice)
*Tom Brady = 46
*Catholic = 46
And notice the ritual was from 49 years ago.
NFL = 49
Scottish = 49
America = 49
Think of Walter Camp, the Scottish Rite Freemason, who was a member of Yale's Skull and Bones (322), and who is credited with the sport of American Football.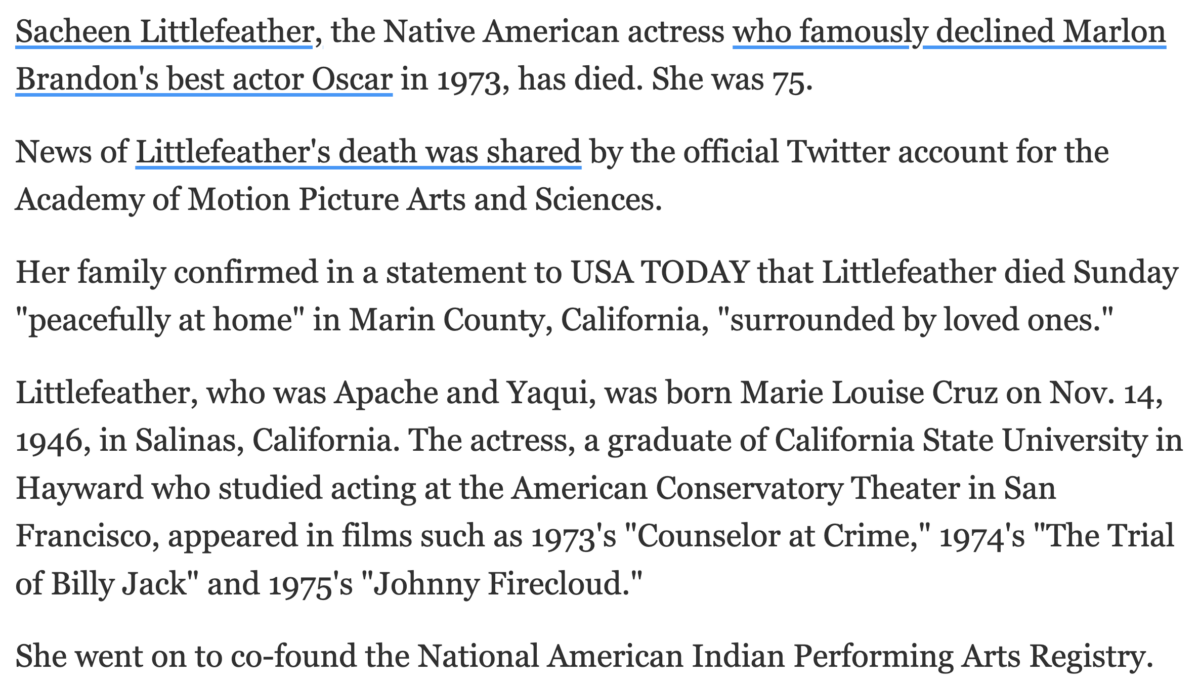 Her age of death matches her surname.
Littlefeather = 75
New World Order = 75
Her town of birth also fits.
Salinas = 75
Plus, she has died on the 275th day of the year.
And notice this photo from the same article, dated September 17, 2022, Patrick Mahomes's birthday. Better yet, it was his 27th birthday.
Ritual = 27
Think of the 27 Club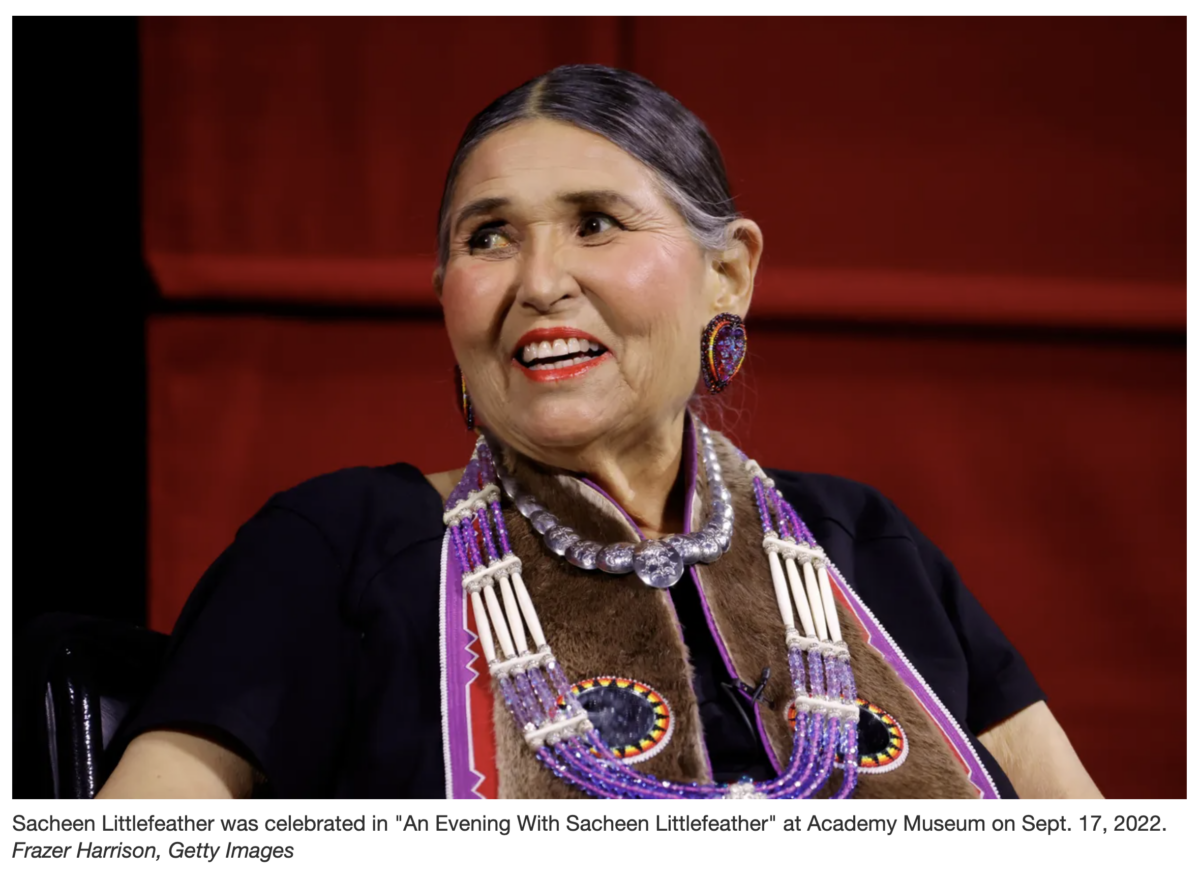 179, 41st prime
Skull and Bones = 41
-Sep. 17 date is 17/9 (like 179)
https://www.usatoday.com/story/entertainment/movies/2022/10/02/sacheen-littlefeather-native-american-activist-dies/8165348001/?csp=chromepush

Today was 15 days after #15's birthday, and Skull and Bones allows 15 members per year.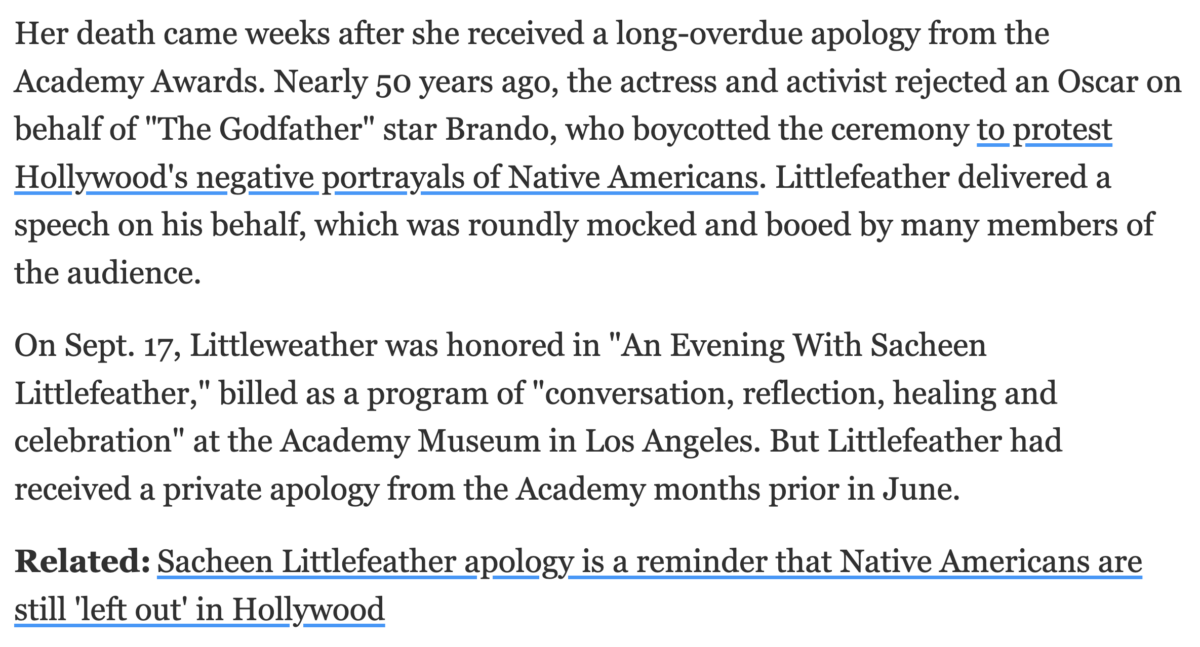 The mention of nearly 50 years fits the ritual.
Chiefs = 50
America = 50
And adding to the event, this was Mahomes 67th regular season game.
Blood Sacrifice = 67
Human Sacrifice = 67