Scottie Scheffler's Masters lead after the Round of 3, the day Dwayne Haskins death, April 9, 2022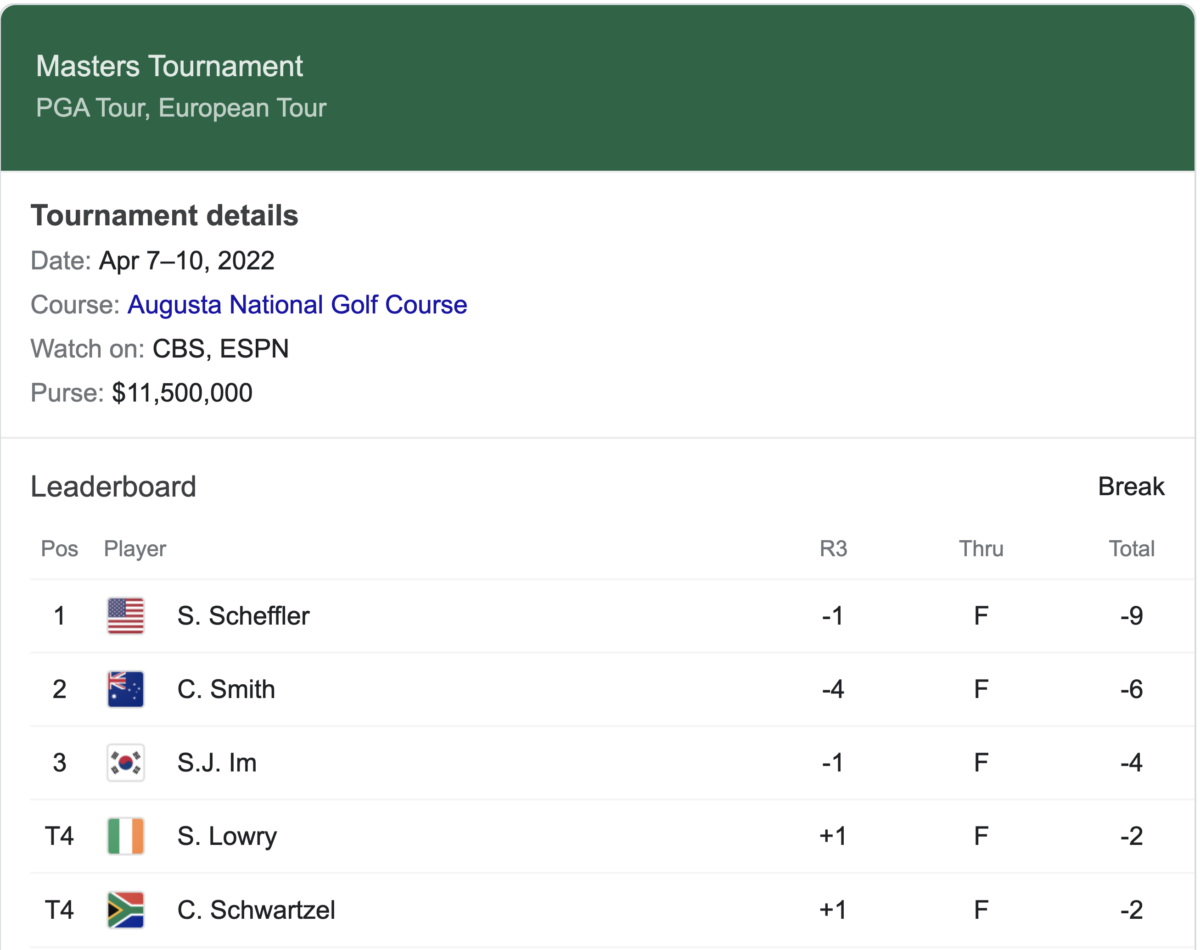 Scottie Scheffler went to the same high school as Matt Stafford and won the PGA tournament the day of Super Bowl 56, 56-days before Green Jacket Sunday. Scheffler also won the PGA tournament on the 86th day of the year, 86-days before his birthday, and now it is the 86th Masters.
4/10/2022 = 4+10+20+22 = 56
The Masters will conclude 62-days after Matt Stafford's birthday, and 293-days after Scheffler's.
293, 62nd prime
Augusta, Georgia = 62
Georgia = 62
-Stafford played at Georgia in college
-Georgia won the championship in college football
-Stafford won Super Bowl 56
Georgia is the 4th state, and if Scheffler wins, he'll get his 4th PGA first.
Also, the tournament he won the day of Super Bowl 56, was the Waste Management tournament, the dump truck company, and on the 99th day of the year, Dwayne Haskins, from New Jersey, like Scheffler, was hit by a dump truck. He was the last black QB for the Redskins.
Redskins = 99
Green Jacket = 99
Augusta = 99
*Sopranos = 99
-Tony Soprano died on the Pope's 99th day of being Pope (June 19, 2013)
-It's the 86th Masters
-Jesuits = 86
-Pope Francis, first Jesuit Pope
–WM Open = 86 (Waste Management Open written this way, WM Open)
From Scheffler's June 21 birthday, to University of Texas at Austin's establishment anniversary, September 15, is 86-days later.
-That is his college
-It will turn 139-years-old this year (34th prime)
-Stafford, 34th QB to win Super Bowl at age 34
-Their high school's original graduating class was 34-students
-Their high school's first principal, was principal for 34-years
-Clayton Kershaw just turned 34, like Stafford, who also went to the same school
–Clayton Edward Kershaw = 86
–Kershaw = 104 (Tournament ends on 10/4)
-Tournament ends 22-days after Kershaw's birthday (Kershaw wears #22) *Golf = 22 *Master = 22
-Kershaw will make his debut vs. Twins *Twins = 22
And in light of Scheffler playing college golf in Texas, and this being his 76th tournament, notice the death of NFL Dallas Cowboy Rayfield Wright, dead at 76, the day the Masters began. Rayfield is from Georgia.
Update: Read about Tiger Woods finishing the tournament +13 over par in relation to Matt Stafford winning the Super Bowl in his 13th season.