Sophia, the first robot given citizenship on October 25, 2017 & the Jesuit big tech takeover
https://en.wikipedia.org/wiki/Sophia_(robot)
First, read about the 1956 'Dartmouth Workshop' and AI.
Rockefeller = 56 (Main sponsors)

Then notice, Sophia was born on Valentine's Day, February 14, 2016, a date with 32 numerology.
Darmouth Workshop = 214 (2/14 date)
2/14/16 = 2+14+16 = 32

It was a date with 52 numerology as well, and Sophia is a demonstration of 'Artificial' Intelligence, emphasis on 'artificial'.
2/14/2016 = 2+14+20+16 = 52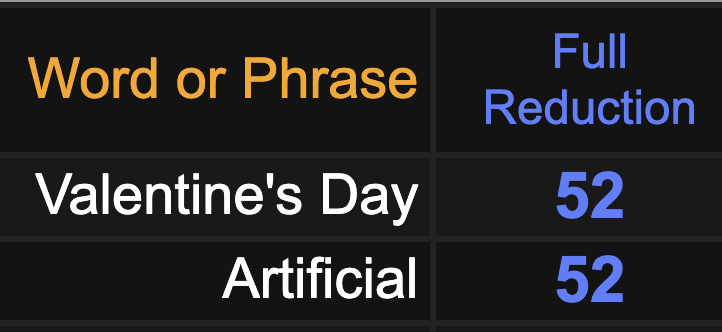 Valentine's Day = 52 / 74 *Artificial = 52 / 74
The other big 52 is 'technology'.

In my latest book Number Games I cover the relevance between 2001: A Space Odyssey releasing in 1968, and 2020, the year of the Big Tech takeover, 52 years later.

Notice it was October 25, 2017, a date with 52 numerology that Sophia was given citizenship in Saudi Arabia.
10/25/17 = 10+25+17 = 52
The robot was developed by Hanson Robotics.
https://en.wikipedia.org/wiki/Hanson_Robotics
The company was founded by David Hanson.
https://en.wikipedia.org/wiki/David_Hanson_(robotics_designer)
Notice Sophia was born 56 days after his 46th birthday, December 20, 2015.
The name Hanson Robotics connects with the Jesuit motto, 'Ad maiorem Dei gloriam'.

It explains why Sophia made her debut at South by Southwest.
Keep in mind Austin (where South by Southwest is) is Jesuit town, which is why shills like Alex Jones and Joe Rogan operate out of there.
Notice the festival began that year on March 15, or 15/3, like 153…
And in light of the company being Hong Kong based, and the release being synced with his 46th birthday, notice that Hong Kong equates to 46.

Catholic = 46/71 *Hanson = 71 (Hanson Robotics)
And as we already know, Big Tech is 100% controlled by the Jesuit Order, as are most things in this world.
For one more, Sophia has "65 facial expressions" that it is capable of.
Link.

For a bit more, watch this story from CNBC on Sophia where it communicates it will destroy humanity.