Teen reportedly shoots 5-year-old in Brooklyn Park, Minnesota while making social media video in latest propaganda

"Police say." [Translation] Likely a load of shit.
Anyhow, this news comes 11/27, out of Minnesota, and from Florida Avenue. Of course its purpose is to remind society, more and more, that "guns are bad," so slowly and slowly, more rights can be taken away, and we'll have even less of a chance in hell of overcoming the tyranny that is the real threat to us.
11+27+38
Minnesota = 38
Florida = 38 (Florida Ave.) — Lots of "gun violence" in Florida
Death = 38
Killing = 38
Murder = 38
RIP = 38
This news comes on the 331st day of the year, the 67th prime.
Brooklyn Park = 67
Blood Sacrifice = 67
Human Sacrifice = 67
The tragedy was reportedly two days earlier, on Thanksgiving.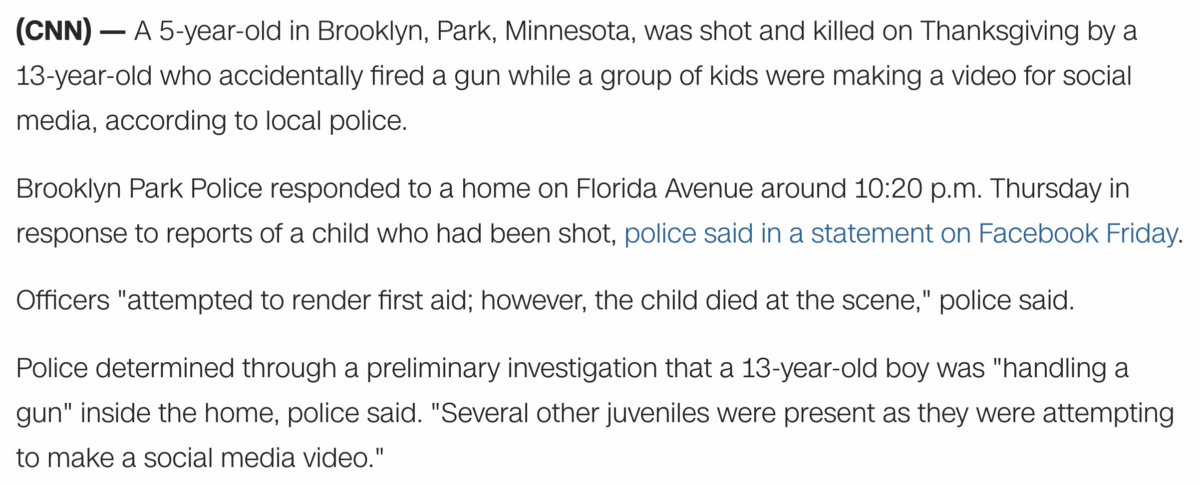 https://www.cnn.com/2021/11/27/us/minnesota-child-shot/index.html