Toddlers and Tiaras star Kailia Posey reportedly commits suicide at age 16, May 2, 2022 (and May 3 news)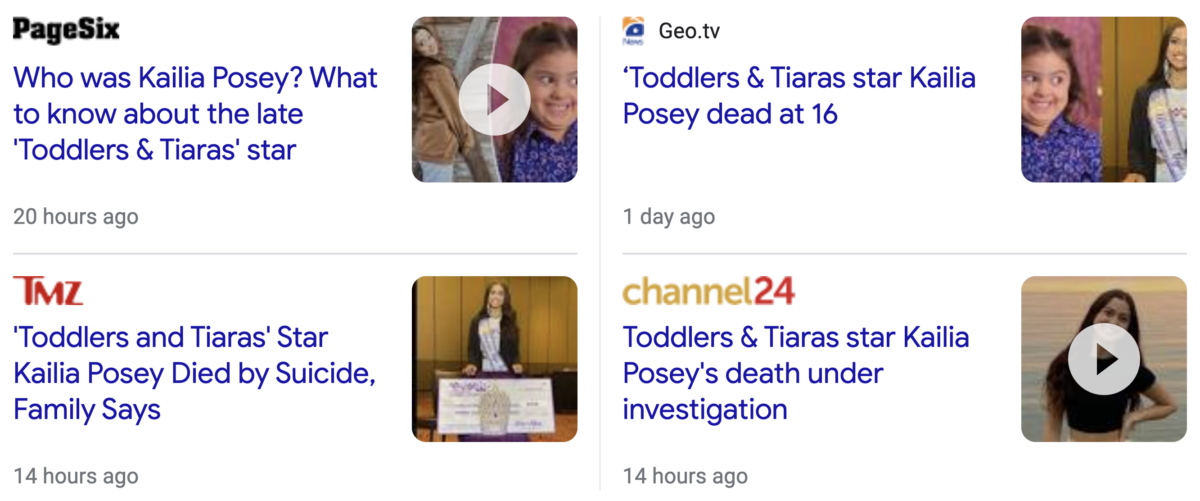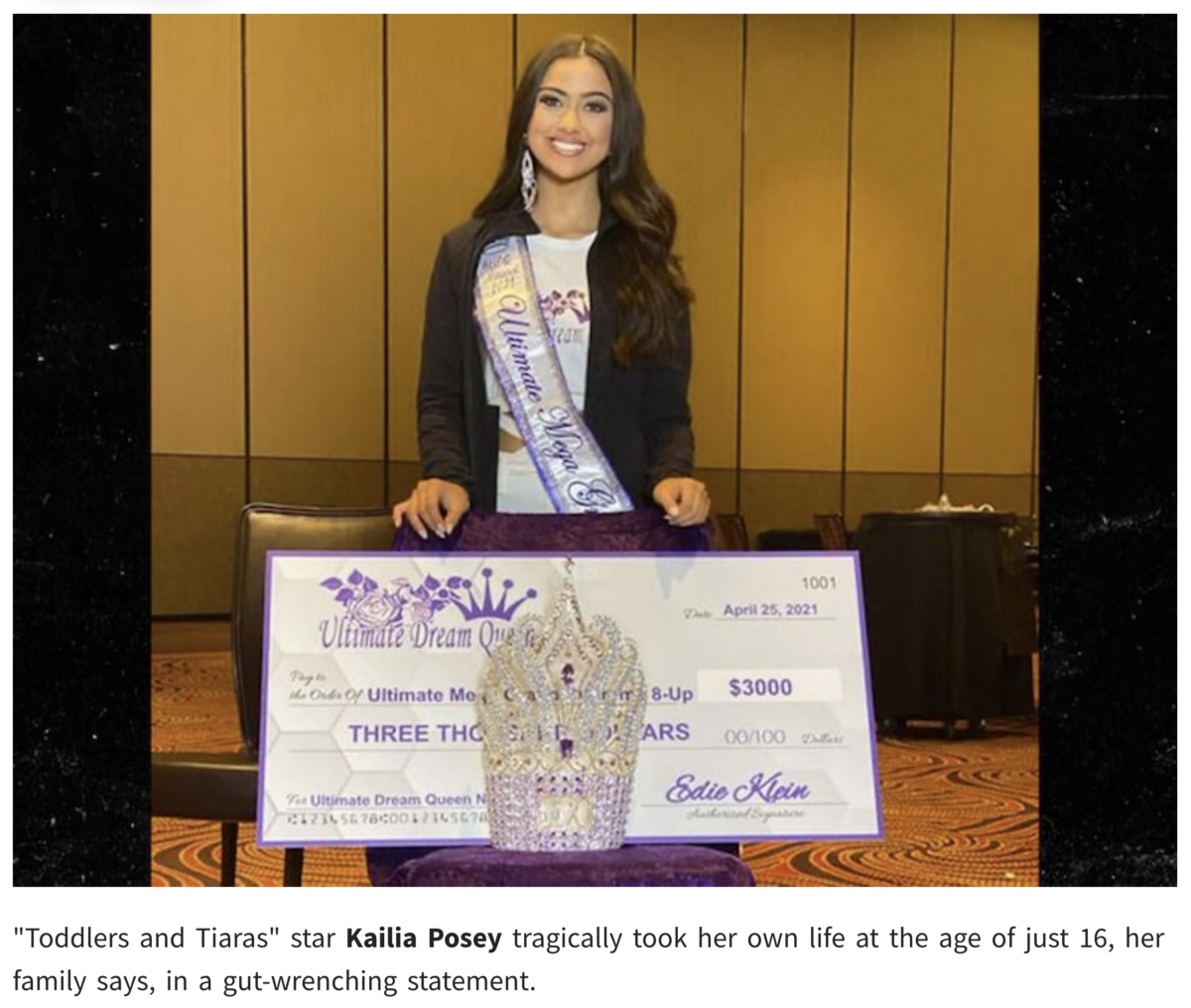 https://www.tmz.com/2022/05/03/toddlers-and-tiaras-star-kailia-posey-died-by-suicide-family-says/
This news broke on May 3, the 123rd day of the year.

She is died 53-weeks and 1-days after receiving the check shown in the photo.
53, 16th prime
Dead at 16
Notice the gematria of 'Toddlers and Tiaras' equating to 67, the sacrifice number.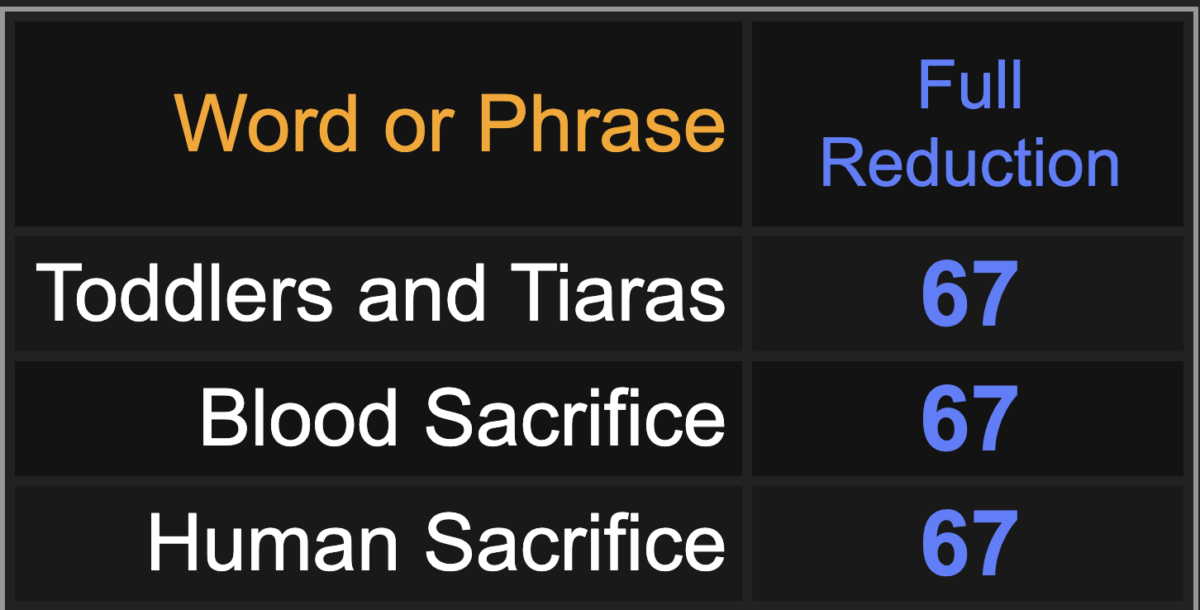 Marcy Posey Gatterman = 86
Blood Sacrifice = 67 / 86
Human Sacrifice = 67 / 86
-The cause of death, "suicide," is according to her mother
They're saying she committed suicide on May 2, 2022, the 122nd day of the year. The 67 and 122 connect with the 'satanic' blood sacrifice rituals we see so often.

She was found dead on the 122nd Meridian West, in Lynden, Washington.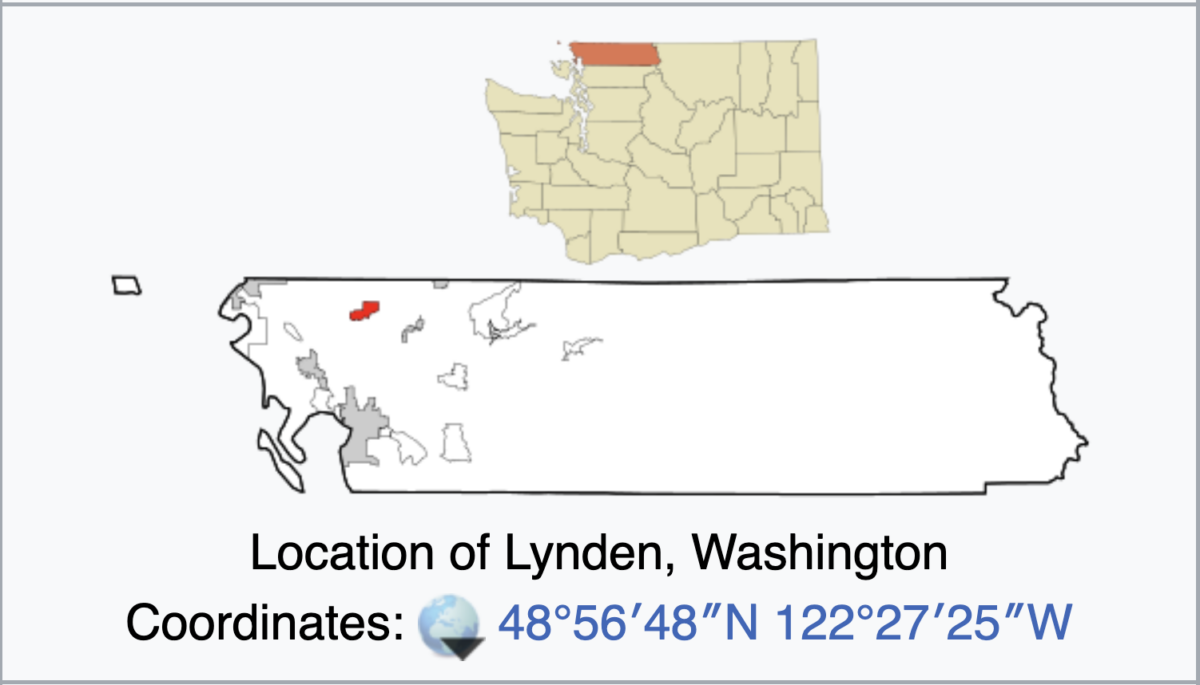 https://en.wikipedia.org/wiki/Lynden,_Washington
May 2 can be written 2/5, like 25.
Kailia = 25
Death = 25
-SR of 25 is 5
-She mader her debut on TV at age 5
And with regards to 'suicide' being a big theme in 2022, 'toddlers' fits in.
Suicide = 34 / 47 / 119
Toddlers = 34 / 47 / 119
-Toddlers = 97 (25th prime)
-Death = 25 / 97
-Dead on 2/5

She died in 'Blaine,' Washington.

She turned 16 on April 20, meaning she died on her 13th day of her age.
The Learning Channel = 91 (13th triangular number)
-Her show was on TLC
You could also say she died 12-days after her birthday, and she made her debut on TLC's show in the year 2012, emphasis on '12.

https://www.marca.com/en/lifestyle/celebrities/2022/05/04/6271c83eca4741ad188b4592.html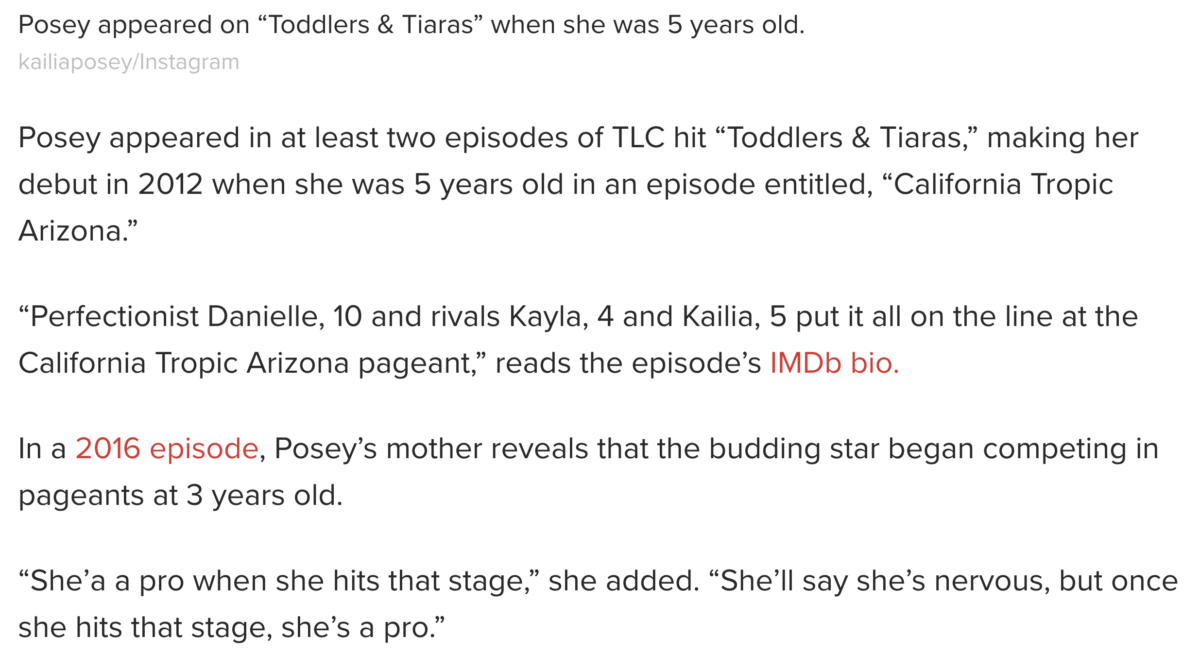 https://pagesix.com/2022/05/03/who-was-kailia-posey-16-year-old-toddlers-tiaras-star/
She was found dead at Birch Bay State Park in Lynden, Washington.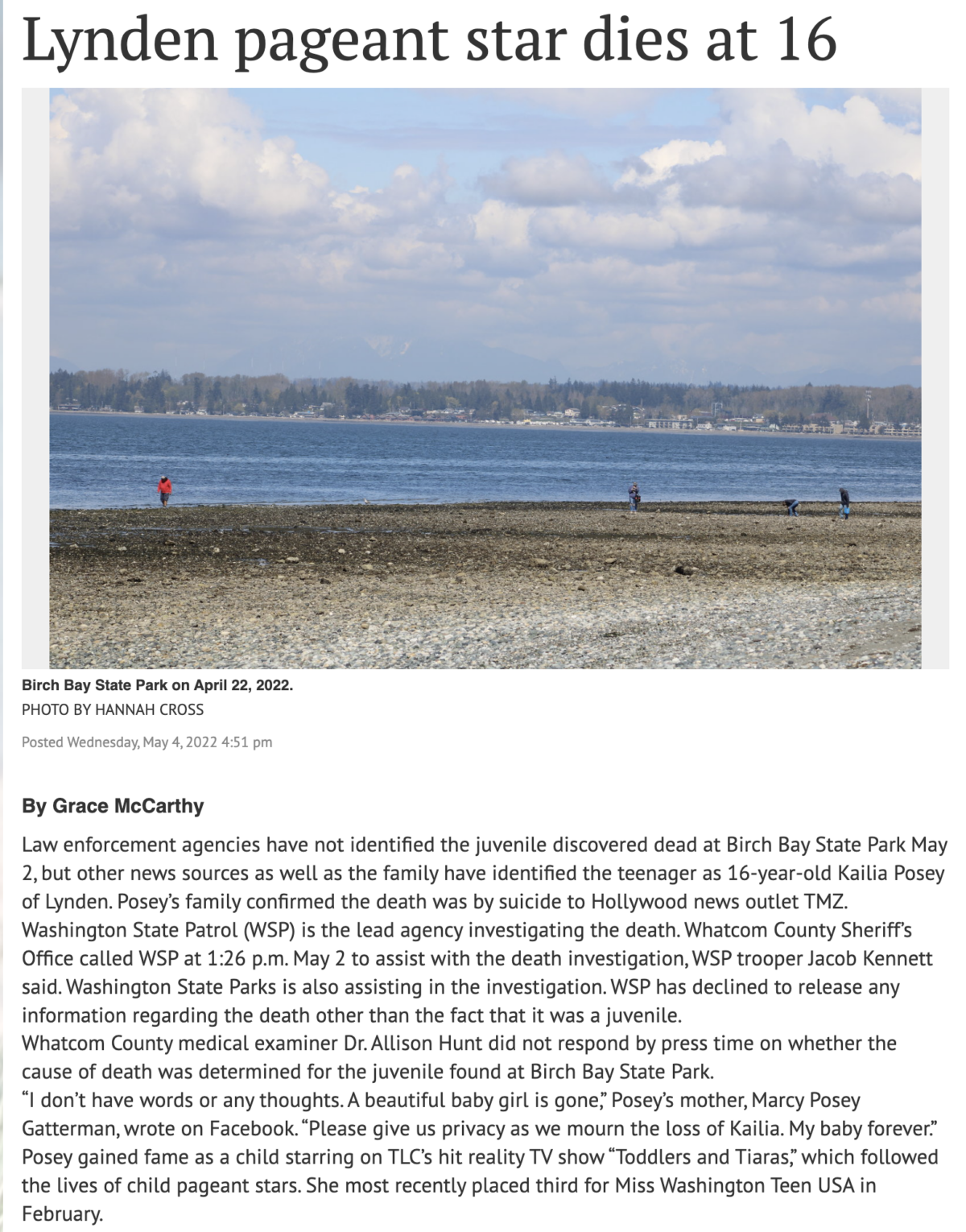 https://www.thenorthernlight.com/stories/lynden-pageant-star-dies-at-16,19882
Her town of Lynden was established in 1874, and has '74' gematria as well.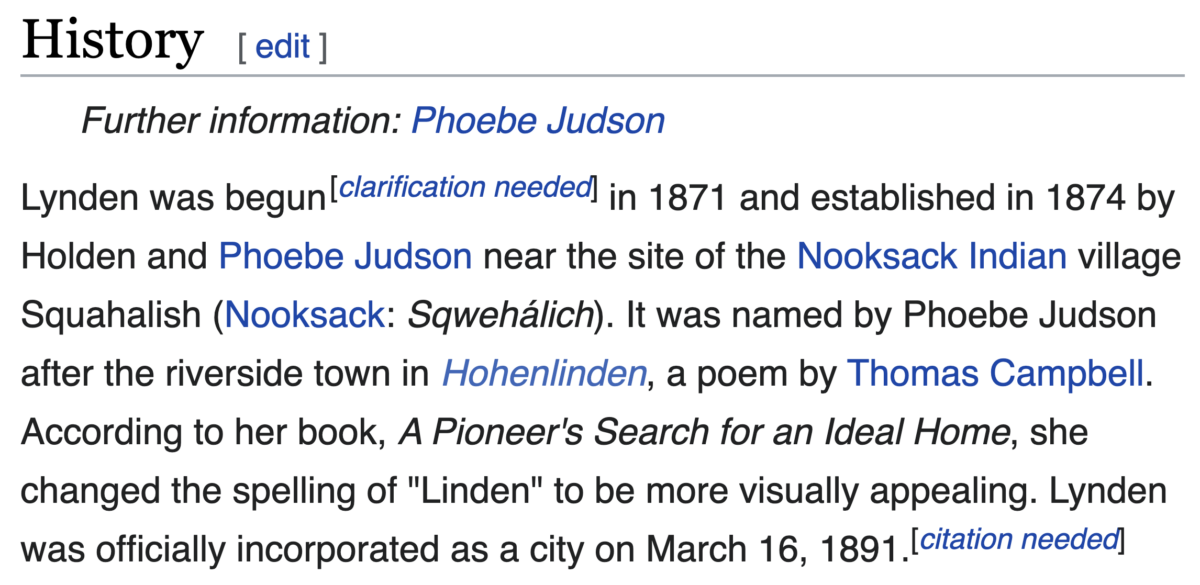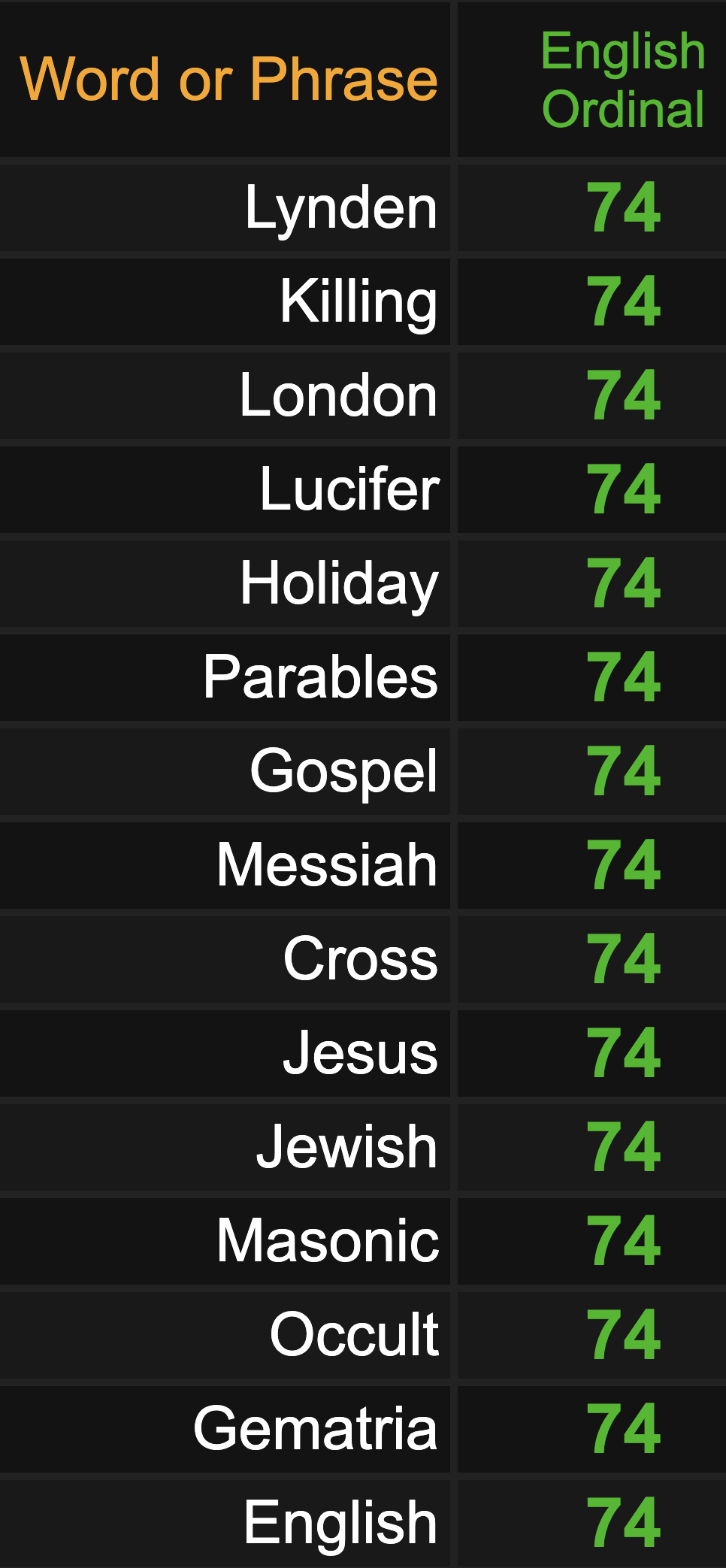 Of course, the Society of Jesus, which is Catholic and Jewish, is behind all the rituals.
Also adding to the list, the park is in 'Blaine, Washington.'
Blaine, Washington = 74