Tyson Fury improves to 2-0-1 vs. Deontay Wilder, October 9, 2021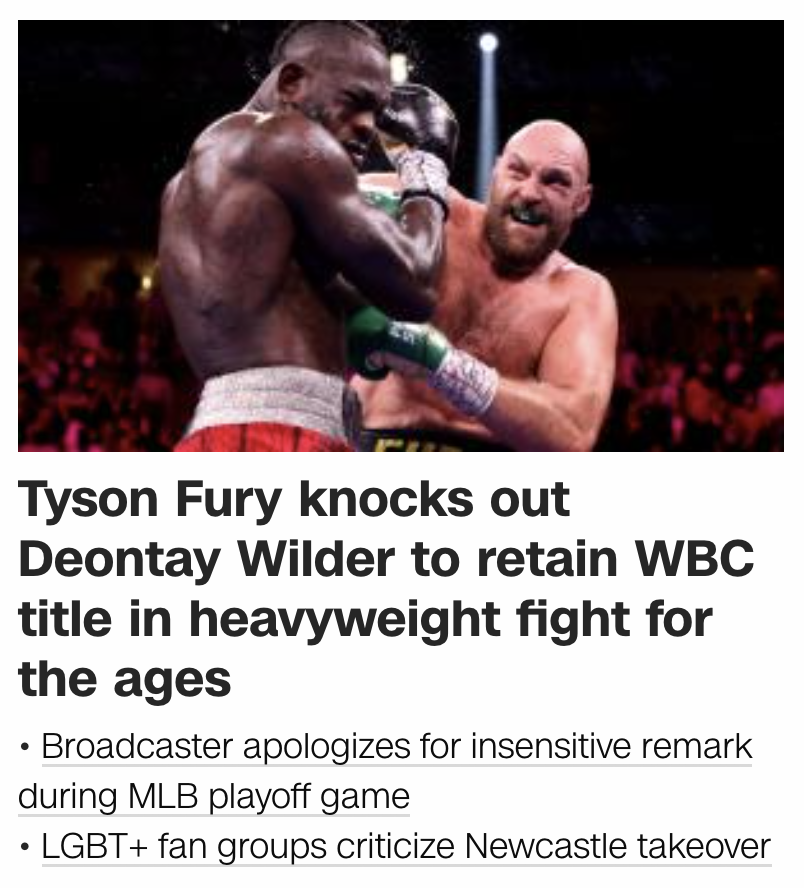 Tyson Fury improved to 2-0-1 vs. Deontay Wilder in this fight.
The Jesuit Order = 201
Notice that below the main story is a headline about racism in sports.
Recall, in the second meeting of these same fighters, in Black History Month, February 22, 2020, Deontary Wilder stayed on 42 career wins, and Tyson Fury picked up his 30th win.
Slavery = 30 / 42
Nigger = 30 / 42
February = 42
Jesuit = 42
Thus the ritual was about race and racism.
Go figure these fights were 85 weeks apart.
Iesus Hominum Salvator = 85
And as for the first match, which was a draw, it was 149 weeks earlier, the 35th prime.
Catholic = 35
-Wilder was 35-years-old for this fight
–It was Wilder's 353rd day of his age (71st prime)
—Wilder = 71 *Catholic = 71 / 35
So it isn't hard to see who is behind the race baiting rituals.
Also, this fight was 307 days before Fury's upcoming birthday.
307, 63rd prime
Racism = 63
For another, Fury picked up his 31st win, knocking out Wilder in the 11th round.
31, 11th prime
Black = 11
And for one last point, this fight was on a date with 60 numerology.
10/9/2021 = 10+9+20+21 = 60
Nigger = 60