Utah governor asks Utah residents to pray for rain from Friday June 4 through Sunday June 6, 2021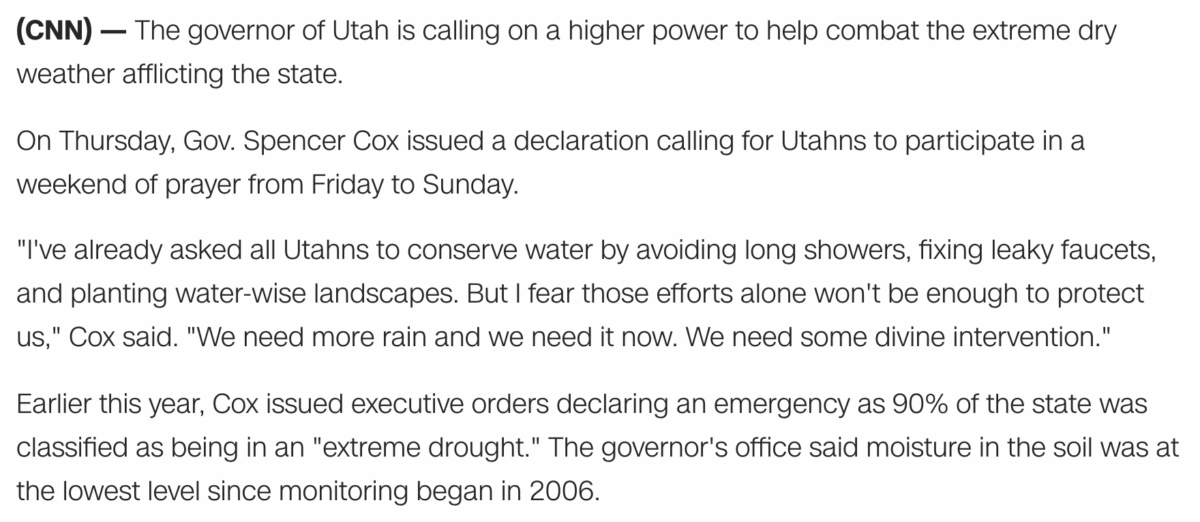 https://www.cnn.com/2021/06/04/us/utah-governor-weekend-prayer-rain-drought/index.html
This news comes Thursday, June 3, 2021, a date with 14 numerology, and as many people know, I call Utah the "14 state" because of the rituals that take place in sports with 14 and Utah, such as Utah closing out Memphis, 1-4, the day prior to this story. It's the latest in a long list.
6/3/2021 = 6+3+2+0+2+1 = 14

What's also interesting is that the phrase 'pray for rain' equates to 156, and this Saturday, June 5, will be the 156th day of the year.

Let's hope they don't get too much. And let's not overlook that June 5 can be written 5/6, like 56.
–Natural Disaster = 56
At the same time, the following day, Sunday, is June 6, or 6/6, like 66.


Even more, notice how 'Governor Cox' fits in with both 'pray for rain' and 'rain'.
-66 / 141 / 156
-June 5 is 156th day, and June 6 is 6/6

Also interesting is that his statement came a span of 39 days from his 46th birthday.
-Drought = 39