Amazon's The Terminal List in light of the coronavirus pandemic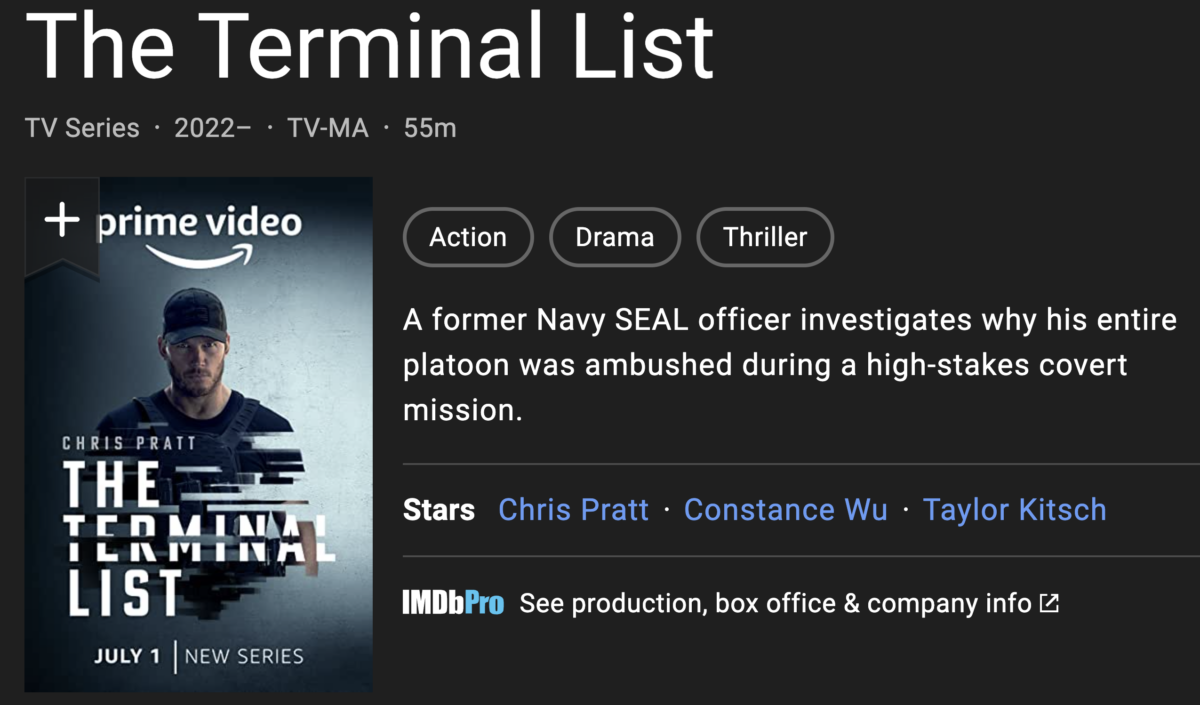 The Terminal List was created by Seattle based Amazon, and the show ends on Orcas Island, not far from Seattle. It's about a vaccine experiment on Navy SEALs that goes wrong and ends with a deadly coverup mission so that the financial profiteers can hopefully walk away from the experiment cleanly.
Remember, Seattle is the 68 / 94 city.
-Amazon launched in '94
-Bill Gates became famous in '94
-Kurt Cobain died in '94
-Seahawks won 94th NFL season (only Super Bowl winning season)
-Russell Wilson's grandpa died at 94
-Bill Gates's dad died at 94
-His mom died in '94
-…

And remember, coronavirus was coined in '68, and the first confirmed case of Covid-19 in the world outside of China was in Seattle, Washington, the home of the world's biggest needle (Space Needle).
That was one decade after Bill Gates declared a Decade of Vaccines in Davos, Switzerland, January 29, 2010.

Notice the 212.
In this show, the Navy SEALs are told they're received a Vitamin B12 injection, but instead they are receiving what turns out to be a certain death experiment.
B is the 2nd letter. Thus, B12 is 212.
It compares with 'coronavirus vaccine.'

The star of the film is Chris Pratt.
Chris Pratt = 132
Vaccine = 132
There have been several coronavirus rituals with all of these numbers. And here are a few to remember with 212. Read here. And here. And here.
ALSO, the "evil company" in this film is located in San Francisco, on the 122nd Meridian West, like Seattle. And it is named 'Capstone Industries'.
Capstone Industries = 111
Vaccination = 111
-Capstone = 30 / 42
-Vaccine = 30 / 42
The lead of the company is 'Horn,' like what the devil has. Of course, the Church of Satan was founded in San Francisco by the numbers.
Satanic = 122
–Satan = 55
–Horn = 55 / 53 / 28
-Covid = 53 / 28