Deaths of Cedric Benson, Terrell Roberts, & Chris Henry in relation to Super Bowl 56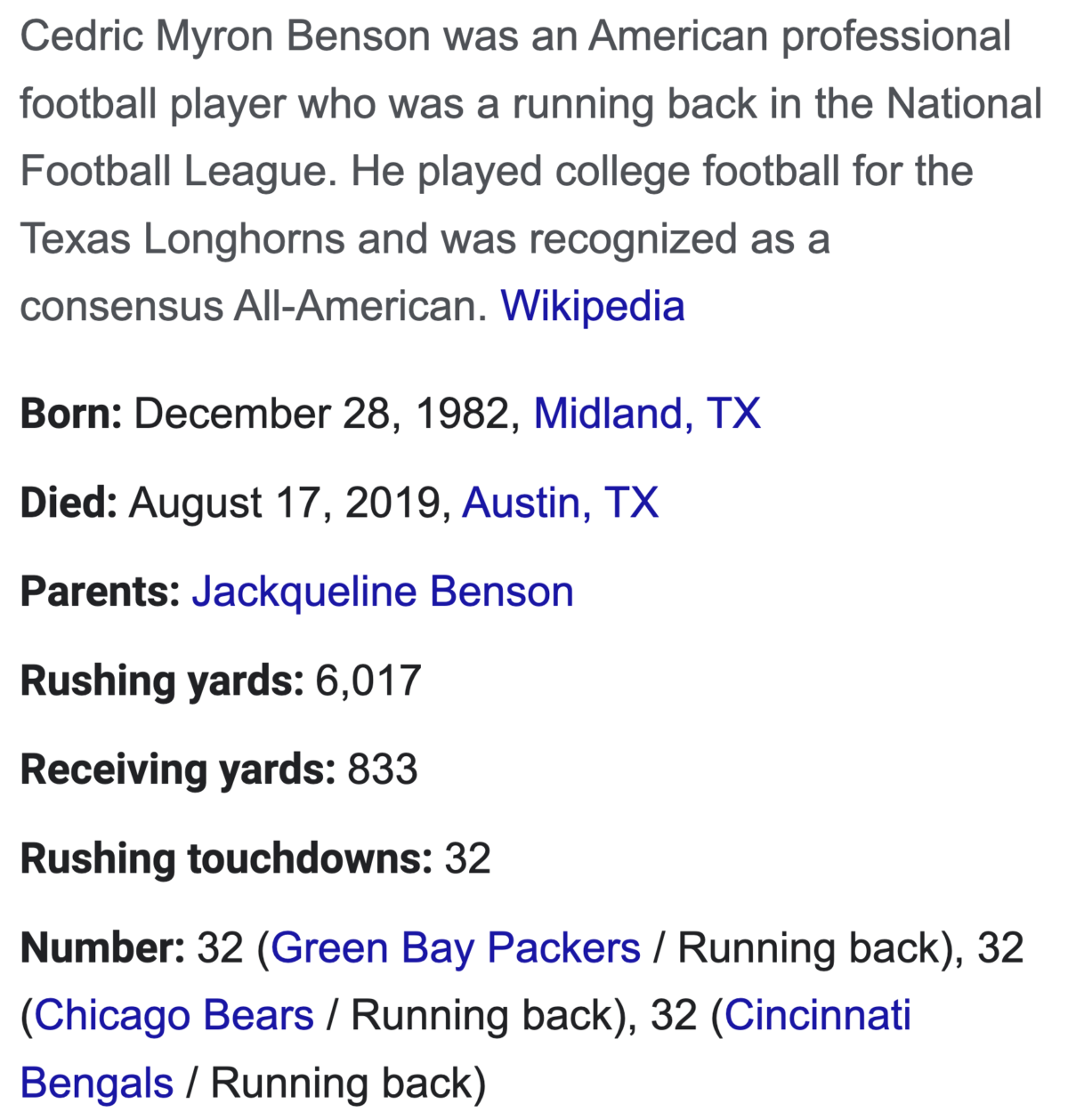 Cedric Benson died 911-days before Super Bowl 56.

Again, 911 is the 156th prime number.
Cincinnati Bengals = 156
Read about Super Bowl 56 being the Rams 911th game, the opponent of the Bengals.
Cedric Myron Benson = 263 (56th prime)
11+77+175 = 263 (Planes that hit targets on 9/11 reportedly)
Saturn = 56 (Hebrew Gematria)
–Benson played 56 games with Bengals (96 total games *Cincinnati = 96)
Keep in mind the Rams were in the Super Bowl after 9/11.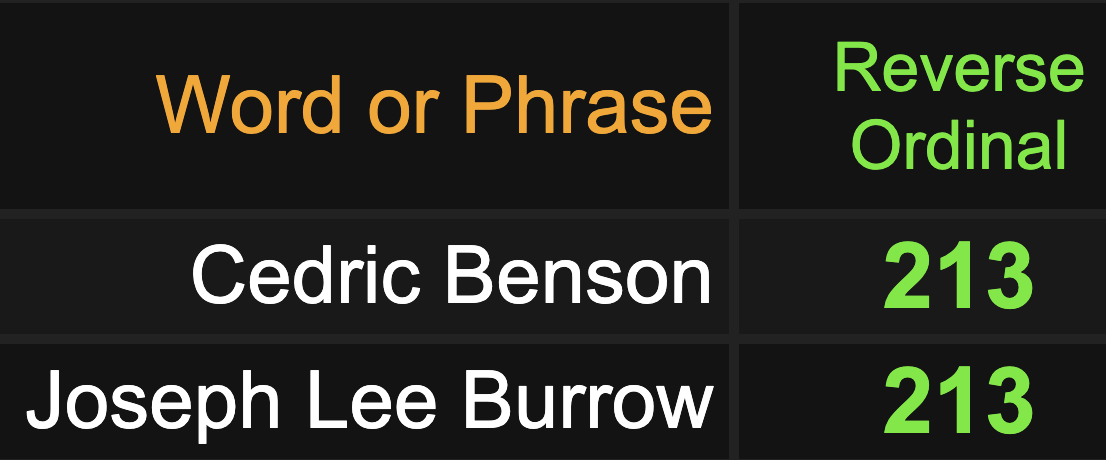 He died August 17, 2019, just days before Terrell Maiza Roberts.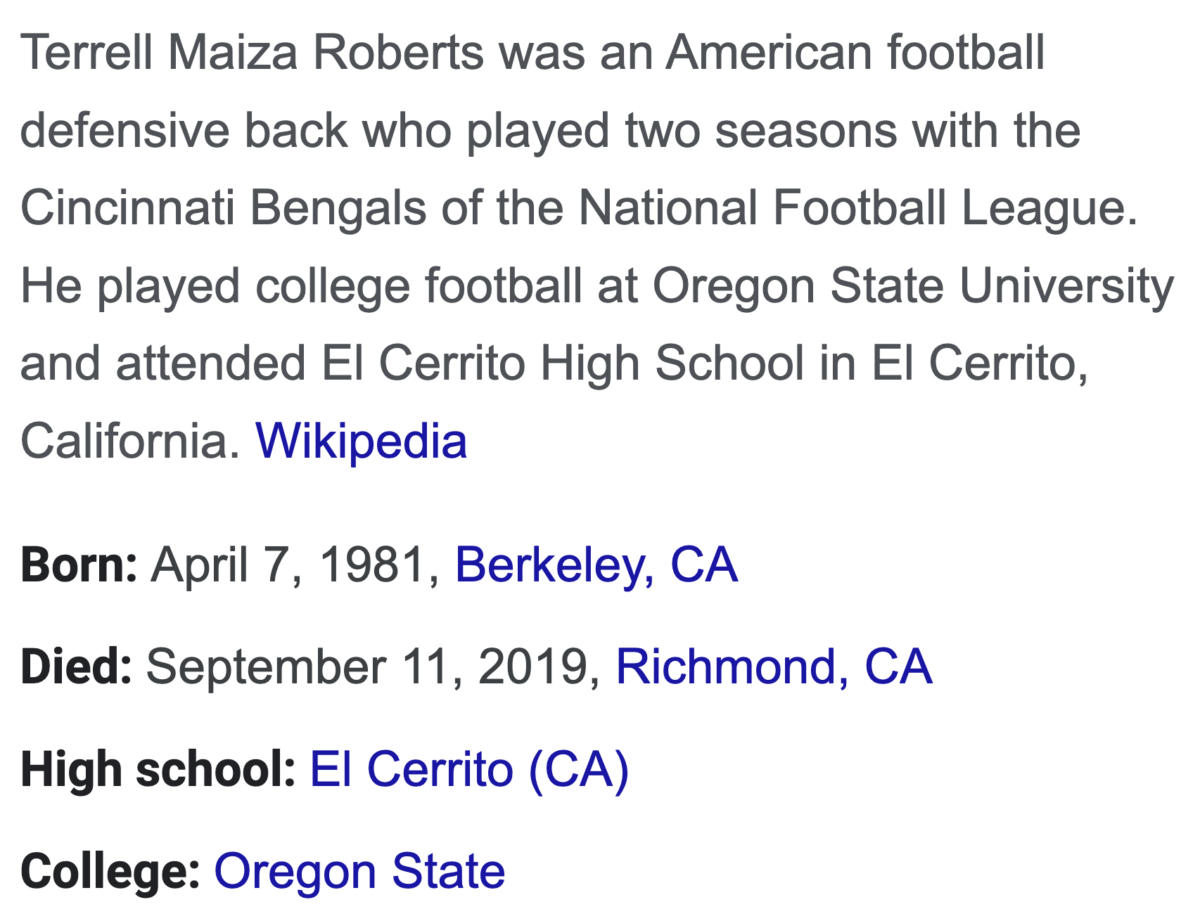 His death on September 11 ties in with Cedric Benson dying 911-days before Super Bowl 56.
And in light of Roberts death connection to Saturn and Saturnalia, as well as Benson's, don't forget that Chris Henry died on Saturnalia, December 17, 2009.
Keep in mind Chris Henry finished his career with 119 receptions.
Saturn = 119
-Dead on 11/9
Notice Roberts played in 23-games, because Super Bowl 56 is the Bengals 23rd playoff game as a franchise (and they lost in Super Bowl 23 to 49ers).
Planet = 23 (Saturn and Jupiter)
Read about the Bengals win on the Great Conjunction of Saturn and Jupiter, and it coming 419-days before Super Bowl 56.


And keep in mind, Pope Francis, the first Jesuit Pope, has a Saturnalia birthday, and Super Bowl 56 falls on his 59th day of his age.
Pope Francis = 59
-59, 17th prime
-Ohio, 17th state
-Kill = 59 / 17
-First 17 game season
-God = 17 (Saturn is God of OT)
Society of Jesus = 56
Pope = 56
Update: There was a 201 in the Cedric Benson death.
Saturn Worship = 201
The Jesuit Order = 201
–Tiger = 201 (Jewish)
–Rams = 201 (Jewish)