Former Alabama & Broncos running back, Ahmaad Galloway, found dead at 42, January 9, 2023, the day of the College Football Championship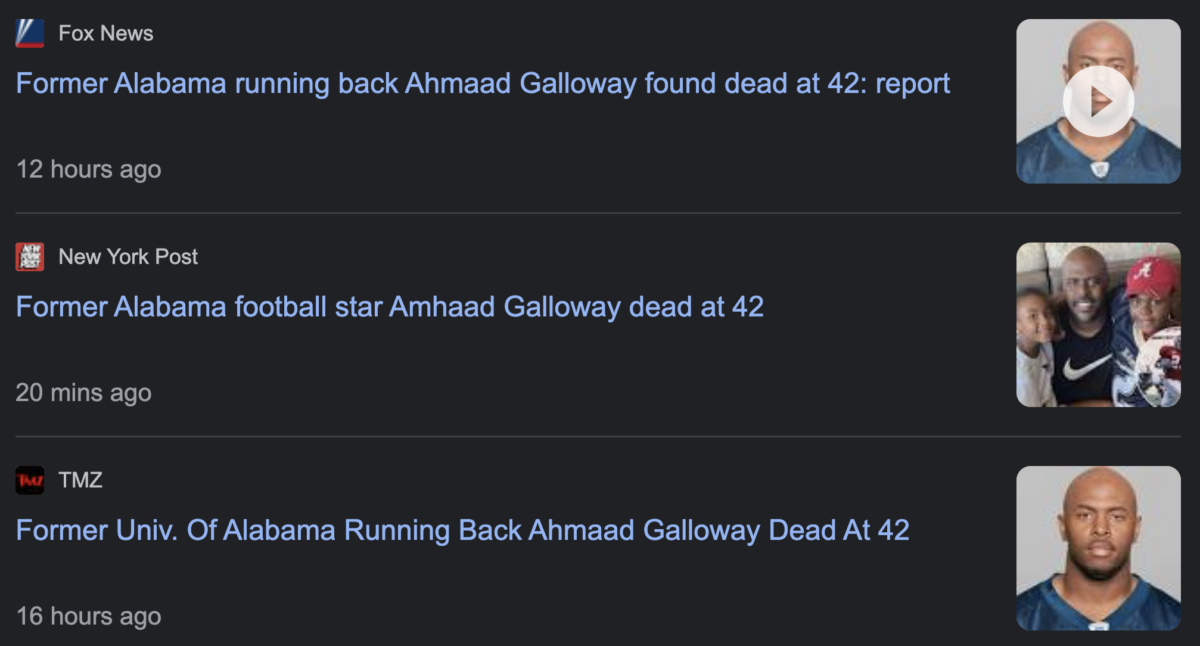 Amhaad Galloway, who played college football at Alabama, was found dead the day of the college football championship, Monday, January 9, 2023. Of course, Kirby Smart, who won the championship, is from Alabama. He also coached at Alabama from 2007-2015. And notice the New York Post saved this story for Friday the 13th.
Alabama = 13
He died 60 days before his birthday, while he was still 42.


We know about this long running pattern…
Keep in mind this happened in St. Louis, Jesuit town.
Jesuit = 42
*Missouri = 42
And consider the Rams were in St. Louis before LA, and Kirby Smart just won in the Rams stadium, and last year the Rams led by Georgia star Matt Stafford won the Super Bowl, after Georgia won the championship. Of course, this year, Kirby Smart won his 15th game of the season, staying on 15 career losses by winning the championship.
Rams = 15
Also, don't overlook that his birthday was 10/3 (March 10) and he was drafted by the Broncos.
Broncos = 103
His death comes just before the playoffs to conclude the 103rd NFL season.
And don't forget Charles White, former Heisman winner, also died this week.
Charles Raymond White = 103

https://nypost.com/2023/01/13/former-alabama-football-star-amhaad-galloway-dead-at-42/