Former Florida State Seminoles fullback, Clarence 'Pooh Bear' Williams, dead in car crash, February 17, 2022, 128-days after Charlie Ward's 51st birthday

Clarence Williams is dead at 47.
Clarence = 47
-Clarence Williams = 102 / 159
-Slavery = 102
-Black Man = 159
The death came 128-days after Charlie Ward's birthday, his college teammate and the man who won the Heisman the year his Seminoles won the championship.



Notice Charlie Ward is 51.

This tragedy hits home for Crescent City.
Crescent City = 54 / 72 / 144
Jesuit Order = 54 / 72 / 144
And it occurred on Michael Jordan's 59th birthday.
Recall, Charlie Ward went into the NBA with the 26th pick.
Jordan = 26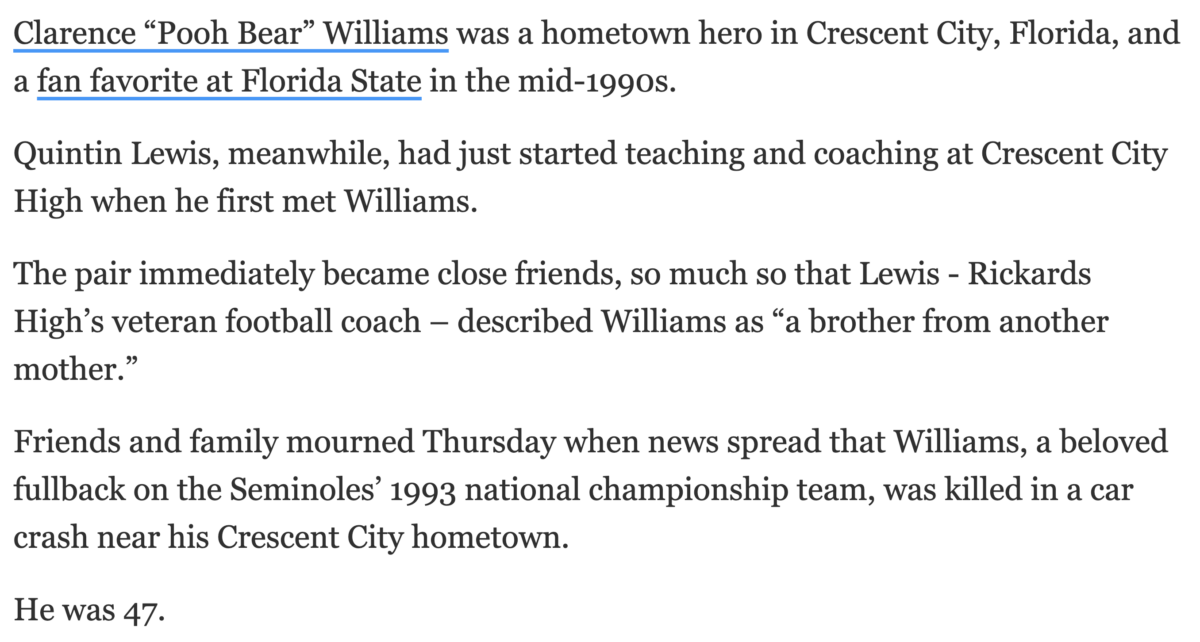 https://www.usatoday.com/story/sports/ncaaf/2022/02/17/former-seminole-fullback-clarence-pooh-bear-williams-killed-car-crash/6841763001/
He died 28-days after his birthday, on the 17th.
Kill = 17 / 28
He is dead 28-years after Florida State won the championship at the start of '94.
And he wore the #17.