Miss Alabama, Zoe Sozo Bethel, dead February 18, 2022 after tragic accident on February 10

This woman was severely injured on February 10, or 10/2, the anniversary of Black History Month being recognized in 76, 46-years to the day earlier.
Slavery = 102
Nigger = 102
-Genesis 46
-Sacrifice = 46 / 62
-2/18/2022 = 2+18+20+22 = 62
She died February 18, a date with 42 numerology.
2/18/22 = 2+18+22 = 42
Slavery = 42 / 102
Nigger = 42 / 102
February = 42
History = 42
She died 42-days after the Alabama vs. Georgia championship of January 10, 2022.
The news was saved for February 21, 2022, the 52nd day of the year.
Zoe Sozo Bethel = 52
And keep in mind, she was 'Miss Alabama' and injured on the 41st day of the year, February 10, 2022.
Miss Alabama = 91
-91, 13th triangular number
-41, 13th prime number
–Alabama = 13
Read about Ben Simmons trade for #13 James Harden on February 10.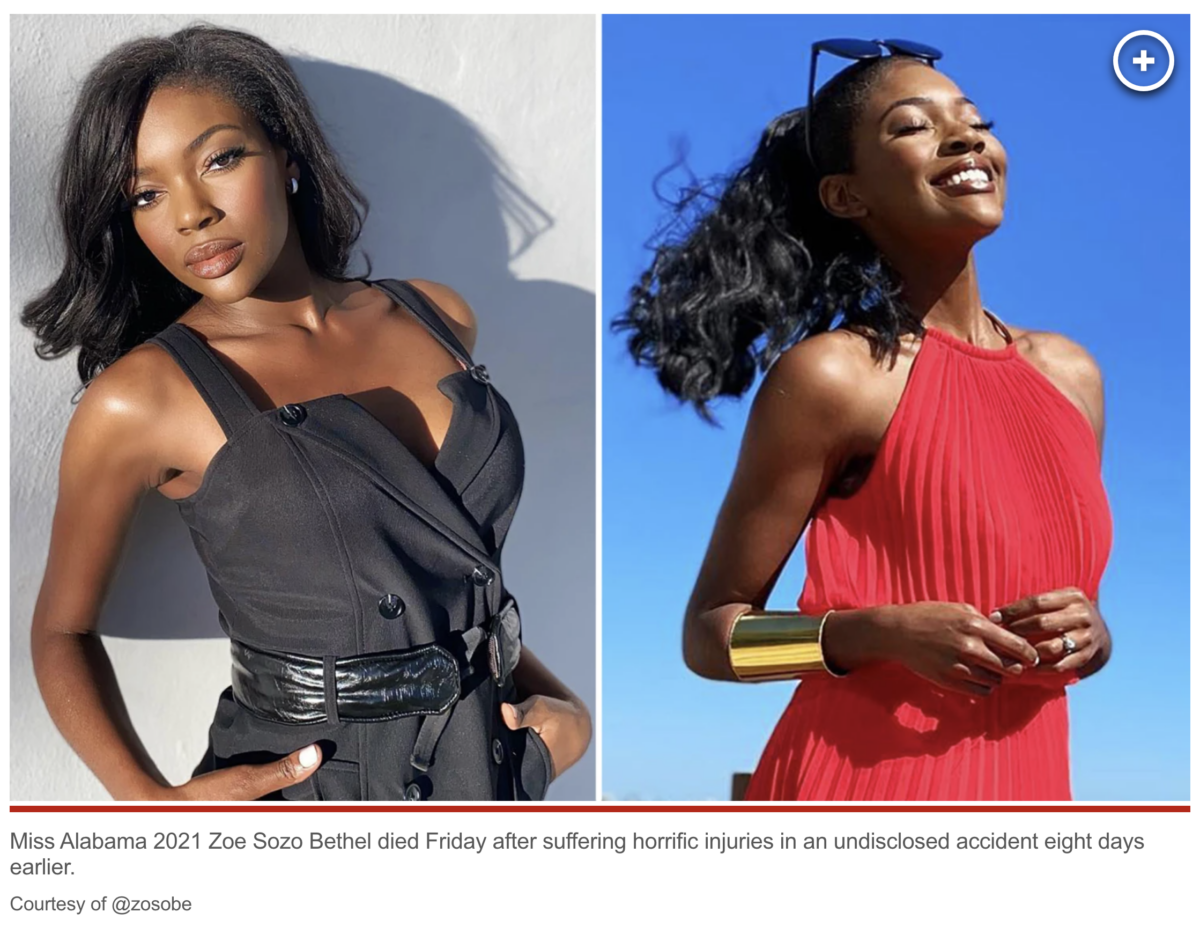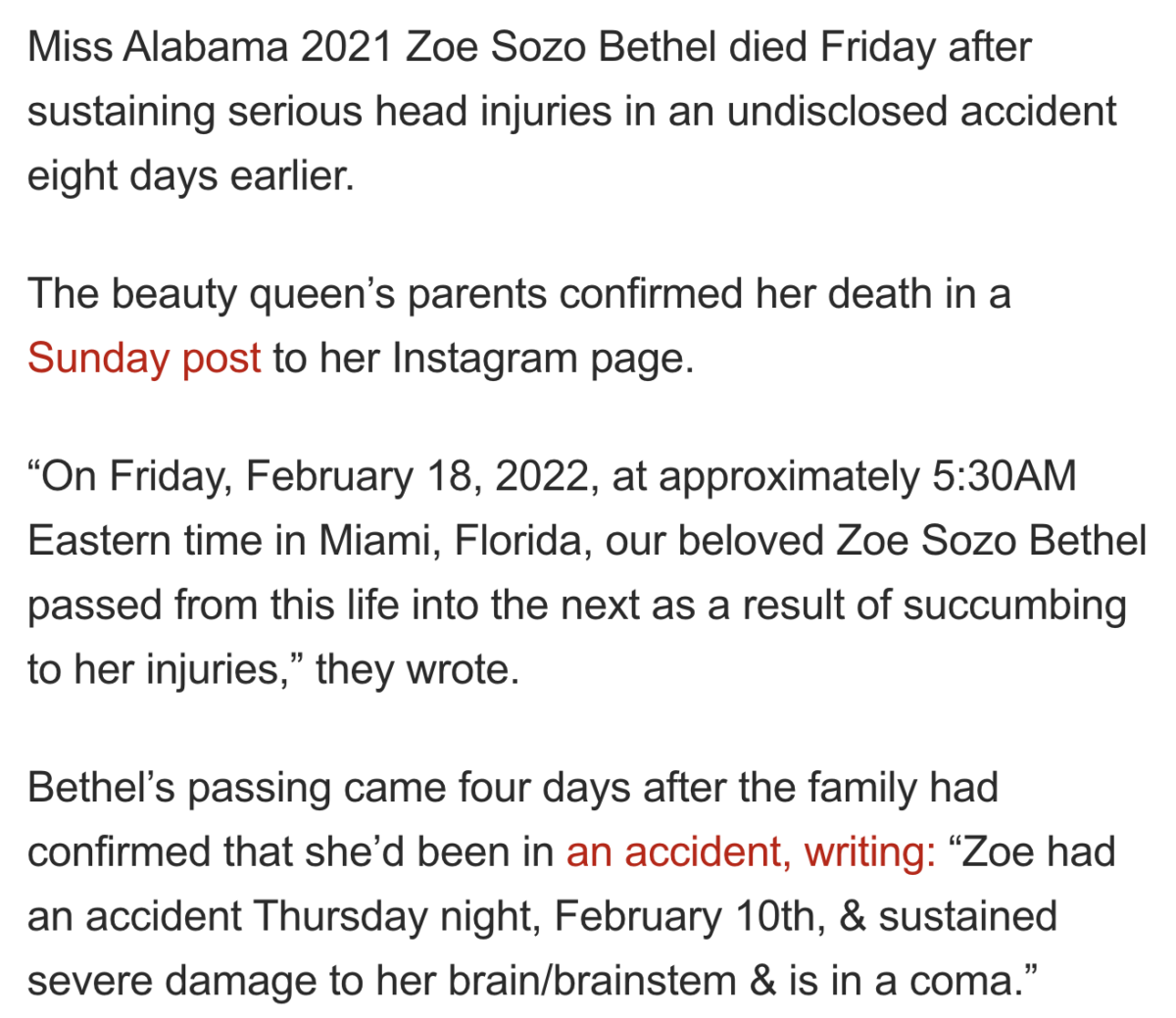 https://nypost.com/2022/02/21/miss-alabama-zoe-sozo-bethel-dead-after-accident/
She died at the 330th minute of the day.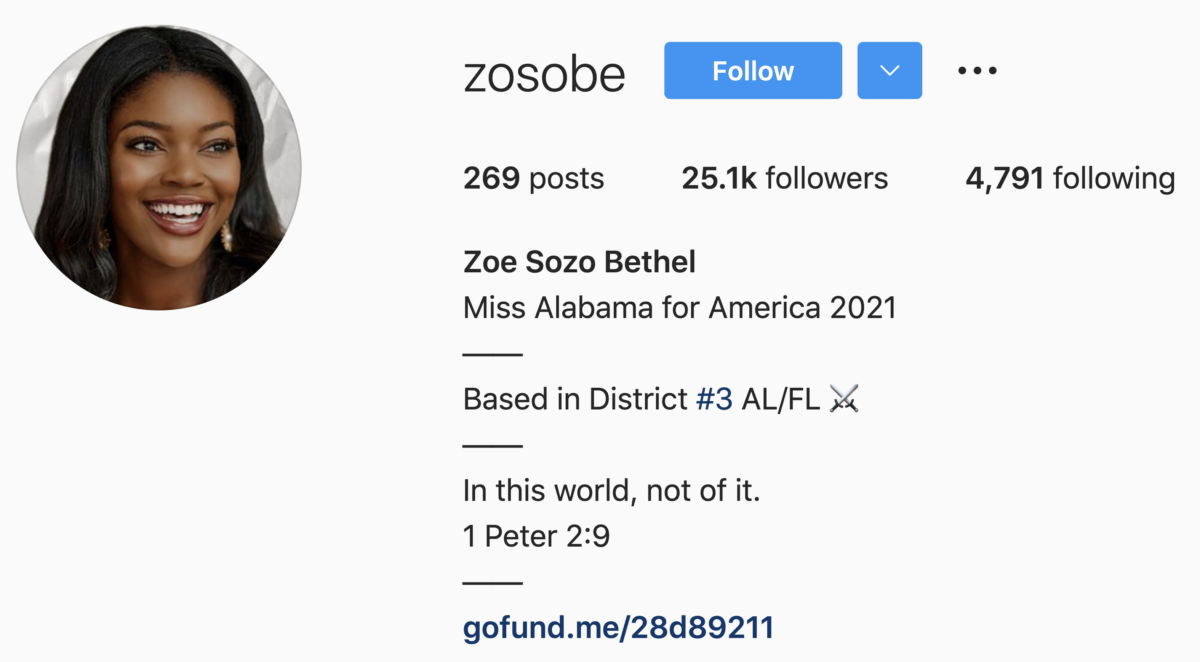 https://www.instagram.com/zosobe/?hl=en
She won the contest on June 12, 2021, 251-days before her death.
251, 54th prime
Jesuit Order = 54

https://www.al.com/life/2021/06/miss-alabama-2021-talent-evening-wear-winners-of-thursdays-preliminary.html
And get a load of her January 18 post, or 1/18.
Death = 118
That date can also be written 18/1, like 181.
181, 42nd prime
Black History = 181