Sean Dawkins, former football star, dead at 52, August 9, 2023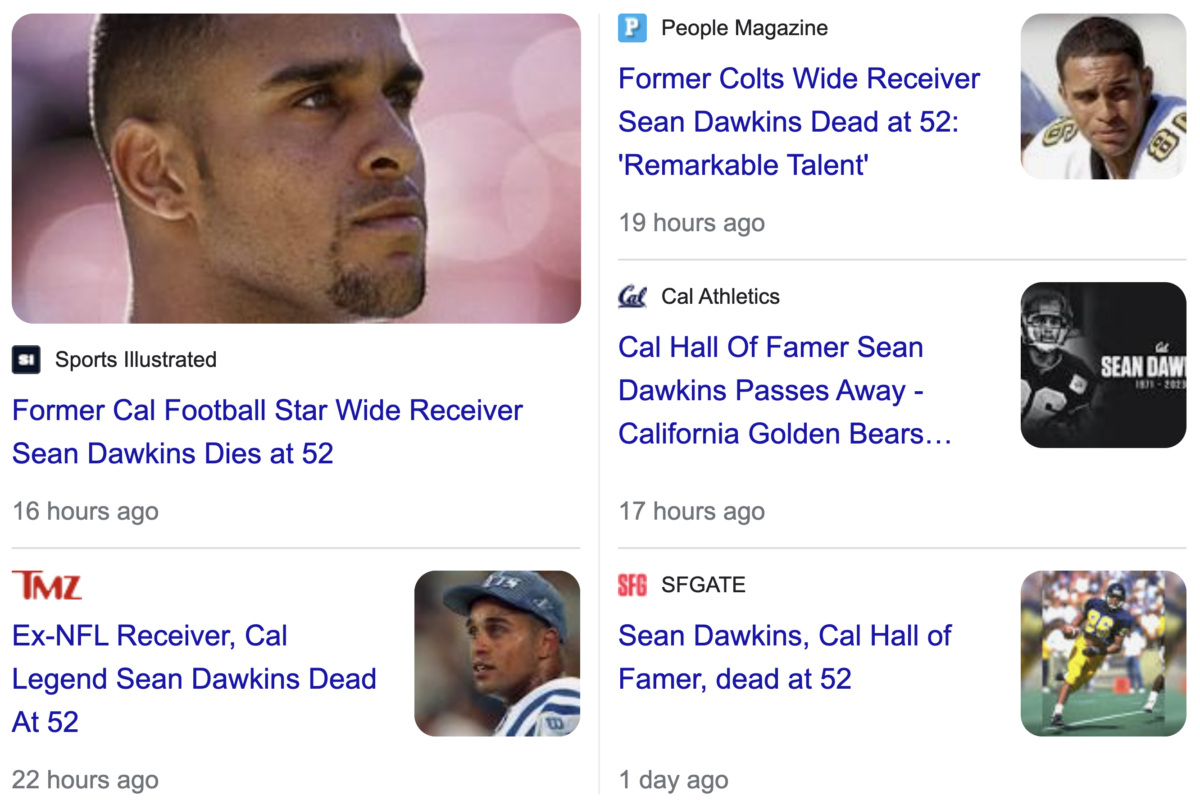 We have been following many deaths this offseason in relation to the Baltimore Ravens. The story of Sean Dawkins death follows the pattern. That is because the Colts franchise began in Baltimore, and moved to Indianapolis in 1984 ('84).
The Jesuit Order = 84, 177 & 201
–Sean Dawkins = 177
Indianapolis = 201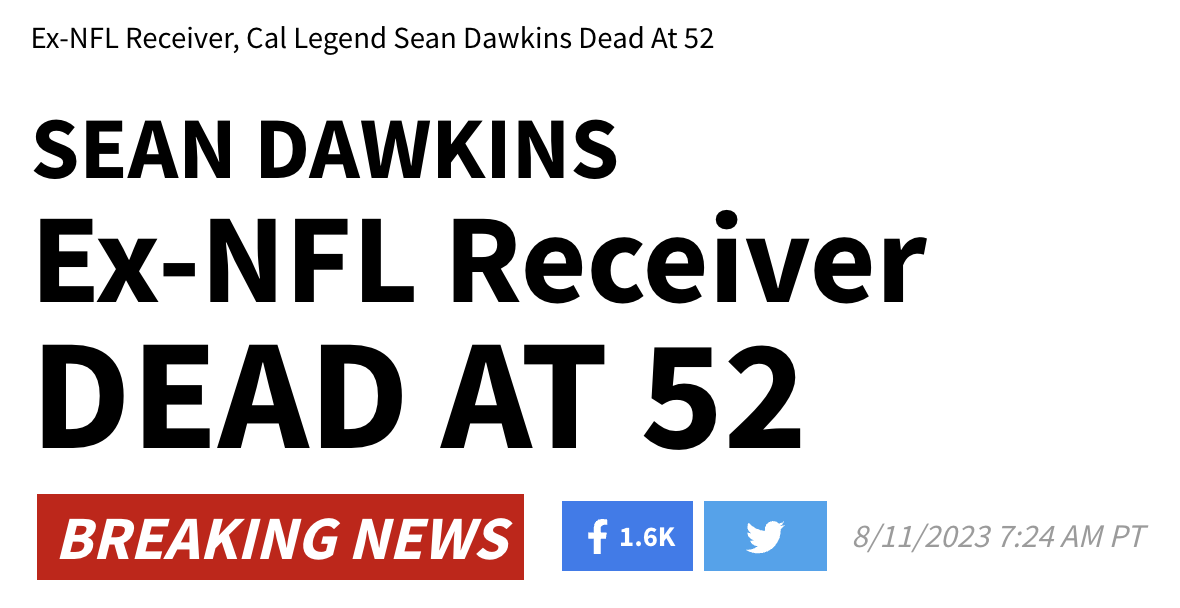 Sean Dawkins died 187 days after his birthday, the homicide code.
Society of Jesus = 187 & 56
–Cal Bears = 56
–California = 52
-*Heart = 52
-*Dead at 52 from 'cardiac arrest'
Holy Roman Empire = 187
He died on the day leaving 144 days in the year.
Jesuit Order = 144
–The Jesuit Order = 177
–Sean Dawkins = 177


He was born on 2/3 and died in '23.
He was drafted in '93, 30 years ago. Saturn's return is a 30 year cycle.
Saturn = 93
They saved this news for August 11, or 11/8.
Death = 118
Homicide = 118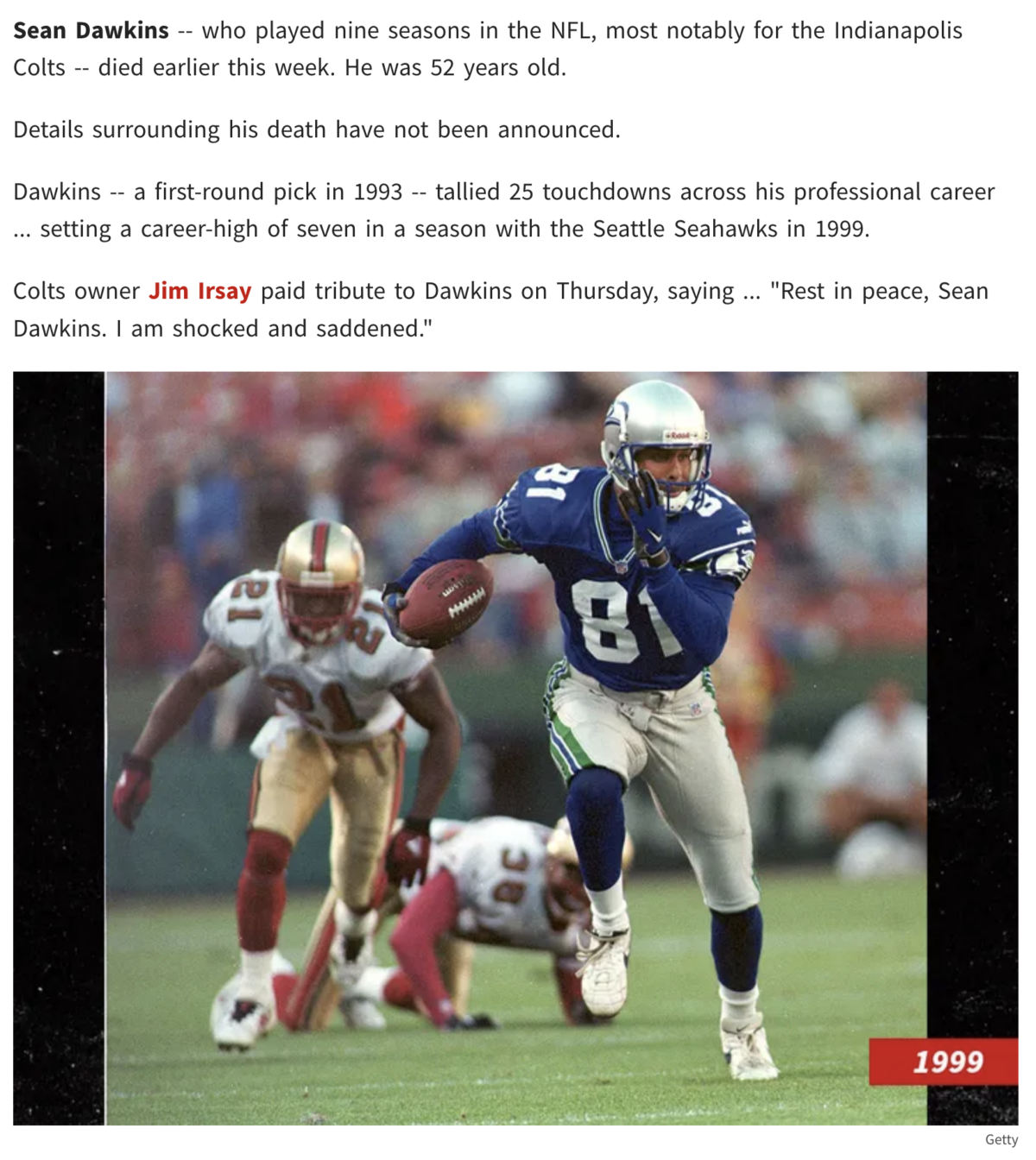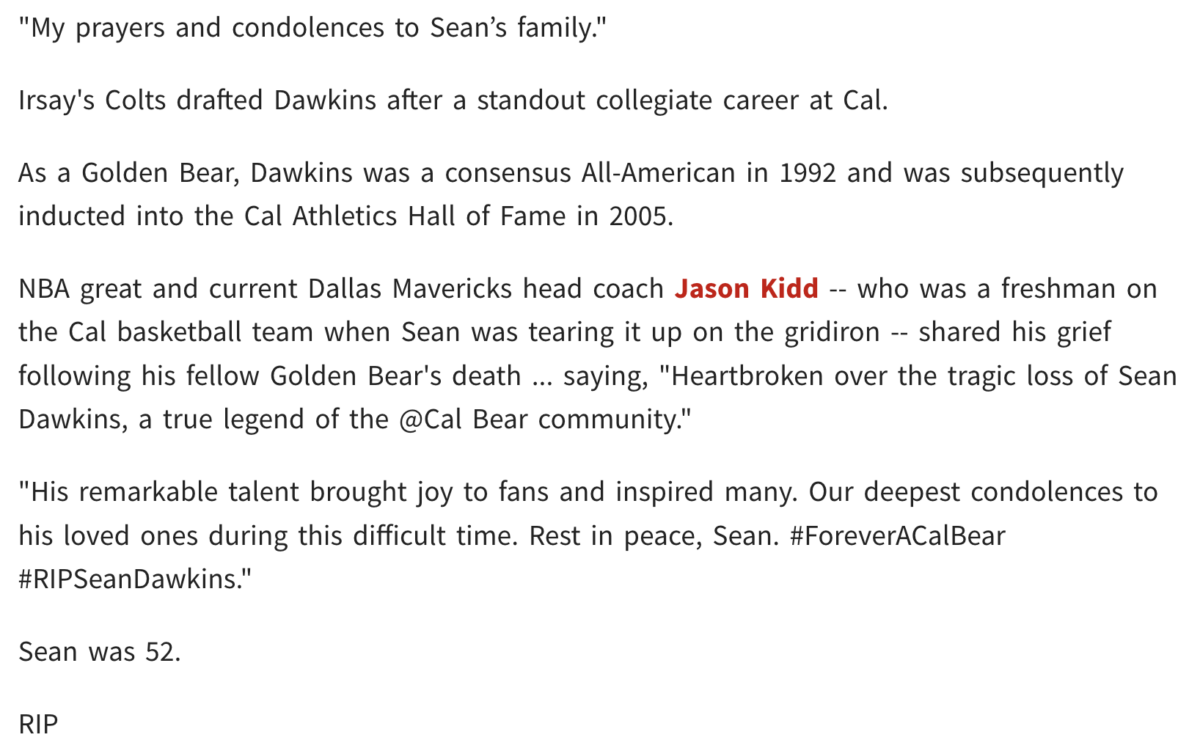 https://www.tmz.com/2023/08/11/ex-nfl-receiver-cal-sean-dawkins-dead-52/
25 TDs (Death = 25)
Dead at 52
52 cards in the deck
The game…
He is dead 22 years after retiring in 2001, the year Baltimore won the Super Bowl, just before September 11. Of course, there are 22 men on the football field.
In his career Sean Dawkins played for Indianapolis, Seattle, Jacksonville and New Orleans. Of course, Jacksonville and New Orleans are tied together through Andrew Jackson. And regarding those two cities, they saved the news until August 11, 69 days before the Jacksonville vs. New Orleans game, October 19, 2023.
*Sean Dawkins = 69 *Catholic Church = 69 (Saints…)
*Andrew Jackson is remembered for killing the central bank.

He died 71 days before that game and Saints are Catholic.
Catholic = 71
It is a reminder the upcoming Super Bowl is on the Vatican's 95th birthday.
Baltimore = 95 (Where the Colts are from)
And the Saints next game is against the Colts. Remember when they won Super Bowl 44, the Archie Manning Legacy Bowl? Right after Hurricane Katrina? Where's Spike Lee at?

That game is 81-days later, or a span of 82-days apart.
Ritual = 81 & 81 (He wore #81 for Seattle)
-The Saints have no regular season games against Seattle
Saints = 82 & 19
That game is on the 19th.
The only other team with a 19 connection is also Seattle, and he played for them too.
Seattle = 82 & 19
Funny enough, October 29, the Seahawks are playing the Browns — and the old Browns became the Baltimore Ravens. And again, the Colts started in Baltimore. And New Orleans and Seattle have the 'beast' quake history. The Seahawks and Saints also share NFC West history (the Saints were in it until Seahawks went from AFC to NFC).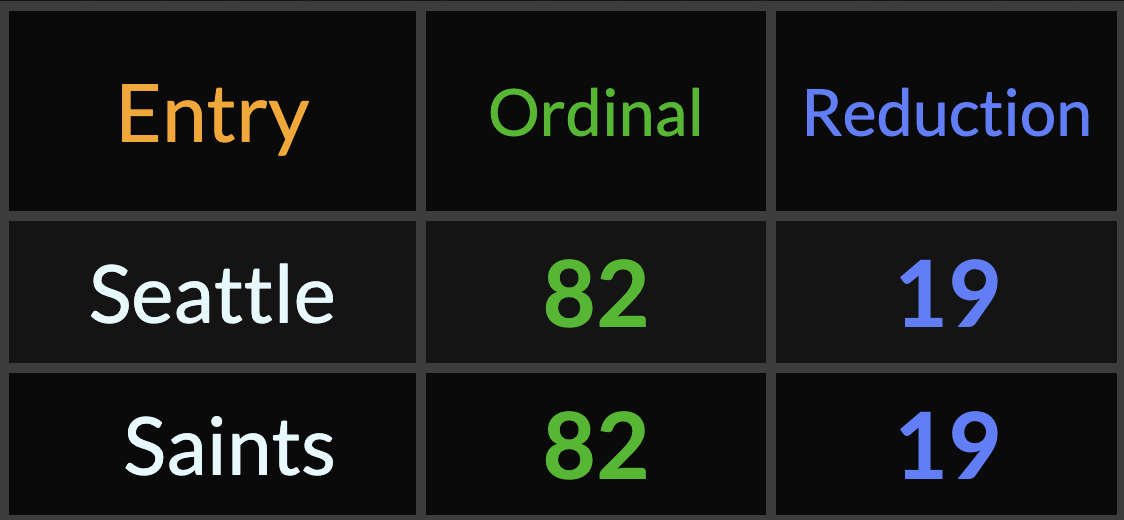 And again, it is also 81 days later, like the number he wore in Seattle.


Notice how Dawkins overlaps with 'ritual' in three ciphers, 27, 45 & 81.

The Jaguars plays the Steelers on October 29 (in the division with Baltimore).
Pittsburgh Steelers = 81 & 81
There are 108 game balls made for a Super Bowl.
Geometry = 108 & 108 (sacred number)

Think of Kobe's 81. *Kobe Bean Bryant = 81 *Mark of the Beast = 81
-Kobe did it in his 666th game
-Seattle and New Orleans had the "Beast Quake"
-Wilson scored his first rushing TD in 666 games in New Orleans @ Seattle recent
–Seattle is on 47th Parallel North
–Beast = 47
The Beast Quake was January 8, 2011. Notice the 34 point win with 3:40 left in the game. It goes perfectly together.
8/1 date (like 81)
Beast = 11, 34, 47 & 88 (on the 8th) (Kobe, #8)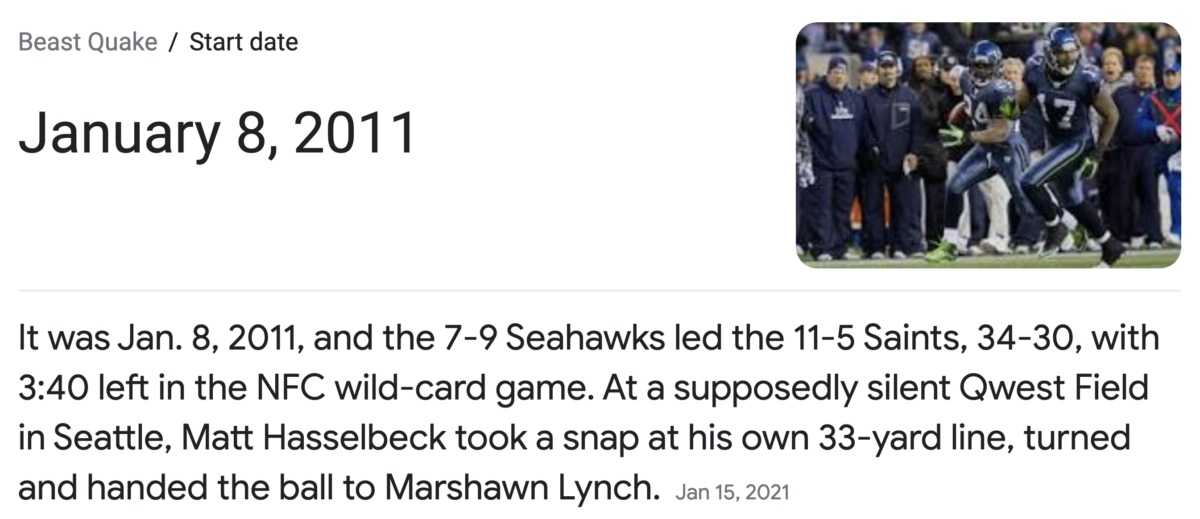 btw, Sean Dawkins is dead on a date with 60 numerology as well, a pattern I am realizing I need to do a better job of documenting.
8/9/2023 = 8+9+20+23 = 60
Indianapolis = 60
Order = 60
*Marshawn Lynch = 60 & 66 (Number of the Beast = 66)


And for another btw, the star of the Beast Quake, Marshawn Lynch, will turn 38 next year, April 22, 2024.

For a bonus thought, the day Nany Pelosi's brother died the Seahawks and Ravens were facing each other. That is something to consider, since he was a big name in Baltimore.
*Sean Dawkins died 235 days after the Pope's birthday (The Society of Jesus=235)