Buffalo grocery store shooter Payton Gendron pleads guilty to hate crime by the numbers, November 28, 2022

This news comes November 28, 2022, the day leaving 33 days in the year.
Race War = 33
Federal = 33
Masonry = 33
Secrecy = 33
Order = 33
Police = 33
*New York = 33
Today also has 18 / 45 / 81 date numerology.
–Bills = 18 / 81
–Buffalo Bills = 45
Today is 81 days after the Bills won the season opener over the Rams.
As we know, the shooting is synced with their season.
And notice, they are 8-3, after winning on Thanksgiving, in the Lions 83rd Thanksgiving Day game. Of course, the Holiday is associated with food, and this shooting came at a grocery store.
Again, they said Payton Gendron cased the Tops on March 8, or 8/3, like 83.
Murder = 83
Football = 83
Most importantly, from the shooting to this verdict was a span of 199 days.
199, 46th prime
Hate Crime = 46



Recall, he was charged with the hate crime on June 15, 2022, the day leaving 199 days in the year, and 33 days after the shooting.

Read more about hate crimes and 46 here.
And read even more about hate crimes and 46 here.
Today is also 166 days later.


ALSO, today is 11/28. *1128, 47th triangular number
Judge = 47
Gavel = 47
Authority = 47
Government = 47
Racist = 47
News = 47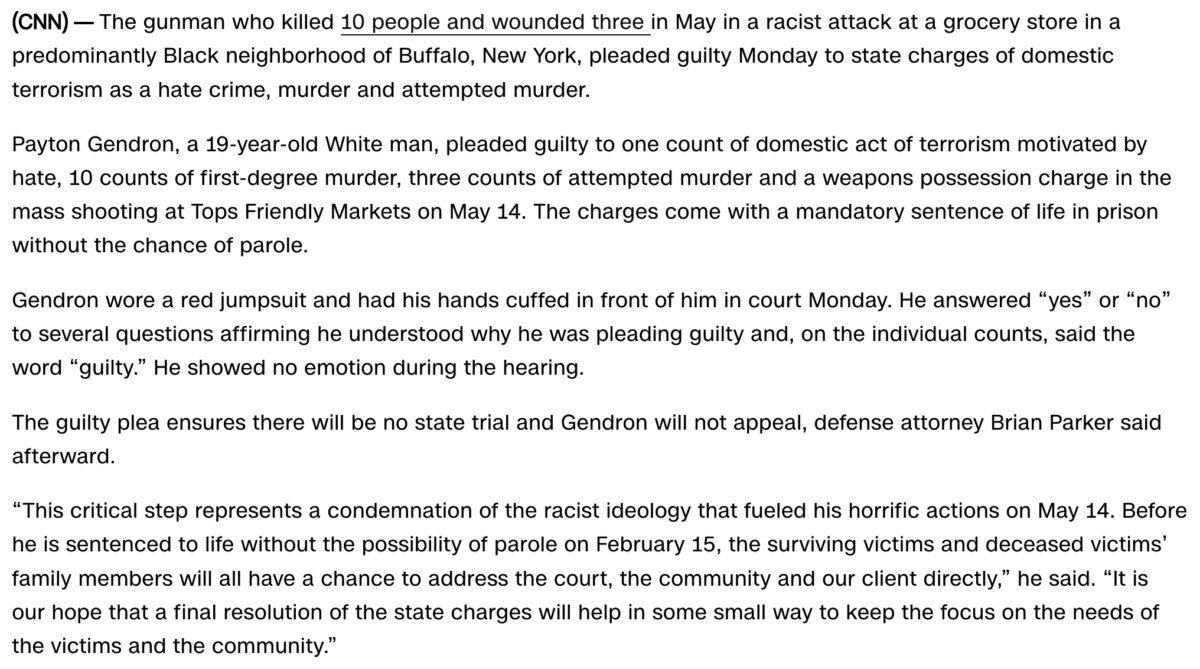 https://www.cnn.com/2022/11/28/us/buffalo-tops-grocery-shooting-payton-gendron-plea/index.html