NFL star Ronnie Hillman dies at age 31 from cancer battle, December 21, 2022

Ronnie Hillman died Wednesday, December 21, 2022, on the Winter Solstice. He played for the Broncos, one of two teams with a 103 connection, and he died in the 103rd NFL season.

The news of Hillman's passing broke the day of the Steelers related death news, Franco Harris.
Dead at 31?


Notice how Broncos overlaps with Jesuits.
The Broncos will play at the Rams on Christmas, on what would have been Ronnie Hillman's 103rd day of his age.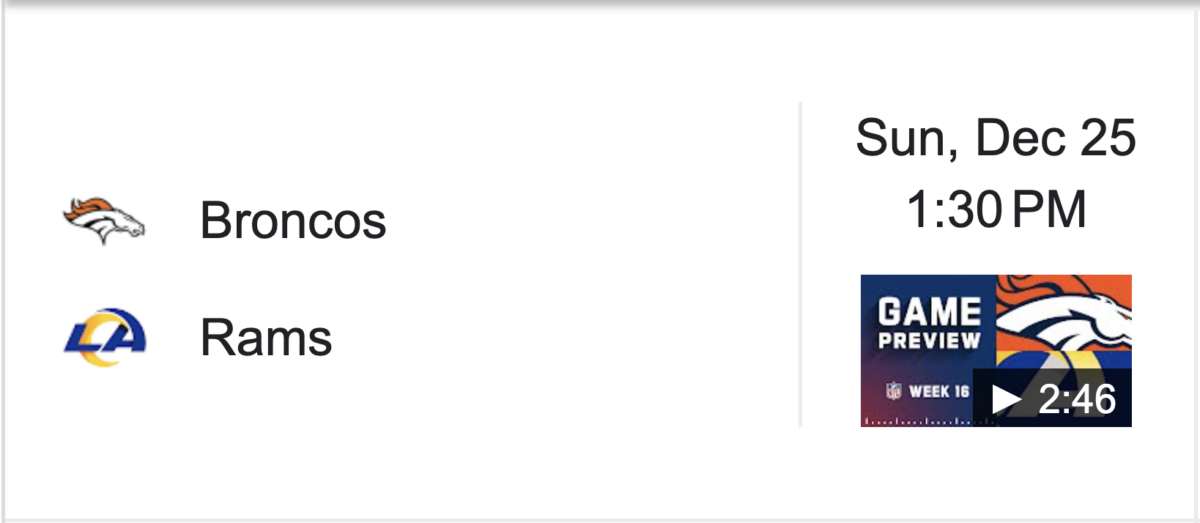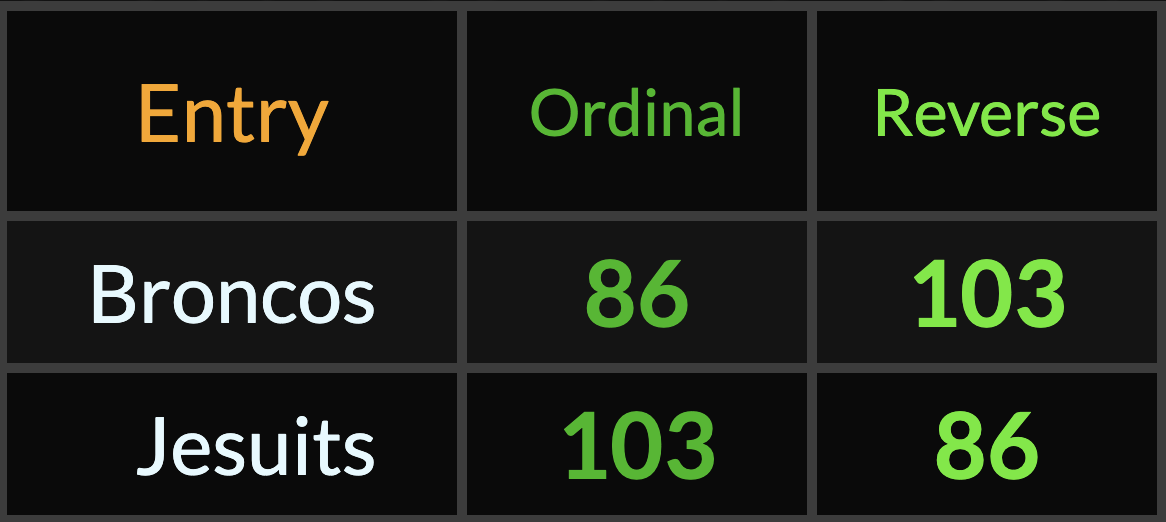 Immaculate Reception = 86
Blood Sacrifice = 86 / 67
Human Sacrifice = 86 / 67
*Franco Harris = 67
Ronnie Hillman was the 67th pick of his respective NFL Draft.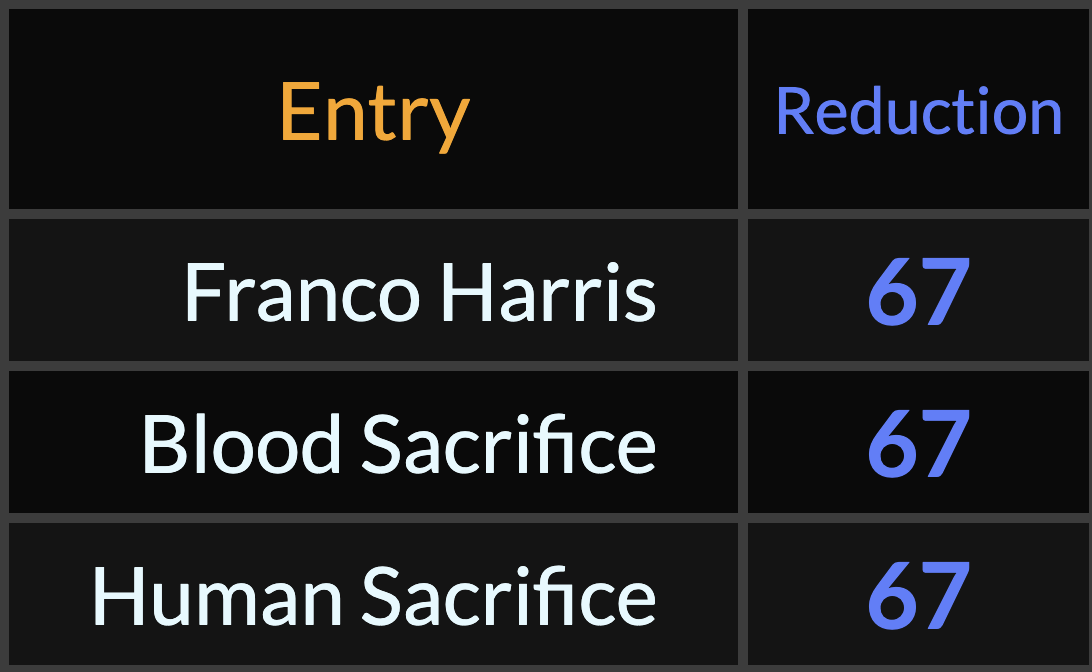 Also, Hillman played for San Diego State Aztecs, and the Aztecs were known for ritual sacrifice.
San Diego State = 77
Franco Harris = 77 (Died 77 days before his own birthday)
And notice how Ronnie Hillman overlaps with Jesuit Order.

He died the same day the news broke of Franco Harris dying at age 72.
And again, this follows the passing of Gary Knafelc and Franco Harris in the two days prior.
Read about Gary Knafelc's death on the 103rd day of the 103rd season.
Read about the death of Franco Harris of the Steelers, 103 days after the season began.
Also, 'Winter Solstice' fits the Jesuit theme.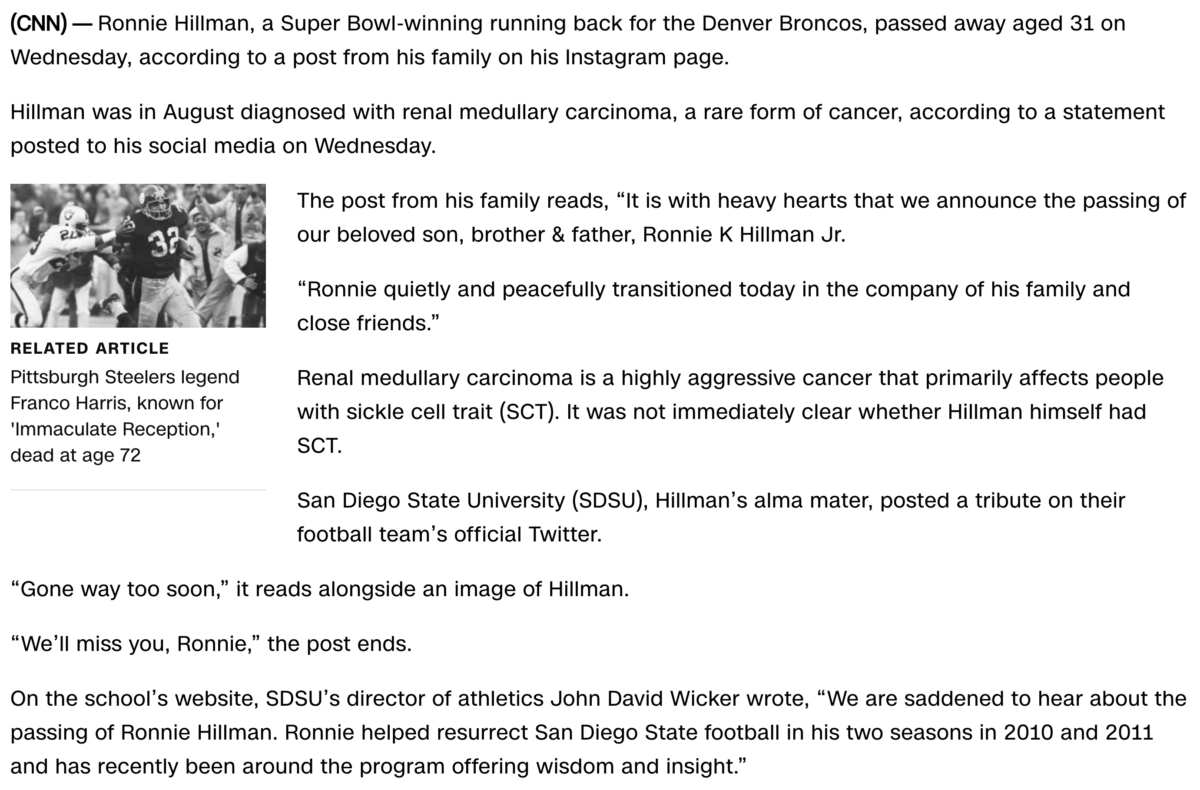 https://www.cnn.com/2022/12/22/sport/ronnie-hillman-death-spt-intl/index.html
He died 14 weeks after his birthday on September 14. He was 31 (11th prime).
Dead = 14 / 14
End = 14
NFL = 14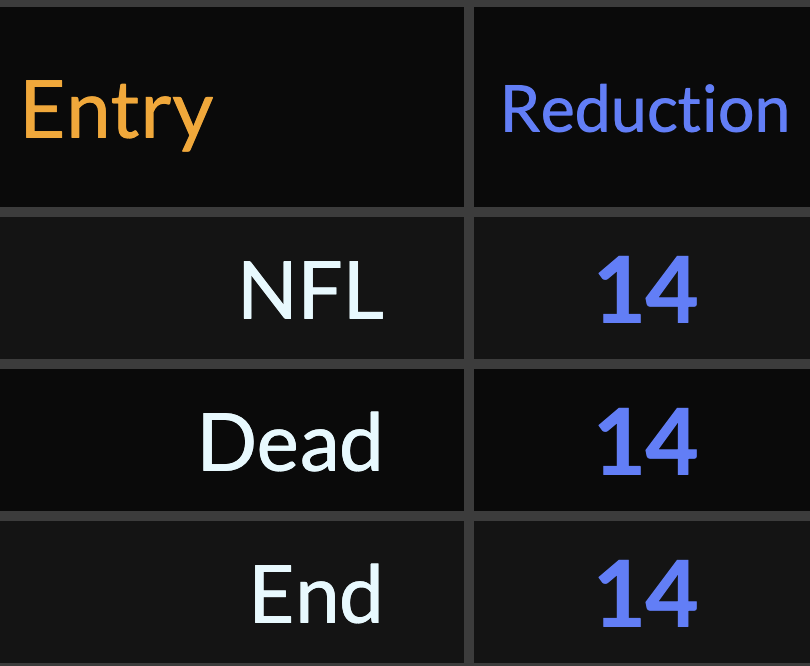 *Mahomes just won his 14th straight game vs. the Broncos in NFL Week 14.
You could also say Hillman died 3 months and 8 days into his age.
Death = 38
Murder = 38
Killing = 38
RIP = 38
Colorado = 38
Super Bowl 50 was on the 38th day of the year. The Broncos defeated the Panthers.
Panthers = 38

In light of Hillman dying 98 days after his birthday, or on his 99th day of his age, the Broncos won the Super Bowl in '98 and '99, and they won with 31 points and 34 points, like Hillman dead at 31, who wore the number 34.

And with regards to being a Super Bowl winner, and dying from a 'cancer battle,' he died 104 days after the NFL season began on September 8, going with him dying 98 days after the season began.