The Last Resort by the Eagles and Randy Meisner's death 13 days before Lahaina burning, August 8, 2023

Hotel California released one day after the Pearl Harbor anniversary.
The Last Resort = 54
Jesuit Order = 54
Sun = 54 (Jesuit logo and Japan's)
-We discussed how this is synced with Jay-Z's 54th birthday and his song Hawaiian Sophie
Read about Randy Meisner's passing here.
It was July 26 that he died, 13 days before Lahaina. And again, Maui burned 13 days before Hawaii's birthday as a state. Of course, the USA is the 13 stripes.
Furthermore, August 8 leaves 145 days in the year, connecting with 'Randy Meisner.'
Randy Meisner = 145 & 64 (Hawaii's 64th birthday, August 21, 2023 — since 8/21/59)
Maui = 64


Hurricane Dora in 1964, and Dora the Explorer's creator is 64 right now.
Again, there are many parallels between the Paradise, California fires and the Maui fire that hit Lahaina especially hard. That matters because the Eagles had the song The Last Resort, where they mention both words.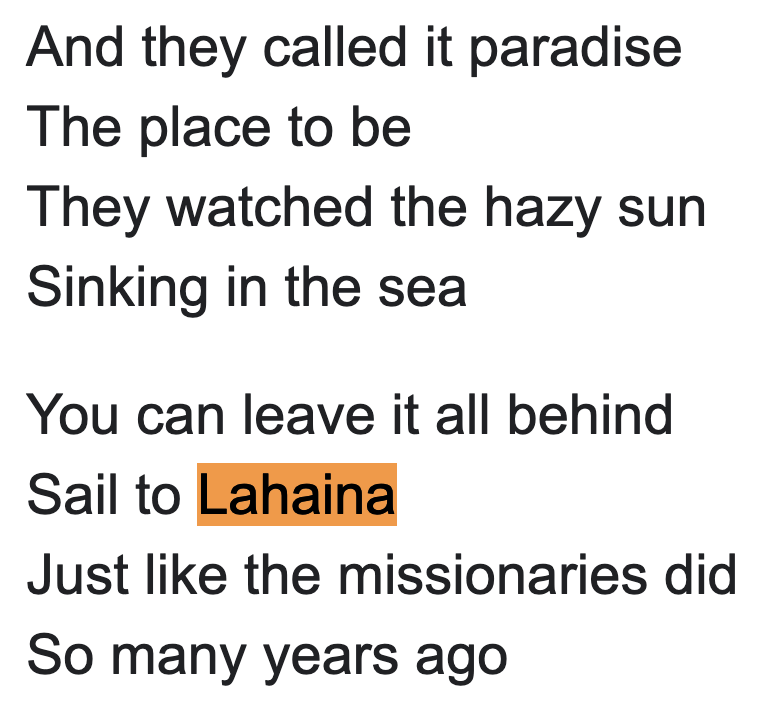 December 8 leaves 23 days in the year, and this happened in '23.

Meisner was born on March 8, or 3/8, in '46, when fire from the sky was a newer military concept that had just come out of World War II (look into the bombing of Dresden).
Fire = 38 (3/8)

Read about the 204 ritual with The Rock, The King, and the Maui fires.
Randall Herman Meisner = 204
Jewish Mysticism = 204
–Jewish = 88
-8/8 fires
The fire happened on the 247th day of Josh Green's being in office, the new Jewish Governor of the state. Definitely the pick of the natives I imagine. And of course, the U.S.A. is 247 years old right now.
And notice this 2:04 video, trying to get people to go to sleep.